IKOB – Museum of Contemporary Art has awarded an artist prize every three years since the institution's beginnings. 2019 was the first time the award was given an explicitly feminist focus. The first contemporary art award of this kind, IKOB continues this emphasis for the 2022 edition of the prize.
The IKOB – Feminist Art Prize aims to amplify artistic voices that have less power in the contemporary art world and in society at large. The prize poses the open question of what feminism in all its forms might mean to artists working today and supports artistic practice that pushes us to re-imagine the reality we live in. The six nominated artists for the 2022 Art Prize are: Daniela Bershan, Jieun Lim, Sandrine Morgante, Marnie Slater, Céline Vahsen, and Puck Verkade, all of whom are part of the prize exhibition.
The jury, consisting of Paula van den Bosch (Chief Curator, Bonnefantenmuseum, Maastricht, NL), Anastasia Chaguidouline (Artistic Director, Cercle Cité, LU), Els Roelandt (Editor, KIOSK, Ghent, BE) and Nadia Vilenne (gallerist, Liège, BE) selected the three winners in addition to the nominees, which were announced at the opening of the exhibition:
First place was awarded to Marnie Slater, an artist from New Zealand who explores feminist and queer histories. The series of paintings Le Madame (Brussels 1981-1983) exhibited at IKOB is inspired by a lesbian bar with the same name active in Brussels between 1981 and 1983. Slater lives and works in Brussels, where she co-founded Mothers & Daughters: A Lesbian and Trans Bar*, re-created at IKOB through large-scale wall paintings. The first prize consists of a cash prize of 10,000€.
The second place went to Jieun Lim. The Korean artist's multimedia installation called Hunter's Room explores the themes of reproduction, motherhood, conservation and tradition. The artist lives and works in Düsseldorf. The second prize consists of a cash prize of 7,500€.
The third prize, which traditionally supports an artist from East Belgium and consists of 1 500 €, went to Malmedy-born Céline Vahsen. The starting point for her work is the cultural heritage of fabrics as a medium. With a contemporary approach, she explores techniques rooted in traditional textile production.
The exhibition also presents works by the other finalists Daniela Bershan, Sandrine Morgante and Puck Verkade. In her installation OCEAN, Bershan interprets everyday actions as sensual and meaningful and thus conceives this work as a collective, experimental and spiritual moment. The accompanying performance can be seen at the exhibition's finissage on Sept. 25, 2022. In Puck Verkade's film Unborn, the viewer follows a bewildered pigeon as she builds her nest, reflecting on her potential role as a mother and addressing the sensitive issue of reproductive rights. Sandrine Morgante's work Taalbarrière brings to light the cultural, psychological, socioeconomic, and geographical determinations of the Belgian linguistic communities through playful drawings.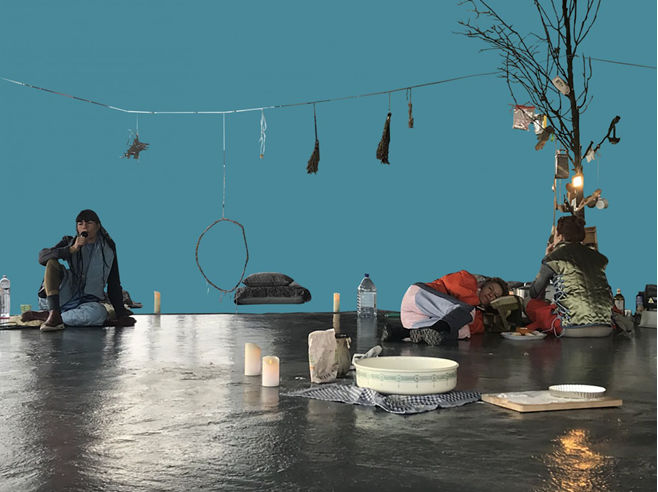 Daniela Bershan, OCEAN (performance), 2022, image: Sabrina Seifried, courtesy the artist
DANIELA BERSHAN (b. 1980, DE, lives and works in Brussels, BE) a.k.a. Baba Electronica is an artist, DJ and independent researcher working on relational structures and the politics of intimacy. Daniela co-founded and directed FATFORM (NL), and is co-founder and co-organiser of ELSEWHERE & OTHERWISE at Performing Arts Forum (FR). Her work and collaborations have been presented at 29th Sao Paulo Biennale (BR), De Appel Arts Centre (NL), MaerzMusik (DE), KunstenfestivaldesArts (BE), Berlin Art Week (DE), W139 (NL), Portikus (DE), NAS Gallery Sydney (AU), Capacete (BR), Paradiso (NL), Oslo Internasjonale Teaterfestival (NO), Dansehallerne (DK), MDT (SE), Le CentQuatre (FR), Centre Pompidou Kanal (BE), CentroCentro (ES), Tempo Festival (BR) and Triennale Luxembourg (LUX).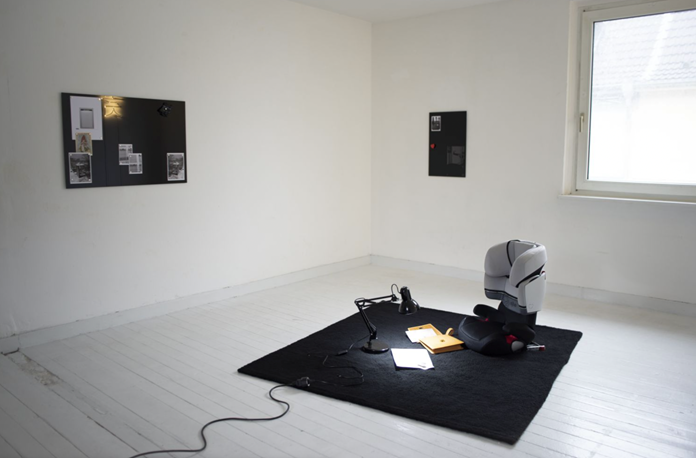 Jieun Lim, Hunter's Room, 2021, courtesy the artist
JIEUN LIM (b. 1983, Republic of Korea, lives and works in Düsseldorf, DE) graduated in 2018 as Meisterschülerin of Dominique Gonzalez-Foerster, Kunstakademie Düsseldorf and won the graduated prize awarded by Peter-Michael Engel Foundation. Recent solo exhibitions include: Scallops #2, Premiere, Collaboration of Ermes-Ermes x LC Queissier, Tiflis, Georgia; RGB: Return to the gate following B, Gallery Ermes-Ermes, Vienna; Yellow Time/Dilemma Zone, Kunstakademie Düsseldorf; Recent group exhibitions: Illuminating, screening program, Lugano, Switzerland, 'cu-cu-rru-cu-cu' Bloom, Düsseldorf; Noir, Sonnenundsolche, Düsseldorf; Polke und die Folgen. Neuerwerbungen, Akademie Galerie-Die Neue Sammlung, Düsseldorf; Planet 58, K21 Kunstsammlung Museum Düsseldorf; Appearing Unannounced, Rirkrit Tiravanija's Studio, Chiangmai; The crust repeatedly rises and falls, Shinhan Gallery, Seoul; Coop, Bangkok Biennial, Bangkok.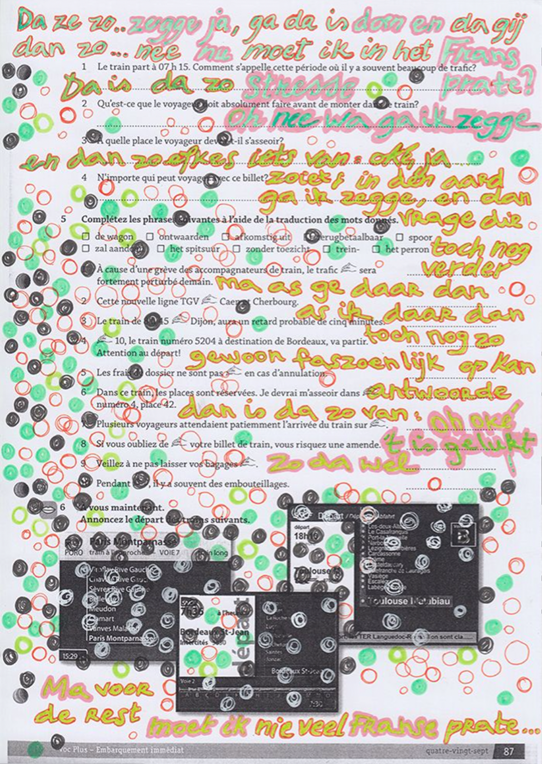 Sandrine Morgante, Taalbarrière, 2021, courtesy the artist
SANDRINE MORGANTE (b. 1986 in Liège, BE, lives and works in Brussels, BE), grew up in the countryside near Liège, studied at La Cambre drawing department in Brussels, BE, and has been a teacher's assistant and lecturer at La Cambre, before starting a residency at HISK in Gent, BE. Her work has been shown in Belgian institutions including WIELS, Art Contest, Musée de la Boverie, Space collection and as contributions in magazines such Archivio magazine, Revue Roven, Kluger Hans, and Tim magazine. Focusing on literature, writings and act of speaking, her drawings are the continuation of handwritings which mirror the voices of her sound pieces or dialogue's memories.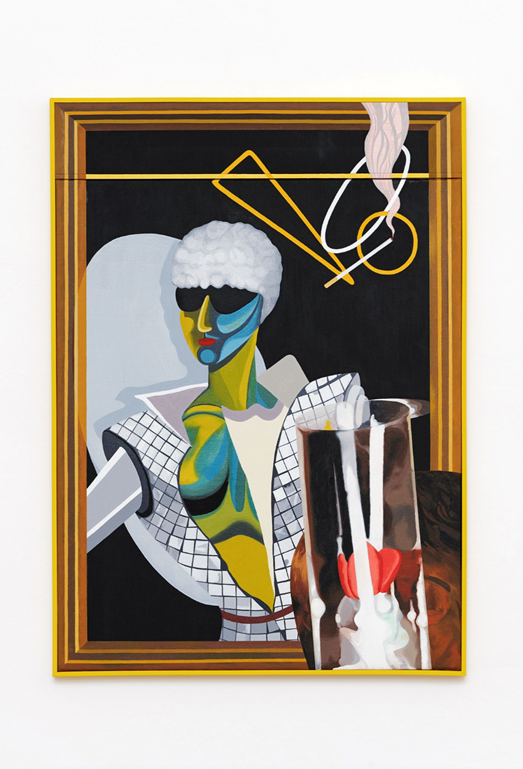 Marnie Slater, Le Madame (Brussels 1981-1983), 2019, photo: Aurélien Mole, courtesy the artist.
MARNIE SLATER (b. 1980, Aotearoa, NZ, lives and works in Brussels, BE) is a visual artist whose artistic practice involves a pluralised way of working, that includes a trans-disciplinary solo practice, teaching, long-term collaborations, self-organising, writing, publishing and research. In her solo practice, she works with queer and feminist her/their/his/stories from personal and institutional archives to explore the ways in which the complex practices and lives of queer and feminist artists might challenge, resist and shift the ways in which the historical narratives of art and authorship are recorded and reproduced. Alongside her solo work, Slater is a co-curator of Buenos Tiempos, Int. and a team member of Mothers & Daughters – A Lesbian and Trans Bar*. She was a core tutor on the Master of Voice program at the Sandberg Institute, Amsterdam, and is currently teaching on the AdMa program at St Lucas School of Art, Antwerp, where she is also undertaking a research project on process tools for queer and feminist collaboration.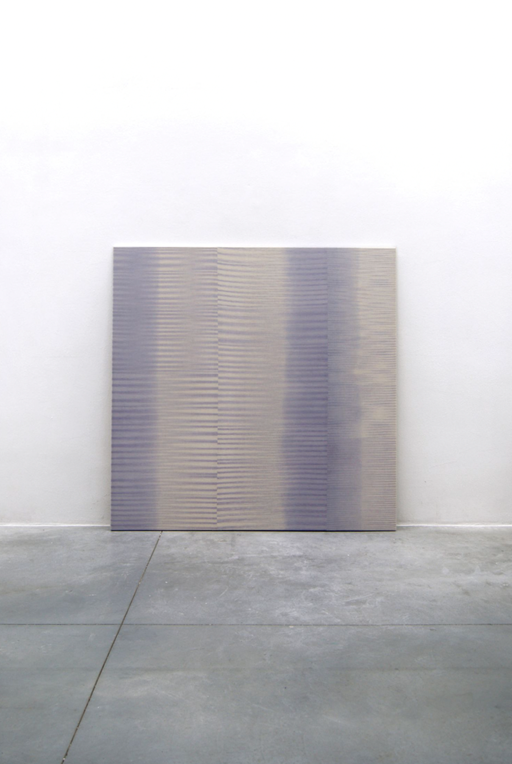 Céline Vahsen, Untitled (3), 2020, courtesy the artist
CÉLINE VAHSEN (b. 1987 in Malmedy, BE, lives and works in Brussels) is an artist teaching at KASK, School of Arts, in Ghent, in the textile department. After studying visual arts at École Supérieure des Arts St-Luc Brussels, Hochschule für Gestaltung und Kunst Lucerne and HAW Hamburg, Céline Vahsen obtained her Master's degree in 2013, in the textile department of École Nationale Supérieure des Arts Visuels de La Cambre in Brussels. Her work has been exhibited in Belgium, Germany and Switzerland. She has been artist in residence at, among others, Académie des savoir-faire - Fondation Hermès, Fondation CAB, iMAL - Art Center for Digital Cultures & Technology, Villa Empain - Boghossian Foundation. The starting point of Vahsen's work is the cultural legacy of the textile medium. With a contemporary approach, she explores techniques that are rooted in ancestral textile creation. Her technical research includes various references and traditions from geographically dispersed, hybrid cultures, as well as customs from different periods throughout the history of weaving.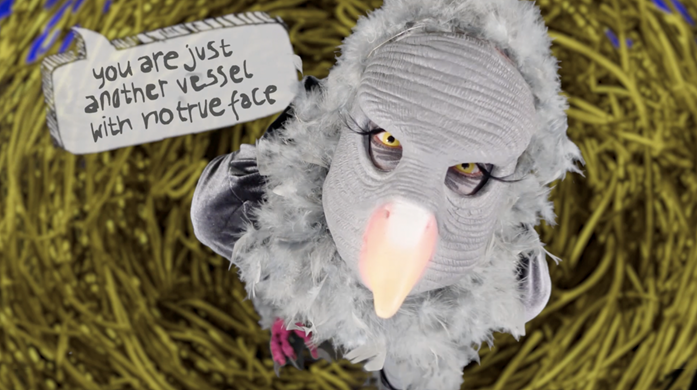 Puck Verkade, Unborn, 2021, courtesy the artist and Durst Britt & Mayhew
PUCK VERKADE (b, 1987, NL, lives and works between Berlin, DE and The Hague, NL) received her BFA from the Royal Academy of Art in The Hague and completed an MFA in Fine Art at Goldsmiths, London. Her work has been shown at various international venues, such as Artissima Art Fair in Turin, Wroclaw Contemporary Museum in Poland, Kunstmuseum in The Hague, LISTE Art Fair in Basel. Verkade's work is held in private and public collections internationally. She was selected as a 2017-2018 resident artist at Sarabande The Lee Alexander McQueen Foundation in London. In 2021 she received the Charlotte Koehler Prize from the Prins Bernhard Culture Fund in The Netherlands. Her work will be included in the 16e Biennale de Lyon: Manifesto Of Fragility.