Athens 2018, art under attack: an ultra-right-wing, populist tabloid of low circulation publishes a series of cover stories attacking a work of Public Art which was just installed on a beautiful spot upon the 'Athens Riviera', in Palaio Faliro, a part of the coastal area that surrounds the Greek capital. 
The attack, started as a laughable nuisance that only concerned a handful of ideo-religious fanatics who took their campaigning to the social media sphere. Then something highly unexpected comes and turns the farce into a nightmare. An ambitious political opponent of the long-standing mayor, coming from a mainstream center-left party, saw an opportunity to undermine the mayor by attacking the sculpture. This unexpected twist, emboldened the fanatics and worked to add a veil of legitimacy to their cause. A bit over 2000 signatures were collected against the work of art, which is now accused of being the artistic embodiment of non-other than Satan himself(!) or a leading 'Nephilim' and other such nonsense reproduced from this 'disturbed' minority. Sadly, in spite of the overwhelming support by the mayor and the mainstream media to the artwork, the artist and the donors that funded it – there is a chance that the populists demonizing the work of art might win; with the state intervening to remove the sculpture.
The work of art? An imposing, deep-red bronze sculpture, titled "Phylax", depicting a guardian angel who oversees the city. It has been crafted by a leading international artist of Greek origin, Kostis Georgiou, which rests upon an 8-meter tall metal pillar. Similar large-scale monumental sculptures by Georgiou can be found in several cities of China, in Paris, Brussels and a series of international museums. Their themes vary, and so do their sizes. They tend to describe imaginary beings, animals, flowers and individuals, in both rough and refined verses.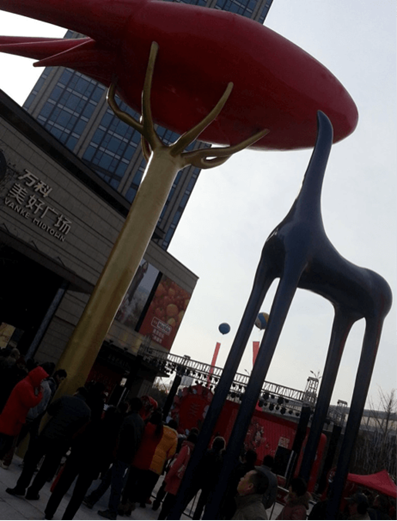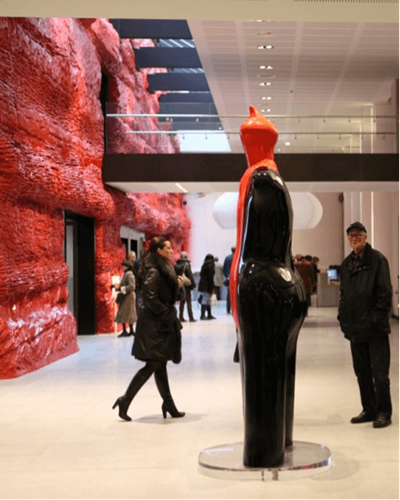 Georgiou's Cosmicon in Vanke Mall, China (upper image) and Galileo in St. Elizabeth Hospital, Brussels (lower image). Photo Credit: Martix System
The artist recently completed a series of international exhibitions, including one in London, titled 'Egomion', in Mayfair that we attended for Artdependence. With over 65 exhibitions in 4 continents, and over 20 countries, Georgiou's work is not tested for the first time. Shapes and figures from the same line of inspiration that brought us "Phylax" have been exhibited in New York, Chicago, Washington, Tokyo, Lausanne, Shanghai, Luxemburg, Montreal – to cite but a few. It is the first time it produces such a reaction. To allow the work of an internationally renowned and respected artist to be vandalized is unacceptable. "Phylax" was recently attacked with white paint by a handful of religious fanatics who filmed themselves as they then spat and gestured indecently to the work of art to 'defeat Satan'. If the state gives in to this extreme minority who has already resorted to 'direct action' – namely violence and threats, and removes the sculpture, everyone will lose. It will be a defeat for the Greek state, which will appear internationally as hostage of sad minorities. It will also be a loss for the Athens Riviera, which is now being reborn after the crisis that had stalled investments and was regaining momentum. It will also be a sad development for the municipality of Palaio Faliro which had just welcomed with great joy and excitement this avant-garde impression (according to a leading Greek art historian) of Talos, the protector of Crete. It will also be a loss for the people of the city.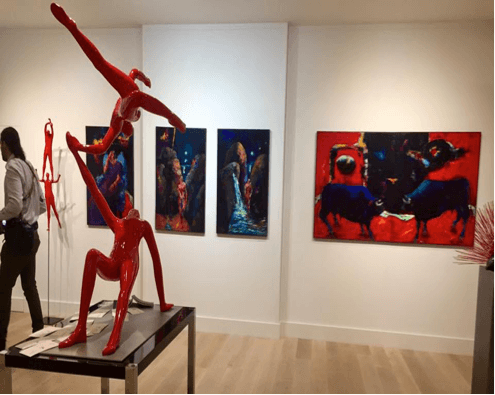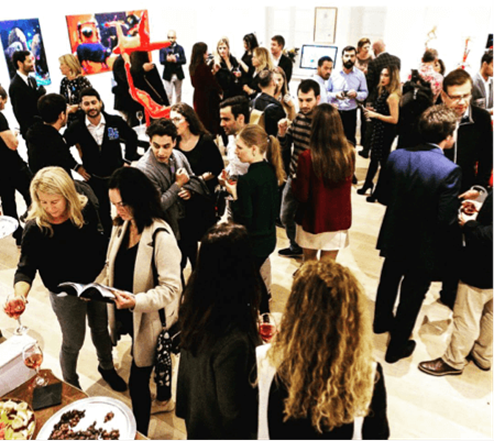 Kostis Georgiou's Solo Exhibition in Mayfair, London. Photo Credit: PanayisPictures
We spoke to the artist who appeared genuinely sad for this 'publicity frenzy', as some outlets jumped on the sensationalism wave to sell, adopting a tabloid-style approach for the sake of maximizing their audience. In truth, Georgiou explained, the work of art, is a continuation of his 40-year long artistic efforts, and a milestone in his recent efforts to enhance the concept and presence of public art around Greece. Its meaning is not diverging from the title, "Phylax", which means guardian. The artist is hoping that the mayor and the authorities will not give in to the pressures, and that they will stand firm in their current stance, in favor of maintaining and protecting the piece.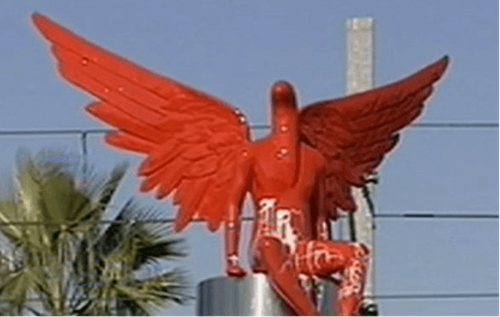 'Art Under Attack', 'Phylax' attacked with white paint, Photo Credit: Proto Thema
One only hopes that art's 'guardian angel' will put his or her hand to prevent further harm coming to this intense red sculpture that still stands tall and proud at the heart of the 'Athens Riviera'.
Image on top: Photo Credit: Proto Thema
By Pavlos Efthymiou, with Sofia Evangelou
Pavlos Efthymiou, is contributing as a guest, from London (UK). He has worked with a number of galleries and artists in Greece and Europe.