Image credit: Endra
A team of archaeologists led by Griffith University has discovered a cave painting in Indonesia that is at least 44,000 years old and which portrays a group of part-human, part-animal figures – 'therianthropes' – hunting large mammals with spears or ropes, casting new light on the origin of modern human cognition. 
As reported in Nature, this ancient painting from Sulawesi is our species' oldest known rock art. 
The figurative depiction of hunters as therianthropes may also be the oldest evidence for our ability to imagine the existence of supernatural beings, a cornerstone of religious experience.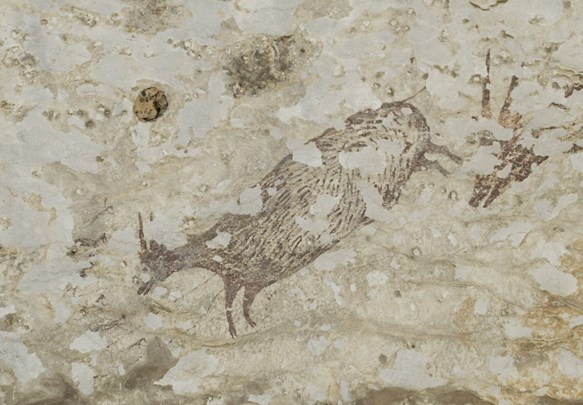 Image credit: Endra
The Australian team was led by Griffith archaeologists Professor Maxime Aubert  from the Griffith Centre for Social and Cultural Research (GCSCR) and the Australian Research Centre for Human Evolution (ARCHE), and Associate Professor Adam Brumm from ARCHE, along with Indonesian rock art expert and Griffith PhD student Adhi Agus Oktaviana. Sulawesian archaeologist and Griffith PhD student Basran Burhan was also involved in the research. 
The research was conducted in collaboration with Oktaviana's home institution, Indonesia's National Research Centre for Archaeology (ARKENAS), and scientists from Makassar's culture heritage department (Balai Pelestarian Cagar Budaya [BPCB]). 
Discovered in 2017, the new rock art site named Leang Bulu' Sipong 4 is one of hundreds in the Maros-Pangkep limestone karst region of South Sulawesi.  
In 2014, the same group of investigators announced that a limestone cave in Maros-Pangkep harbours one of the world's oldest rock art motifs, a sprayed red outline of a human hand (a 'hand stencil') created at least 40,000 years ago.  
As with this prior research, the present team measured the radioactive decay of uranium and other elements within mineral growths ('cave popcorn') that had formed on the cave painting at Leang Bulu' Sipong 4, providing minimum ages ranging from 35,100 to 43,900 years ago for the underlying art. 
The dating work was carried out at the University of Queensland's Radiogenic Isotope Facility as part of a joint geochronology enterprise with Griffith. 
"The hunters represented in the ancient rock art panel at Leang Bulu' Sipong 4 are simple figures with human-like bodies, but they have been depicted with heads or other body parts like those from birds, reptiles, and other faunal species endemic to Sulawesi", said Oktaviana, who has also studied rock art in Borneo, Sumatra, Raja Ampat, and Misool.