ArtDependence Magazine: Why has Belgium historically had and still has so many great artists known worldwide?
Sven Gatz: I always use a painting of Breughel to explain, the Peasant Wedding.  In front, you see a small boy eating pudding with his fingers. It symbolizes the almost absolute freedom in Belgium, a soft anarchy and this combined with great craftsmanship means we have great artists in our region.  I like to refer to Magritte's surrealism, it also demonstrates this attitude.
AD: How do you view privately-owned museums like Fondation Louis Vuitton, The Broad, etc.?
SG: It is a trend I am not absolutely opposed to, but it is certainly not the task of the government to interfere in this.  If someone comes with such a project, we will of course look into it but it is not a foremost priority. However, I like mentioning that we have privately-held museums, such as the Vanhaerents Collection and the collection of Fernand Huts.
AD: What you think of the quality of our museums and what do we need to do to prepare them for the next level of recognition?
SG: The problem in Belgium is that the museums are very widespread. There are contemporary museums in Antwerp, Ghent, Ostend, Brussels...What we want to implement is a centralization of the collections, using warehouses to safeguard and maintain our collections, so we know at all times where the artworks are at any given time. We want to invest more in this centralization.  We also want to keep acquiring art so the collections of the museums are more extended. What I do not want to do is to buy pieces back from abroad at enormous sums so that we cannot invest in our local arts economy anymore.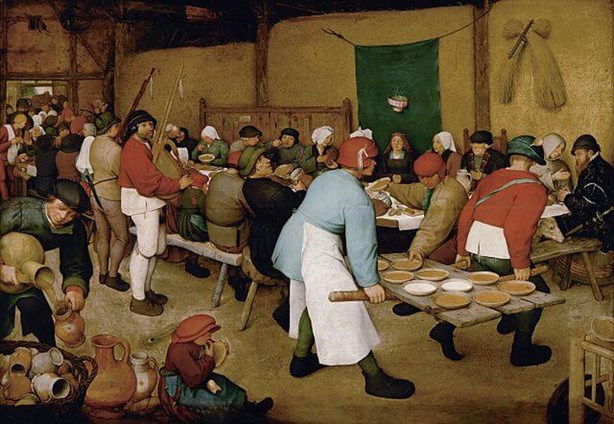 Pieter Bruegel the Elder, The Peasant Wedding, 1566-1569. Oil on panel, 114 × 164 cm (44.9 × 64.6 in).
AD: Would it not be interesting to think of other forms of subsidies, rather than money?
SG: We are working on the idea of a tax shelter for the arts. We have a tax shelter for the movie industry and the podium arts, which is very successful. The production costs of an exhibition of a certain importance are very high.  The M HKA for instance could not organize a Louise Bourgeois exhibition because of the production costs, while there would have been a payback model.  I believe if we can implement a tax shelter for the arts in the future, our museums can organize such exhibitions, and it will have an automatic earn back effect. Another measure we are taking is the Museumpass. Our museums are working on such a pass and the aim is to have this implemented by September 2018.
AD: Can you tell a bit about the Pompidou franchise coming to the Citroen site, known as KANAL in Brussels?
SG: There will be approximately 150.000.000 Euros invested in the 30.000 M2 building. The funding will not just be used for art, there will be many disciplines active in the building: theatre, dance, music, architecture, etc.  There will be a 10-year cooperative with the Centre Pompidou, whom the Kanal Foundation will pay 1.500.000 Euros over a 10-year period, for which the Pompidou will show art out of their collection, amongst other works to be seen, of course.  In March, I believe the winner of the architecture competition will be selected and it is the aim that the museum can open its doors in March 2021. A temporary program will start from May 2018.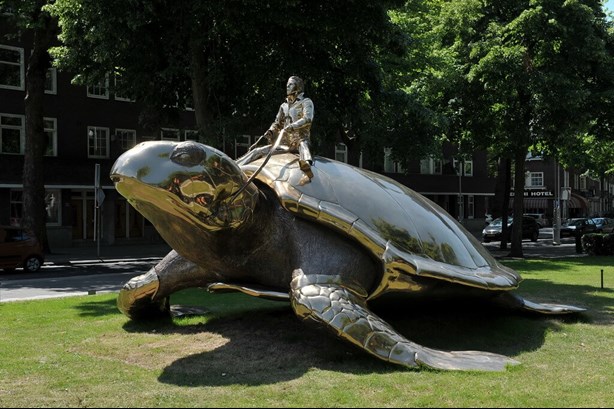 Jan Fabre, Searching for Utopia, 2003. © FaceMePLS from The Hague, The Netherlands
AD: What is your favorite art discipline and which artists do you most favor?
SG: I like paintings the most. Two of my favorites are Breughel and The Peasant Wedding, as you probably guessed. I like the work and authenticity of an artist like Jan Fabre a lot.