Image: Audrey Hepburn by Philippe Halsman
Intimate Audrey is a 'bespoke' exhibition on the life of Audrey Hepburn created by her son, Sean Hepburn Ferrer, to celebrate her 90th birthday anniversary in her birth town of Brussels, Belgium. All of its profits will go to EURORDIS- Rare Diseases Europe and the Brugmann and Bordet hospitals in Brussels. Composed in large part of unpublished photographs, it focuses entirely on the woman - not the icon. It is the woman behind the legend who is 'coming home'.
Hepburn Ferrer, whose father was U.S. actor Mel Ferrer, said he wanted to offer a more personal perspective of the life of the British actress, who dedicated her later years to charity work and became a UNICEF goodwill ambassador.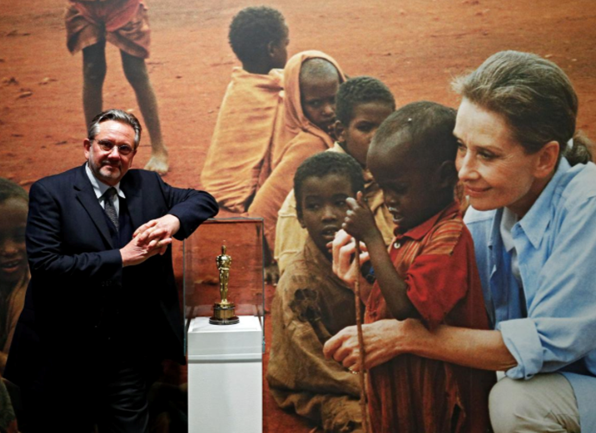 Sean Hepburn Ferrer, poses in front of a picture of his mother Audrey Hepburn and an Oscar statuette awarded posthumously for her humanitarian work at the exhibition "Intimate Audrey" in Brussels, Belgium, May 2, 2019. REUTERS/Francois Lenoir
On display are also Hepburn's fashion drawings and humanitarian writings. Hepburn Ferrer said one the key features of the exhibition was a replica cherry blossom tree, a tribute to the childhood home in Switzerland his parents bought in 1963 and remained Hepburn's residence until her death.
"It is an unusual exhibition because it has been completely devoid of the Hollywood aspect of her career so it's the woman who is coming home, naked of the legend, of the icon," he said.
Hepburn was born in 1929 in the Brussels area of Ixelles to a Dutch mother and British father. She later moved to London to pursue ballet training and eventually turned to acting, taking to the stage in New York in 1951 for Broadway play "Gigi".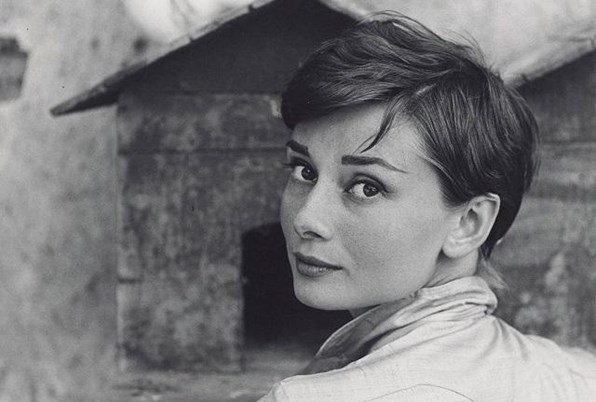 Audrey Hepburn by Philippe Halsman
She starred in a string of films in the 1950s and 1960s, including "Breakfast at Tiffany's", "Charade" and "My Fair Lady". Hepburn died in 1993 aged 63.
The exhibition, laid out over 800 square meters over the first 2 floors of the Vanderborght Building in Brussels includes several hundred original and re-printed photographs, a limited amount of memorabilia, dresses and accessories, as well as her never before seen fashion drawings and humanitarian writings. A series of poignant videos bring each of following chapters to life.
'Intimate Audrey', Until 25 August, 2019
Vanderborght Building, Brussels