This marks the third year of consecutive market growth, following the same survey's estimates of 243.1 billion JPY for 2016 and 243.7 billion JPY for 2017. Sales at galleries and departments fluctuated but nonetheless remain the two strongest channels in the market, though sales via art fairs and websites are also rising and achieved their highest results in three years.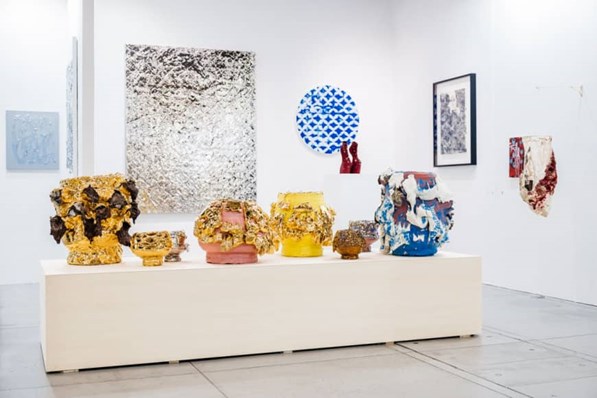 Installation view of Art Fair Tokyo 2018, Yosuke Takeda
In addition to estimating the scale of the market, the survey analyzed trends among artwork imports and exports as well as museum visits, and also investigated attitudes toward art among a group identified as "internationally well-experienced business people" (sample: 299), regarded as a key demographic for thinking about the future of the art industry.
Art Tokyo Association has collated these results from the survey into the Japanese Art Industry Market Research Report 2018, which is published online in conjunction with Art Fair Tokyo 2019, held in March 2019.
Scale of Markets for Works of Art, Art-related Products, and Art-Related Services
The scale of the market is estimated at 246 billion JPY in terms of sales of works of art such as antiques, yōga (Western-style painting), sculpture, and contemporary art. Combining this with the markets for art-related products, such as merchandise and catalogues, estimated at 47 billion JPY, and art-related services, including art museum admission fees and consumption at the art festivals held around Japan, at 50.4 billion JPY, the overall scale of the art market is estimated to be 343.4 billion JPY.
Courtesy to Art Tokyo Association