Image: Bouquet of Tulips, polychromed bronze, stainless steel, and aluminum 409 1/2 (459 with base) x 324 3/4 x 400 3/8 inches 1040 (1166 with base) x 835 x 1017 cm, © Jeff Koons, 2016
Noirmontartproduction has informed that the donation of Jeff Koons' Bouquet of Tulips to the City of Paris will finally be achieved.

As announced  by Christophe Girard, Deputy Mayor of the City of Paris in charge of culture, the work will be installed in the heart of Paris, in the gardens of the Petit Palais.

After many months of discussions between the artist, the City of Paris and the Ministry of Culture, an agreement on this location was reached yesterday with all parties' consent.

The donation was conceived in homage both to the victims of the terror attacks in and around Paris in 2015, and to the victims of the 2016 attacks elsewhere in France. It was thus agreed from the beginning of the project on that the installation site would be within Paris. The sites close to the attacks were not chosen out of respect for the victims' families, to let their associations arrange their own memorials in order to honor their dead.

The surroundings of the Petit Palais were included in the initial proposal of sites made by the City of Paris to Jeff Koons in June 2016, as well as the Place de Tokyo which had been finally selected because of the French-American symbolism it embodied. When the Ministry of Culture took over the project in January 2018, other sites were proposed in replacement of the place de Tokyo, notably La Villette. As no site led to an unanimous agreement, other suggestions were revived this summer.

The City of Paris reaffirmed this project as a priority, and Christophe Girard took over the project after his recent appointment at the head of the Culture services of the City. A meeting was thus organized yesterday with the attendance of Jeff Koons, who came especially to Paris to understand fully the last proposed sites. As the outcome of this meeting, a general agreement was reached on this site within the gardens of the Petit Palais, nearby the American Embassy.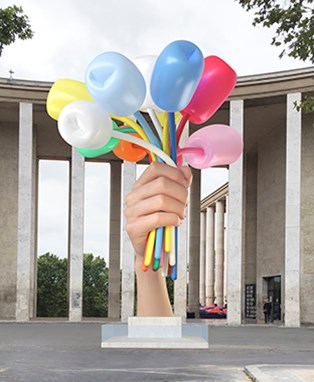 Bouquet of Tulips
2016
Polychromed bronze, aluminum and stainless steel.
Dimensions:sculpture: H 10,40 m x L 8,35 m x P 9,92 m / H 34 ft 1 1/2 in x W 27 ft 43/4 in x D 33 4 3/8 in with base: H 11,66 m x L 8,35 m x 9,92 m / 38 ft 3 in x W 27 ft 43/4 in x D 33 4 3/8 in 
Approximative weight: sculpture: 27 t - 59524 lb / with base: 36 t - 80000 lb