Bonnefantenmuseum in Maastricht, is undoubtedly one of the most important museums in The Netherlands, and the most important museum of the province of Limburg. The museum has been enjoying a steady growth over the last years, presenting constantly interesting, well-presented exhibitions. Stijn Huijts, the director of the Bonnefantenmuseum since 2012, as well as the whole team of the museum, surprises us once more, bringing for the first time in a European museum for a solo show the Los Angeles-based artist and filmmaker Kahlil Joseph.
Joseph Kahlil was born in Seattle in 1981, and transferred to Los Angeles in 1999, where he attended Loyola Marymount University, studying television production. After his studies Joseph assisted notable artists for several years, including Arthur Jafa, Terrence Malick, and Doug Aitken.
In the past, he has collaborated with Beyoncé, Kendrick Lamar, Sampha, and also directed a fashion film for Kenzo. His short film "Until the Quiet Comes" received immense critical acclaim and won the Grand Jury Prize for Short Films at the 2013 Sundance Film Festival and Video of the Year at the UKMVA's in 2013. He has participated in several group and solo exhibitions, and film festivals.
The title of the exhibition "New Suns" derives from an epigram of an unfinished book by the Afro-American science-fiction writer Octavia Butler, which captures the cosmic tension between optimism and pessimism and touched Joseph's soul in depth. New Suns is Kahlil Joseph's first solo museum exhibition in Europe, showing a selection of his most important films in recent years.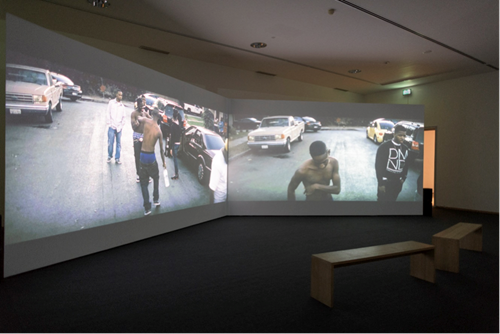 Kahlil Joseph, m.A.A.d. (2014), Motion picture, Bonnefantenmuseum Maastricht 2017, photo credit: Peter Cox
Joseph's work focuses on ordinary life scenes, mixes them with element that we do not expect to see and images from a Los Angeles that people are not familiar with. Always his work has a special attraction to the black community and how black people are photographed and filmed. As the artist himself said at one of his interview: 'I'm obsessed with Blackness, for sure.'
Music also plays a central role in his work. Besides, as already mentioned above he has collaborated with several musicians till now, and he truly enjoys it, since he strongly believes that musicians are actually authentic. A few months ago, the New Yorker critic Hilton Als wrote for the Black Excellence of Kahlil Joseph and how he restored faith in the music video, going beyond the ordinary and creating something completely his and fresh.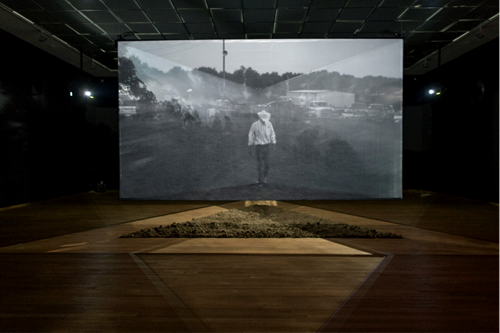 Kahlil Joseph, Wildcat (Aunt Janet) (2016), Motion picture, Bonnefantenmuseum 2017, photo credit: Peter Cox
The curating of the exhibition is exceptional, supported by the wonderful and ample space of the museum. The organizers definitely dared to go a step further than the usual stereotypes and transform a museum into a lively space. The exhibition is unexpected, combining harmonically different media of communication, such as video, music, photograph, and performance. There is even a room where black artists are playing music smoking marihuana(!).
New Suns is an exhibition that in order to live it in maximum you have to use all your senses and be ready for a different experience. I would say that the atmosphere in this exhibition is definitely the key element, travelling you, even for a while, at the world of Joseph Kahlil. To conclude, I will use a phrase by the book of Octavia Butler's, which I really liked and embraced: "There's nothing new under the sun, but there are new suns."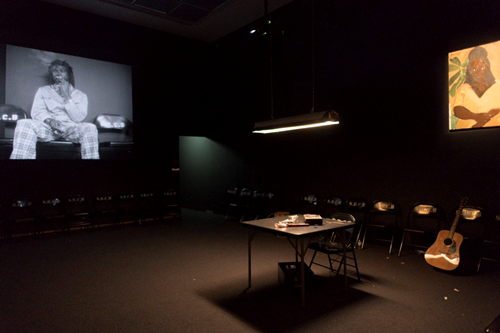 Kahlil Joseph, Wizard of the Upper Amazon (2016), Motion picture, Bonnefantenmuseum 2017, photo credit: Peter Cox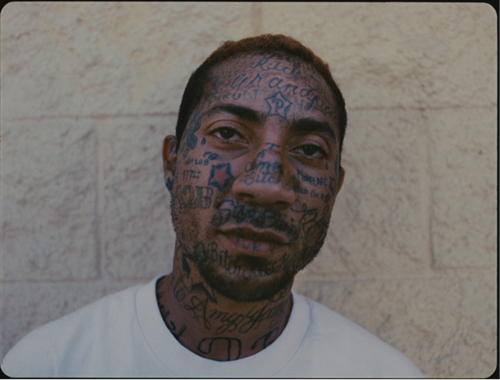 Kahlil Joseph, m.A.A.d. (2014), Motion picture stil, courtesy Kahlil Joseph
Kahlil Joseph's exhibition at the Bonnefantenmuseum will last till the 25th of March 2018.
Image on top: Portrait of Kahlil Joseph, photo credit: Jake Michaels 
* The author wishes to thank the Bonnefantenmuseum for proving material and for the excellent collaboration.