Main image source: Christie's Instagram, @christiesinc
In November Christie's will offer almost 200 works owned by the California collectors. The couple's passion for contemporary art embraced such artists as David Hockney, Roy Lichtenstein, Alexander Calder and David Smith
The remarkable story of this collection begins in Paris on an autumn morning in 1964. Harry 'Hunk' and Margaret 'Moo' Anderson were on the final leg of a round-the-world tour, booked to celebrate their move from New York to California, when they decided to visit the Louvre.
'Something came over us,' Hunk would later recall of the occasion. 'We felt, for the first time, the beauty and excitement of the world of art; and had to be a part of it.'
Hunk, Moo and their daughter Mary Patricia 'Putter' Anderson would go on to create one of the most celebrated collections of post-war and contemporary art in America, employing what they called a 'head and hands' approach to collecting. 'They strived to ensure that each object had a balance of the "head" — the idea, concept and ingenuity — and the "hands": the craftsmanship and materials,' explains Jason Linetzky, Director of the Anderson Collections at Stanford University. 'These two principles guided the Andersons in growing their collection over many decades.'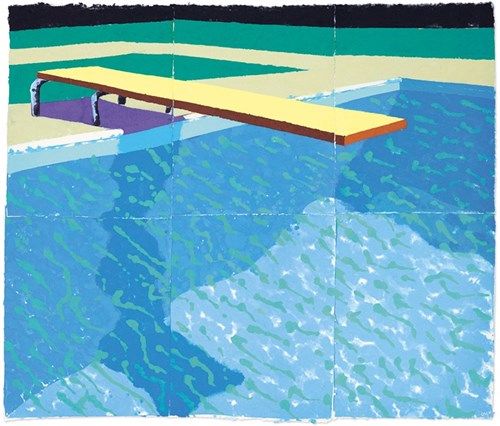 David Hockney (b.1937), Sprungbrett mit Schatten (Paper Pool 14), 1978. Pigment in paper pulp on six joined sheets. Overall: 71¾ x 84½ in. Offered in the Post-War and Contemporary Art Evening Sale in November 2018 at Christie's in New York
Hunk Anderson was born in Corning, New York, in 1922. After serving in the US Army, he enrolled at New York's Hobart College to study history and economics. During his third year, Hunk co-founded Saga, a business that managed the university's cafeteria. It proved to be a profitable success, and soon expanded to regional colleges. By 1973 Saga was delivering more than 400 million meals a year across the United States. It was also while a student at Hobart that Hunk met Moo, his future wife and entrepreneurial partner.
After returning from their 1964 trip to their new California home, the couple agreed they would use their house as a showcase for the world-class collection of art they intended to assemble. They began by tracking down works by Impressionists, Post-Impressionists and early Modernists — Claude Monet, Camille Pissarro, Pablo Picasso, Henri Matisse, Emil Nolde and Georgia O'Keefee among them. They soon realised, however, that museum-quality works by these artists rarely came to market.
In 1968 Moo took a trip to New York, where she came across a bound portfolio of 41 etchings and drypoints by the Abstract-Expressionist Richard Diebenkorn.  Purchasing the portfolio inspired them to dive head-first into the contemporary-art world, buying works by other avant-garde artists including Willem de Koonig, Joan Mitchell, Jean Dubuffet, David Hockney and Wayne Thibaud, who were at the time fledgling, unorthodox and affordable names.

David Hockney (b. 1937), A Visit with Mo and Lisa, Echo Park, 1984. Signed with the artist's initials and dated 'D.H. 84' (lower right of the right sheet) diptych. Gouache, wax crayon and graphite on paper. Overall: 60 ¾ x 202 in (154.3 x 513 cm). Offered in the Post-War and Contemporary Art Evening Sale in November 2018 at Christie's in New York
The couple also sought the guidance of a small, select group of American art dealers who sourced works by New York School artists and their West Coast contemporaries, including Adolph Gottlieb, Sam Francis, Martin Purer, Saul Sternberg, Jackson Pollock and Vija Clemens.  It was an approach to collecting that could be said to reflect their own journey from East Coast to West Coast.
Over the years, the couple's collection began to expand from the house, first to their garden, then to the corridors of Saga's headquarters, and eventually to the walls of the San Francisco Museum of Modern Art. 
The Andersons donated important works by Robert Rauschenberg, Roy Lichtenstein, Frank Stella, Jim Dine and Andy Warhol, Celebrating Modern Art: The Anderson Collection.  Kenneth Baker of the San Francisco Chronicle  went on to write that, 'Probably no private collection illustrates the course of American art since World War II better than that of… Harry W. and Mary Margaret Anderson.'
'It's good to study art in books, but something happens in the presence of the originals,' Hunk would say of the bequest. 'It affects the brain, taste, feelings and more.' Today, the Anderson Collection at Stanfort has been seen free of charge by more than 250,000 visitors.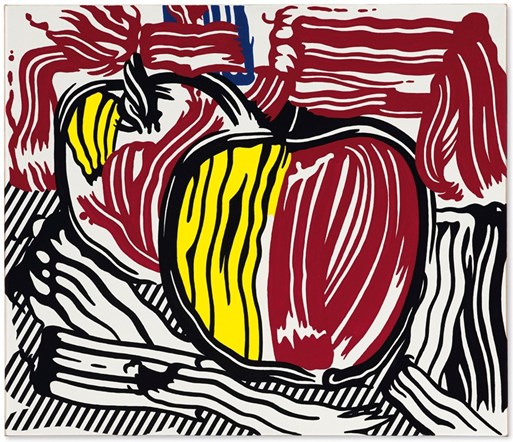 Roy Lichtenstein (1923-1977), Two Red and Yellow Apples, 1981. Acrylic on canvas. 24⅛ x 28⅛ in. Offered in the Post-War and Contemporary Art Evening Sale in November 2018 at Christie's in New York
The couple continued to expand their private collection, maintaining a focus on emerging talent under the guidance of Putter from her consultancy business in Los Angeles.
Hunk passed away in February 2018, but his legacy lives on through Moo, Putter, and the close relationships the family have fostered with artists, academics and institutions through their generous spirit and love of art. 
'Like all great collectors, the Andersons believed they were merely custodians of the works they owned,' explains Linetzky. 'They built a collection that had an identity of its own, but that identity came from the artists and objects that they selected very carefully.'