Image: Wassily Kandinsky, Schwabing—Das weisse haus
Kandinsky studied and practiced law before moving to Munich to become an artist at the age of thirty. He briefly enrolled in the Kunstakademie in Munich, taking classes with the famed German artist Franz von Stuck. By May 1901, however, Kandinsky had abandoned his academic studies to found Phalanx, a short-lived artistic society and school. The likeminded members of Phalanx rejected the traditional conservatism of the academy in favor of a more avant-garde approach to art. Kandinsky became president of the society later that year and planned most of the group's exhibitions, including one of the first installations of Claude Monet's paintings in Munich. His students at Phalanx included the painter Gabriele Münter, who would later become his romantic partner.

Around 1901, Kandinsky was heavily influenced by the landscape paintings of Impressionist and Neo-Impressionist artists, and he began experimenting with these avant-garde techniques in his own work. His colorful plein-air  studies, executed with paint taken directly from the tube, clearly demonstrate the influence of Monet's sense of natural light and Paul Signac's advanced color theories. During this period, Kandinsky produced several small-scale oil paintings depicting his immediate surroundings, including the present work—undoubtedly inspired by the rural and urban landscapes of the French avant-garde artists that he so admired.

This serene, vividly colored street scene represents some of the humble structures that comprised Schwabing, a bohemian neighborhood of Munich. Kandinsky employed a palette knife and thick strokes of a paintbrush to create a varied, textured surface, with a palpable, expressive facture. He selected a wide range of vibrant pigments—purple, pink, blue, and green—to create the effect of verdant foliage, as well as stone and brick. The artist's simplified representation of forms in space and his provocative use of color anticipates his radical experimentation with abstraction as a member of Der Blaue Reiter nearly ten years later. Although he would soon abandon naturalistic representation altogether, in the present work Kandinsky demonstrates his early fascination with color and his nascent desire to infuse his painting with spiritual feeling.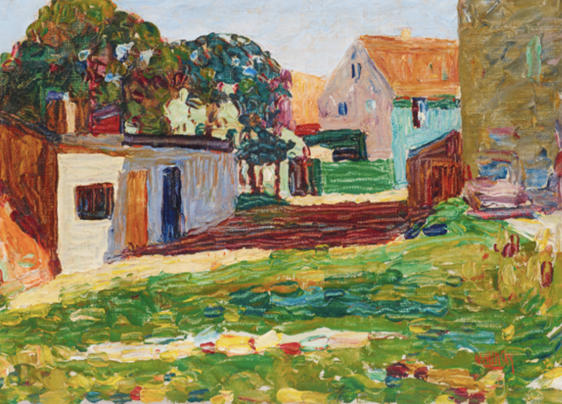 La Vie en Rose, online auction, 18-28 May, Christie's
Lot 17
Wassily Kandinsky (1866-1944)
Schwabing—Das weisse haus
signed 'Kandinsky' (lower right); signed again, numbered and inscribed 'Kandinsky N37 München/Schwabing' (on the reverse)
oil on canvasboard
91⁄4 x 123⁄4 in. (23.5 x 32.5 cm.)
Estimate: USD 250,000 - USD 350,000