Keith Haring, 1958-1990, Silence = Death, 1989, Acrylic on canvas, 101,6 x 101,6 cm, © Keith Haring Foundation
The exhibition also sheds light on the performative nature of Haring's work, fromhis live chalk drawings on the New York subway to working with artist andphotographer Tseng Kwong Chi who documented Haring's practice. Haring went on to become a pop art icon of the era: he collaborated with Madonna, Grace Jones, Vivienne Westwood, and Malcolm McLaren, making sets and designs for videos and performances. He was also an active contributor to New York's legendary Club 57, an underground party club and arts space, where he gave performances and organized exhibitions.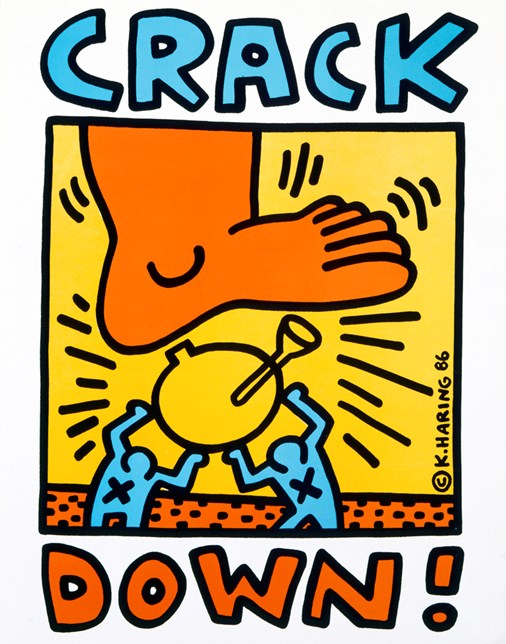 Keith Haring, 1958-1990, Crack Down!,1986, Poster, 608 x 481 mm, © Keith Haring Foundation / Collection Noirmontart production, Paris
In the late 1980s Haring developed a love for Belgium, spending a productive summer in Knokke in 1987 where he created a solo exhibition in the Casino. It was also in this period that he created the large wall painting in the MUHKA in Antwerp.
Keith Haring's career was concise, and on 16 February 1990 he died of AIDS- related complications at the age of 31. Haring expressed universal concepts of birth, death, love, sex, war and compassion to create a body of work that remains as relevant today as it was when it was made.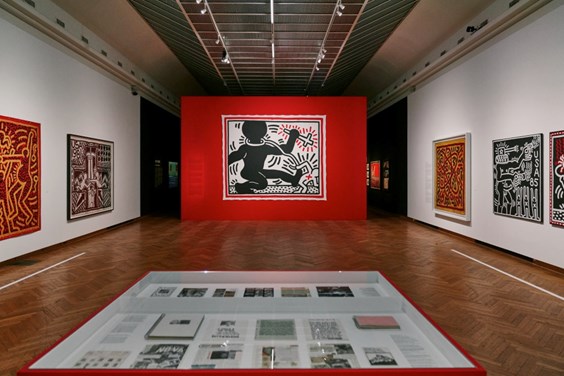 Keith Haring, Bozar
Keith Haring is curated by Darren Pih, Curator, Exhibitions & Displays, and Tamar Hemmes, Assistant Curator, Tate Liverpool. It is realised in collaboration with Tate Liverpool, the Keith Haring Foundation and in partnership with BOZAR, Centre for Fine Arts Brussels, and Museum Folkwang, Essen. After BOZAR the exhibition willtour to Museum Folkwang (22 May to 6 September 2020). It's the secondcollaboration between Tate Liverpool and BOZAR, after the exhibition Yves Klein. Theatre of the Void presented in both institutions in 2017.
Keith Haring, Palais des Beaux-Arts, Brussels
Through 19 April, 2020
Exhibition organised by Tate Liverpool in collaboration with
BOZAR and Museum Folkwang, Essen