Image: Keith Haring (1958-1990), Julia, courtesy to Christie's
Distinguished by its animated twisting forms and bold color, Julia by Keith Haring encompasses the defining elements and influences of the artist's illustrious career; the vernacular, graffiti-art aesthetic he so often employed, his participation in the vibrant 1980s dance scene, and most importantly, his powerful bond with his friend and confidant Julia Gruen.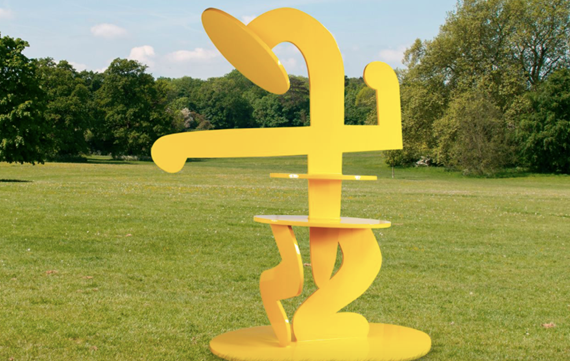 Keith Haring, Julia, courtesy to Christie's
Created only two years after Haring began working with sculpture, Julia represents the seamless transition of Haring's iconic visual imagery from two to three dimensions. Working with forms such as this enabled Haring to infuse even more liveliness into his classic stick-figure compositions that had first appeared as graffiti in New York City subway stations. Leaping off the wall, Julia dances to life, mirroring the exuberance of the 1980s nightclub scene in which Haring was deeply embedded.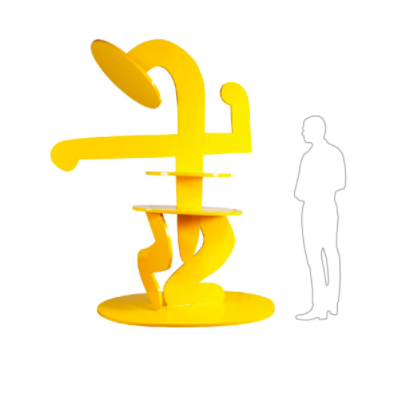 Keith Haring, Julia, courtesy to Christie's
On the floors of The Roxy and Paradise Garage, alongside famous DJs such as Larry Levan and Afrika Bambaataa, Haring and his generation fervently asserted their existence, dancing in the face of the looming threat of the AIDS epidemic. With him through this time was the woman for which Julia is named, Julia Gruen. As Haring's only sculpture based off a known individual, the work is an ode to Julia, who started as Haring's assistant and studio manager in 1984. In a few years, Gruen's professional relationship with Haring grew into a powerful bond of genuine friendship.
A year before Haring's premature death from AIDS in 1989, Julia was appointed director of the Keith Haring Foundation, a post she continues to hold today. Infused with the joy Haring derived from their relationship, the hours he spent dancing in New York City, and his signature animated language, Julia remains a delightful and dynamic homage.
An online selling exhibition of monumental sculptures, Christies, through 7 September
Keith Haring (1958-1990)
Julia

incised with the artist's signature and stamped (on the base)
painted aluminum
96 x 78 ½ x 58 ½ in. (243.8 by 199.4 by 148.6 cm.)
Executed in 1987. This work is from an edition of 5, plus 1 artist's proof.