Image: Ernst Ludwig Kirchner, Mädchen auf dem Diwan (Girl on Divan)
With faith in progress and in a new generation of creators and spectators we call together all youth,' Kirchner wrote in the programme of Die Brücke in 1906. 'As youth, we carry the future and want to create for ourselves freedom of life and of movement against the long established older forces. Everyone who reproduces that which drives him to creation with directness and authenticity belongs to us' (quoted in Charles Harrison & Paul Wood (ed.), Art in Theory, 1900-1990, Oxford & Cambridge, 1993, pp. 67-68).
What Kirchner and his colleagues, Erich Heckel and Karl Schmidt-Rottluff, were promoting was a freedom of expression and a rejection of the traditions of painting that they had encountered as art students in Dresden in the early 1900s. 
Although the style of their art was rooted in German folk art and influenced by the perspectival advancements of French Post-Impressionist painting, the members of Die Brücke invested their art with a freshness and naïvety that expressed the self-confidence of youth. Theirs was the first distinctly German artistic movement of the twentieth century, and their bold aesthetic established Kirchner and his colleagues as a reckonable force among the European avant-garde.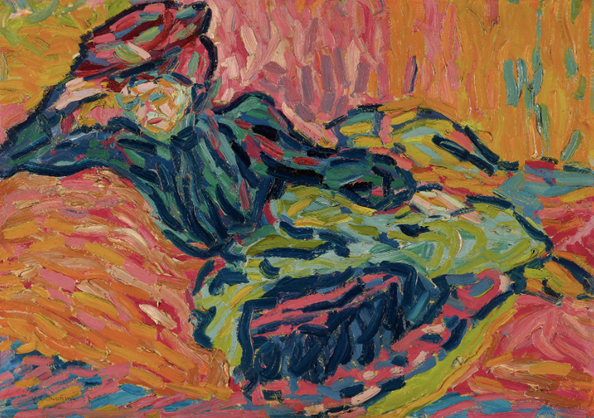 Ernst Ludwig Kirchner, Mädchen auf dem Diwan (Girl on Divan)
Die Brücke was organised as a cooperative society with the purpose of holding exhibitions, which would be supported by both active and non-active members. In this way the practising artists of Die Brücke were able to form a network of artists, critics and, crucially, collectors who, in return for a portfolio of prints would support their endeavours in a variety of ways. This support was primarily financial, but of equal importance was the access to contemporary European paintings they granted Die Brücke members. Key patrons and cultural figures, including Count Harry Kessler and Karl Ernst Osthaus, were amongst the first serious buyers of post-Impressionism in Germany, and in particular the works of Van Gogh, and through their engagement with Die Brücke movement had a profound effect on the development of Expressionism in Germany. The first Van Gogh to enter a public collection in Germany was The Wheatfield behind St. Paul's Hospital, which was displayed in the Folkwang Museum in Hagen in 1902, and interest in the artist grew rapidly amongst the cognoscenti in Germany and Austria. A major turning point was the exhibition of fifty or so of Van Gogh's paintings organised by Paul Cassirer at the Galerie Ernst Arnold in November 1905. According to Fritz Schmacher, a tutor at the Dresden Technische Hochschule that Kirchner was enrolled in, the Brücke artists 'went wild' when they saw their first Van Goghs in person.
Kirchner's encounter with Van Gogh's work was to have a lasting effect on his painting style, introducing him to a way of using heavily impastoed brushwork and violently bright colour tones, though he was swift to insist on his independence from any single post-Impressionist prototype. According to Donald E. Gordon, 'Kirchner's 1906 paintings gradually fuse elements from varying neo-Impressionist sources into a personal style. He had been impressed as early as 1903-4 winter with paintings by all the French neo-impressionist masters and undoubtedly saw others, in original or in reproduction, in 1905 and 1906. His interest in significant examples of Van Gogh's Provence style in November 1905 was followed in February 1906 by exposure to important paintings by Munch from the previous few years. A tendency towards fin-de-siècle symbolism, evidenced by the inclusion of sunflowers in several paintings from the outset of 1906, was momentarily reinforced by Munch's influence' (D. E. Gordon, op. cit., p. 48).
However, it is clear that by the late Summer of 1906 Kirchner had established a style of his own, one that placed its greatest emphasis on expressive qualities rather than the more decorative sensibilities that had previously concerned him, and as Gordon states in reference to the present composition: 'the sense of a maturing style is even more compelling in Girl on a Divan, where the centrifugal force of the dark, dashed strokes within and around the reclining figure literally overpowers the more patterned background, in spite of the boldness of intense primary colors employed there' (ibid., p. 50).
Kirchner's rapid development of a truly modern style of painting, as clearly evidenced in Mädchen auf dem Diwan, was due to a powerful combination of awareness of his immediate predecessors' and contemporaries' works and his own fiercely independent and highly innovative nature. The percussive brushwork in Mädchen auf dem Diwan owes as much to the neo-Impressionist's 'pointillist' taches as is does to the rhythmic flow of Van Gogh's. Though, as Peter Vergo noted, 'like many of his German contemporaries, Kirchner was less interested in the scientific theories underlying Neo-Impressionism than in the expressive potential of pure, unmixed colour applied directly to canvas. As in Kandinsky's works of the same period, the Divisionist dot or point characteristic of the art of Seurat or Signac is transformed in his early Dresden paintings into broad, flowing brushstrokes, often widely separated' (P. Vergo, The Thyssen-Bornemisza Collection: Twentieth-Century Painting, London, 1992, p. 188).
In Gordon's discussion of the early years in Dresden and the development of Kirchner's style, he touches upon the often remarked similarities between the Fauve painters and the founding members of Die Brücke. In his striking use of greens and blues to paint the features of the sitter in the present work and Doris 'Dodo' Grosse in the Museo Thyssen-Bornemisza (fig. 1), Kirchner's palette seems remarkably in tune with that of Matisse and Derain, who were painting on the Mediterranean coast at approximately the same time. Gordon compares Kirchner's works to Matisse's La raie verte from late 1905 (fig. 2), writing that 'this parallel indicates not Kirchner's debt to the fauves (whose work he only discovered a year or two later), but the fact that both he and the fauves drew similar conclusions concerning arbitrary colour usage from earlier Van Gogh and neo-impressionist paintings. This is all the more notable because Kirchner lacked the stimuli of works by Moreau, Gauguin and Cézanne, which had helped confirm the new French generation in this direction' (ibid., p. 52). The firework palette and exuberant execution of Mädchen auf dem Diwan marks it as one of the artist's most sophisticated early works, and a landmark in the evolution of German Expressionist painting. Kirchner and his contemporaries' early achievements had a profound effect on subsequent generations, not least in their native Germany, where artists such as Georg Baselitz looked to their example in the post-War era (fig. 3). The intellectual and social freedoms sought by Kirchner and his friends also represented an historical basis for the counterculture that developed in the 1960s, and their frenzied, richly coloured style became the artistic embodiment of those liberties.
Impressionist and Modern Art Sale, Sotheby's, 26 February 2019
Ernst Ludwig Kirchner (1880-1938)
Mädchen auf dem Diwan (Girl on Divan)
signed E.L. Kirchner and dated 06 (lower left); Nachlass E. L. Kirchner label with inscription Dre/Ba 6 on the reverse
oil on board
49 by 68.8cm.
19 1/4 by 27 1/8 in.
Painted in 1906.
Estimate: GBR 2,800,000 - GBR 3,800,000