Image: Körper, Bernd Uhlig
What comes to mind when we think about bodies? In Körper, German word for body created by Sasha Waltz in 2000 as first piece of a trilogy, many forms and connotations related to the main theme are explicated in extended and bizarre formats. In the Berliner Festspiele the dark and grotesque piece has left many interrogatives with its enigmatic aspects and a quite unclear structure. Beside the fact that the piece talks about bodies, what's the storyline? The beginning of the performance captivates attention and curiosity. 
A 10 meter black wall in the middle of a gloomy stage has two holes from which fingers, hands and arms come out. At first one male dancers is in front of the big structure moving sharply and dynamically before he be will reached by a second one with whom he will develop precarious but boisterous balances. Shortly after a woman enters the stage starting co-participating in the rhythmical, lifted, and dropped dynamics. The phrases become more and more hostile letting the bodies fall or even hurled on the floor as they would be neglected. However they keep standing up and interlace for another precarious and short-lived composition with accurate, neat and sharp movements.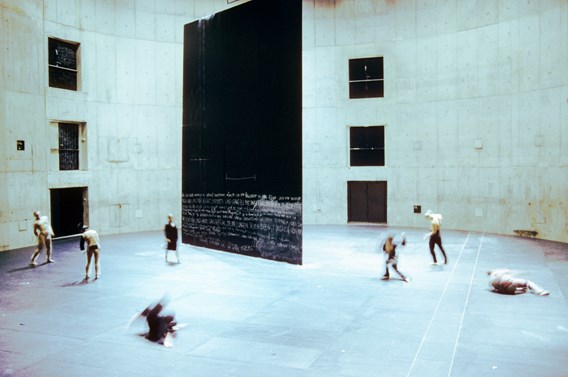 Körper, Bernd Uhlig
The performance goes on and changes completely scenario with one of the strongest and poetic images of the piece. A large transparent window opens in the dark wall becoming a peculiar vitrine containing naked bodies that move in every direction on a grate. As in an aquarium without water the performers move slowly as they were compressed and stuck lacking oxygen in a claustrophobic realm. The slow motion shifts go on for a quite long time until the piece moves in other directions, often composed by many other striking images.
A woman enters the stage wearing panties, socks and shoes. With nonchalance she starts introducing her morning habits as she wakes up such as smoking a cigarette, making coffee, going to defecate and sometimes, having the sensation to faint, going back into bed. Detachedly she shares part of her daily routine being frank and realistic in the depiction of unpleasant, private situations not having any filters, nor discretion. 
 Two women presents correspondently their body parts shown as sellable with detailed prices, recalling an organs trade and the costs of plastic surgery. At the same time a man pulls out strange components from the body of his victim and makes him loose liquids from different parts of his limbs. In a now empty and quite stage another woman, this time fully naked, and staring at the audience with no hesitation, speaks about herself including sizes, addictions, physical pain due to her period and recurrent problems such as herpes while she misleads the audience talking about parts of the body but showing others. 
Two deformed bodies move elegantly across the stage as prolonged half humans-half contorted/upturned beings disseminating coffee plates, to form eventually, with the other performers, an extended and dismantled vertebra column producing a crashing noise. During the whole piece the music changes from silence, to almost imperceptible sounds as cracked small bones and drops of liquids, to loud, almost deafening techno bang.
Repetitive cough by some male performers are hyperbolised several times to make it even more corporeal and disturbing. 
All of a sudden a chaotic assemblage of elements starts as all the performers come out hectically, everyone with his/her own object, personality and obsessions. There I have the impression to look at a psychiatric community where its inhabitants are caged and trapped in their world with visions, oddities, paranoia, obsessive and repetitive behaviours. In this absurd scenario hovers something fascinating, beautiful and real. Recalling images of people defined 'deranged' that in some ways are disconnected from the 'normal' and conventional dimension, it triggers sympathy and reflections on different ways to perceive and live internal and external worlds. But the psychiatric community dimension is not the core of the plot since the piece seems not to have one specifically, rather a compendium of free associations related to bodies.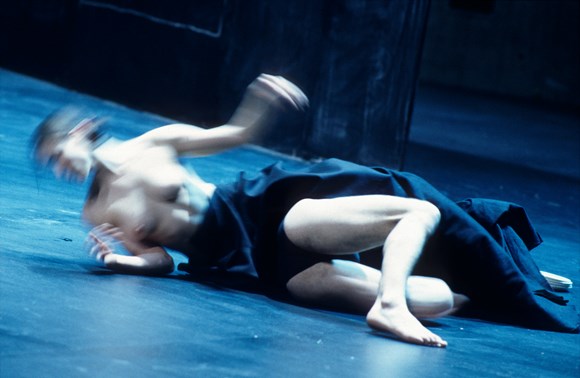 Körper, Bernd Uhlig
Suddenly the wall comes down in one block and as if they would promptly find themselves 'free', with a contradictory reaction, they start creating a body-chain with the geometrical pattern on the giant lying structure. Appearing as lacking of identity, as homologised beings composing lines and movements at the same peace, they no longer have signs of erratic behaviours, on the contrary they take a stereotyped shape. Now these movements, started from one and followed by the others, rise thoughts about passive and apathetic behaviours leading to think about the society sickness of following the trend, not thinking oneself, nor critically. Again bodies, this time without conscious minds.
Unexpectedly the end seems to be just an interruption as a composition brought to a standstill. No real conclusion in an unclear composition. All things considered the piece appears as a melting-pot of body reflections and information that seems to be lacking in structure while captivates with the illogical and enigmatic scenarios. Various, eclectic and strong images often loose their power due to the overstretched length and although dense of material with numerous and interesting ideas, they often appear patched incoherently making the piece prosperous but not organic. In spite of that, taking in consideration that the nature of bodies, with their infinite aspects and forms are constantly in transformation, the lack of structure of the piece could be seen as a remark to underline the impossibility of framing living bodies but as always, the interpretations can be infinite. Nevertheless, paraphrasing with some appropriate terms, the skeleton of the piece such as the structure, seems vacillate being not strong enough to hold and contain all the diversified and complex anatomical parts but it certainly provokes sensorial and mental reactions and mainly for this reason, should be experienced.