Image: Edvard Munch, The Sun, 1912, oil on canvas 123*176,5 cm, Munchmuseet, Oslo
With approximately 140 works that have rarely if ever been exhibited in Germany, the Kunstsammlung Nordrhein- Westfalen presents the "unknown" Edvard Munch (1863 – 1944) at the K20. These paintings, prints, and sculptures were selected by Karl Ove Knausgård (*1968).
The internationally celebrated writer, a native Norwegian like Munch himself, achieved worldwide fame with his six-volume autobiographical novel, which has been translated into more than 30 languages and has received numerous prizes. His decidedly personal point of view opens up a fresh perspective of a man who was, arguably, the most important representative of the Scandinavian avant-garde of the early 20th century, while highlighting the continuing relevance of Munch's concern with the embeddedness of the individual in society Knausgård explores the painter's inner world while tracing Munch's various artistic preoccupations. The author's subjective approach results in a subdivision of the exhibition into 4 thematic areas:
"Light and Landscape" presents shorelines and gardens, but also scenes of people working in the fields. It is followed by "The Forest", with its views of trees and meadows – here is a natural world that retains the upper hand in relation to human endeavors.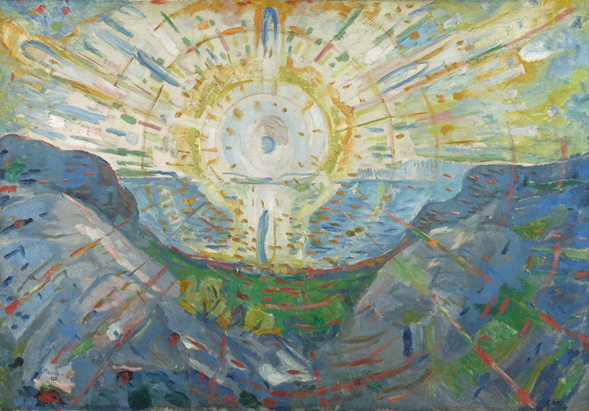 Edvard Munch, The Sun, 1912, oil on canvas 123*176,5 cm, Munchmuseet, Oslo
"Chaos and Energy" provides insights into the emotional and psychological forces that drove the painter, and into his struggle with each work. Complementing this focus on Munch's interior life is the conclusion, "The Others", which features images of friends and comrades and focuses on the ways in which the individual reasserts control over reality.


The exhibition has been organized by the Munch Museum, Oslo, Norway, in partnership  with Kunstsammlung Nordrhein-Westfalen, Düsseldorf. It takes place parallel to the  Frankfurt Book Fair, which names Norway its guest of honor and center of attention in 2019.
Until 1 March, 2020