The Los Angeles County Museum of Art (LACMA) announced yesterday that the County of Los Angeles Board of Supervisors has certified the Final Environmental Impact Report (FEIR) for the museum's new building for the permanent collection and approved the project. The Board of Supervisors also authorized the issuance of the $117.5 million balance on its $125 million contribution for the project.
"I am honored by the outpouring of support for our project, and want to acknowledge the many speakers and attendees at the meeting today," said LACMA CEO and Wallis Annenberg Director Michael Govan. "We are tremendously grateful to the County for its consistent support of our project, as well as to the generous leaders of the campaign, who have made significant pledges to make this building a reality. And thanks to the thoughtful comments by members of the community, the design of the building has become simpler, more beautiful, more transparent, with enhanced access to the park."
"The County museum hosts over a million visitors each year, and this design— transparent, open, and unilevel—will enhance their enjoyment and experience of our culturally diverse art and create a welcoming space for all ages and backgrounds," County Supervisor Sheila Kuehl said. "The design and ambitions reflect the L.A. County of today and L.A. County's cultural leadership in the 21st century."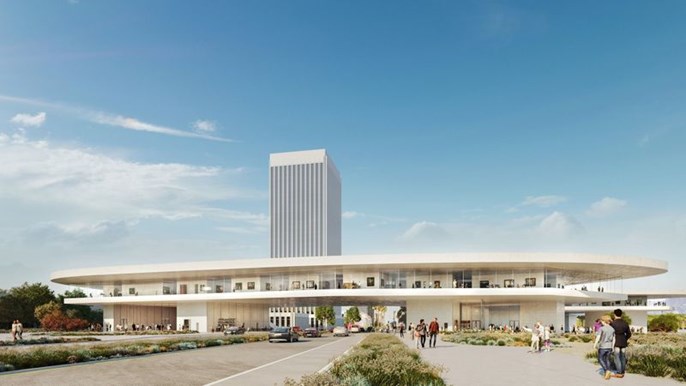 The total amount committed to date to the new building project is approximately $560 million, which includes a lead gift from philanthropist and entertainment executive David Geffen, Los Angeles County's contribution, a gift from LACMA Board Co-Chair Elaine Wynn, as well as a significant pledge from the late A. Jerrold Perenchio. An unprecedented public-private partnership that will result in a more than 4:1 match for the County's $125 million contribution, these commitments demonstrate an immense confidence and civic pride in LACMA's vision of what an encyclopedic museum can and should be to best serve the public in the 21st century.
Image on top: A Peter Zumthor rendering for LACMA shows the new building as it spans Wilshire Boulevard. (Atelier Peter Zumthor & Partner)