Image: Le collier d'ambre, Henri Matisse
Wanda de Guébriant has confirmed the authenticity of this work.

The young model in Le collier d'ambre is clad in a Persian kaftan, blouse and sash, each worked with an ornate needlework filigree. These are garments Matisse pulled from his trove of ethnic costumes and textiles, mostly acquired in the markets of Nice, to lend her the appearance of an odalisque, in accordance with the time-honoured conventions of the Orientalist style in Western art. This painting of 1937 differs, however, from many in this mode that Matisse had painted during the previous decade. Foregoing the dreamy, sensuous fantasy of those earlier odalisque paintings, the artist's characterisation of his model here is casually and accessibly modern, and all the more forthrightly appealing as she gazes amiably at the viewer. A significant development in Matisse's 'modern' odalisques of the mid- and late 1930s is moreover the extent to which the model, in her colourful and exotic attire, becomes a fully integrated component within the larger ensemble of decorative elements. The odalisque paintings of this period are among the most rigorously designed and strikingly orchestrated compositions that Matisse had painted since the end of the First World War.
'Around 1936 there came a sort a renewal in Matisse's art', the printer and publisher Tériade commented in his 1951 interviews with the painter, published as Matisse Speaks (Art News, November 1951). In a statement Matisse had given Tériade in 1936, reprinted in Matisse Speaks, the artist explained, 'When means become so refined, so distilled and extenuated that their expressive power exhausts itself, one must go back to the essential principles… Pictures which are refinements, subtle degradations, delicacies without energy, need the beautiful blues, the beautiful reds, the beautiful yellows, the materials which stir man's basic sensuality. This was the springboard of Fauvism – the courage to find anew the purity of means' (Matisse, quoted in J. Flam, ed., Matisse on Art, Berkeley, 1995, pp. 122-123).

Completed in Nice on 21 March 1937, Le collier d'ambre is one of the marvellous paintings that Matisse created during that banner year as he reinvigorated his art, going back to the very fundamentals he had discovered for himself over the course of previous decades and invaluably contributed to the cause of modernism. Matisse declared to Tériade in 1936, 'In my latest paintings, I united the acquisitions of the last twenty years to my essential core, to my very essence' (ibid., p. 123). These ideas would continue to guide his production down through the final decade of his paintings on canvas, and then the miracle of the paper cut-outs that became his ultimate achievement, crowning the magical Indian summer he called 'une seconde vie' – his 'second life'.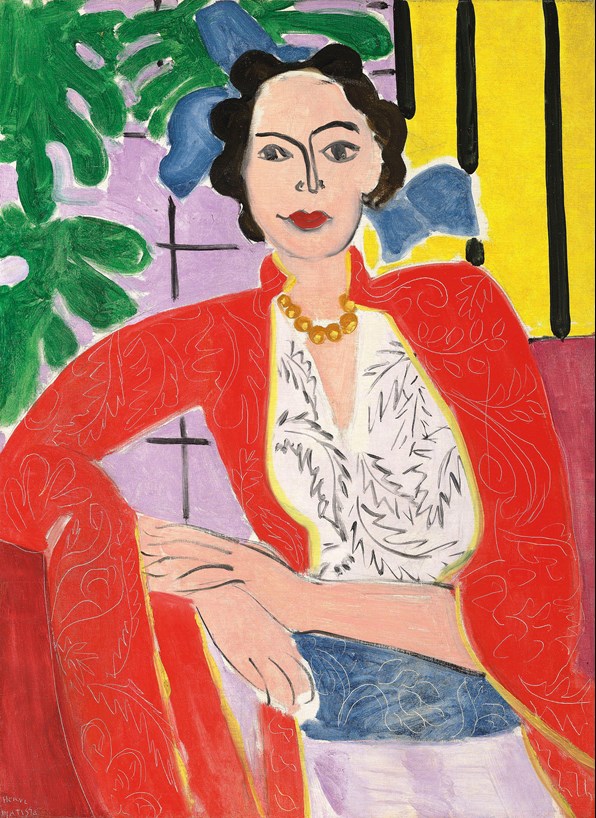 Le collier d'ambre, Henri Matisse

The paintings of odalisques that Matisse had made his signature theme during the first ten years he spent working in Nice, from 1917 to 1927, had brought him success and fame. The weekly news magazine Time featured him on the cover of its 20 October 1930 issue. A series of four major 60th birthday celebrations dedicated to his career soon followed. Galerie Thannhauser, Berlin, The Museum of Modern Art, New York, and the Kunsthalle, Basel, all mounted retrospectives of the artist's work during late 1930 and 1931. Most satisfying of all for Matisse was the reception accorded his large show at the Galerie Georges Petit, Paris, in June-July 1931. Two-thirds of the contents were drawn from his recent Nice production. Picasso, Matisse's long-time rival, took notice, remarking to Tériade, 'He's got the sun in his gut… there are some pretty good things' (Picasso, quoted in Matisse/Picasso, exh. cat., London, 2002, p. 237).
This anniversary excitement, however, did little to obscure from Matisse the hard fact that he had found himself 'blocked' in his work. He had ceased easel painting in late 1929. 'I don't feel up to work', he confessed to his wife Amélie. 'Probably I'll need a complete physical overhaul before I can stand the effort of setting off in a new direction all over again' (Matisse, quoted in H. Spurling, Matisse the Master, New York, 2005, p. 292).
The artist was ready for extended travel. Following a layover in New York to visit his son Pierre, his first trip to America, Matisse sailed half-way around the world to Tahiti, where he stayed from late March to mid-June 1930. He was back in Nice at the end of July. He returned to America later that year to serve on the jury for the Carnegie Institute International Exhibition. He met with Dr. Albert C. Barnes and viewed his collection in Merion, Pennsylvania, which contained important early paintings Matisse had not seen for years. Barnes commissioned a mural for the central gallery of his museum. Matisse painted the two versions of La danse during 1931-1933, twice again traveling to America, making the last trip in May 1933 to accompany the completed second and final version of the mural to its destination and supervise its installation.

Although Matisse had done little work in Tahiti or elsewhere during these travels, the changing environments proffered the benefit of new perspectives. 'When you have worked a long time in the same milieu', the artist explained to Tériade in 1930, 'it is useful at a given moment to stop and take a voyage which will let parts of the mind rest while other parts have free rein--especially those parts repressed by the will. This stopping permits a withdrawal and consequently an examination of the past. You begin again with more certainty' (Matisse, quoted in J. Flam, ed., op. cit., 1995, p. 88).

The experience of composing La danse within the context of its grand architectural setting proved to be the key factor in the development of Matisse's style during the 1930s and thereafter. In the odalisque paintings of the 1920s, 'he worked in a somewhat naturalistic way', Flam observed, 'depicting things from a specific point of view and emphasising transitory effects of light, shadow and mood' (J. Flam, Matisse: In Search of True Painting, exh. cat., New York, 2012, p. 135). By the end of that decade, Matisse had encountered increasing criticism that claimed his Nice odalisques and interiors offered little that went beyond the familiar tenets of Impressionism, and that he had, in effect, ceased evolving as a significant modernist. Matisse knew he must take steps to reclaim his status as a leading figure in the avant-garde. To this end, the Barnes commission proved to be a timely opportunity. Matisse rendered the figures of his dancing women as robustly rhythmical, flatly composed planes of colour set against an abstracted ground. 'He took with him a wholly different attitude toward space," Catherine Bock-Weiss has written, "a bolder architectural expansiveness…a new concept of space as a 'surround,' an immersion in boundless immensity' (C. Bock-Weiss, Henri Matisse: Modernist Against the Grain, University Park, Pennsylvania, 2009, p. 113).

When Matisse resumed working at the easel – somewhat tentatively at first – in late 1933 and early 1934, drawing led the way, prompting him to take a new direction in his painting, moving away from modelled volume and form to the expressive arabesque. 'The description of objects in space increasingly gave way to denotation of objects as ideational signs', John Elderfield discerned (J. Elderfield, The Cut-Outs of Henri Matisse, New York, 1978, p. 19). 'It is enough to invent signs', Matisse proclaimed in 1947 (Matisse, quoted in J. Flam, ed., op. cit., 1995, p. 178). Matisse successfully translated the lessons of La danse in its monumental scale to an easel format in Grand nu couché (Nu rose), painted in 1935. 'Matisse had become increasingly involved with the evocation of objects in a flattened, abstracted space', Flam has written. 'As he continued to emphasise the flat areas of bright colour and the rhythmic patterning of the spaces between things represented, his paintings were eventually transformed into ensembles of distilled pictorial signs that asserted a certain independence from their surroundings' (Flam, exh. cat., op. cit., 2012, p. 135).
As Matisse had recently done while finalising the forms of the dancers in the Barnes mural, he pinned cut-out paper shapes to the canvas of Grand nu couché to make alterations in the outlines and the positioning of the nude. This procedure helped him to visualise both figure and ground as distinct, flat colour zones separated by clear contours. The use of cut papers initially served as a preparatory tool, but soon evolved into the artist's first independently conceived, coloured paper cut-out compositions in 1937-1938.

The presence of two new models also played an important role at this juncture in Matisse's approach to composing pictures. The blonde Russian émigré Lydia Delectorskaya, then 24 years old, served as the model for Grand nu couché. She had helped as a studio assistant while Matisse was working on the Barnes mural, and was hired in 1934 to look after the artist's ailing wife Amélie. She soon became indispensable in the studio, and began to pose as Matisse's favourite model. Matisse featured Lydia in his most important painting of 1937, La grande robe bleue et mimosas, which the photographer Matossian recorded in ten "states" between 26 February and the end of April. In late 1935, Lydia introduced to the artist her Russian friend Hélène, Princess Galitzine. An oval-faced, wavy-haired brunette, Hélène intrigued Matisse as a visual complement to fair Lydia's classic features, and both women served as the artist's preferred models until 1939. Hélène posed for a series of odalisque paintings Matisse created during January and February 1937 (Bernheim-Jeune, nos. 743-746). The artist painted her full-figure and seated, attired as in the present painting, in Robe rouge et tulipes violettes, completed on 7 March (no. 748). Le collier d'ambre, offered here, followed on 17 March (No. 749), while Matisse continued to work on the composition showing Lydia in the grand blue dress. Hélène's distinctively Slavic features enhanced the early Rumanian blouse drawings and paintings that occupied Matisse during the latter half of 1937. She also appears, with Lydia, in Le chant, the mantelpiece decoration that Matisse executed on commission for Nelson A. Rockefeller, New York, in 1938. Rounding out her service for Matisse, Hélène became the guitarist, joined by a cousin, in La musique, 1939.

The new paintings of the late 1930s marked a sea-change in Matisse's style, his overall aesthetic outlook and purpose. This tendency extended to his subjects as well. 'My models, human figures, are never just "extras" in an interior. They are the principal theme of my work', Matisse wrote in 1939. 'The emotional interest they inspire in me is not particularly apparent in the representation of their bodies, but often rather by the lines and the special values distributed over the whole canvas or paper, which form its orchestration, its architecture' (Matisse, quoted in J. Flam, ed., op. cit., 1995, pp. 131-132). A persistent thread in these pictures, carried over from various odalisque paintings of the 1920s, is that of a woman or women in the presence of flowers and foliage, a composition arising from the symbiosis of woman and floral elements in a shared environment. Matisse's paintings of the late 1930s are surely the epitome of this theme, the femme-fleur, in modern French painting, alongside works by Picasso and Léger.

'Matisse sought not only to depict the appearance of specific women', Flam has written, 'but also to express an ideal akin to that of the 'Eternal Feminine', in which the power of Woman is associated with creativity, fecundity, and even a state of grace… Plants and decorative motifs express the inner vitality of the woman in a way that transcends her individuality... Floral motifs…transpose some of its decorative vigour to her body…both are often animated by the transfer of linear energy. Keeping the viewer's eye in continual motion, this transfer was part of Matisse's strategy for dispersing the individuality of the women in his pictures… These powerful, timeless symbols of Woman well reflect the artist's stated goal of making images that transcended the literal subject of the painting and allowed him to create a space that he described as being beyond him, "beyond any motif…a cosmic space"' (Flam, exh. cat., op. cit., 2012, p. 141).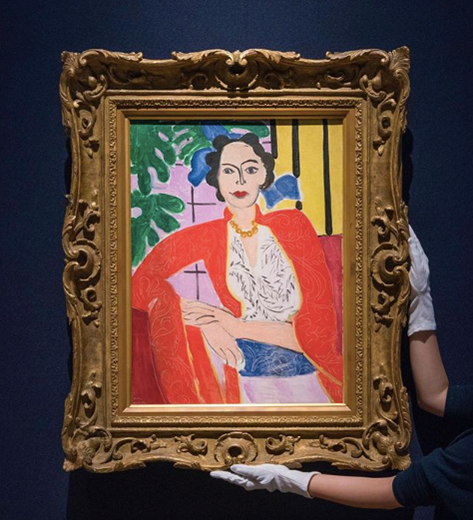 Photo courtesy to Christie's
Impressionist and Modern Art Evening Sale
18 June, 2019, Christie's
Lot 5
Henri Matisse (1869-1954)
Le collier d'ambre
Estimate: GBR 5,000,000 - GBR 8,000,000

signed 'Henri MATISSE' (lower left)
oil on canvas
24 ¼ x 17 7/8 in. (61.7 x 45.4 cm.)
Painted on 21 March 1937