Pablo Picasso's stunning Le Repos from 1932 is set to highlight Sotheby's Impressionist & Modern Art Evening Sale in New York on 14 May 2018, est. $25/35 Million. A stunning and intimate depiction of Picasso's 'golden muse', Marie-Thérèse Walter, the work was painted at the apex of Picasso's artistic production, and captures the rapturous desire of his greatest compositions. The painting will travel to Sotheby's Hong Kong, London and Los Angeles galleries this spring, ahead of a public exhibition in New York from 4 May.
The sumptuous canvas will appear at auction during a sensational time for related works from Picasso's oeuvre: the Tate Modern's first solo exhibition of Picasso's work, The Ey Exhibition: Picasso 1932 – Love, Fame, Tragedy, opens in London this week. Last Wednesday, Sotheby's sold the artist's 1937 portrait of Marie-Thérèse, Femme au béret et à la robe quadrillée, for an outstanding $69.2 million – a record price (GBP) for any painting auctioned in Europe.
Picasso's paintings of his lover Marie-Thérèse are arguably the finest emblems of love, sex and desire in 20th century art. He executed his major series of paintings depicting her in January 1932, in anticipation of Picasso's first retrospective that coming June at Galeries Georges-Petit in Paris.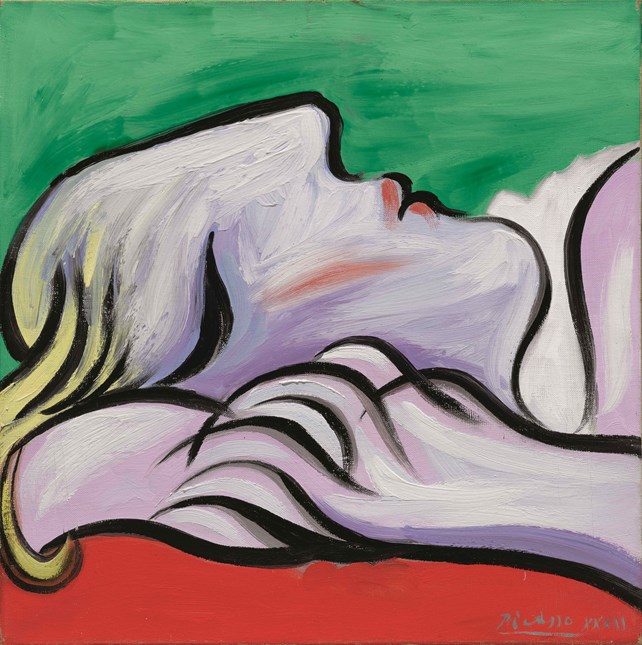 The frank avowal of Picasso's love for Marie-Thérèse is particularly evident in this work. He depicts his serene model asleep, her head in Grecian profile, and resting on her interlaced fingers. Devoid of the attributes that often accompany her in other compositions, in the present work Marie-Thérèse's striking facial features are the main focus of the composition. Picasso embraces not only a vibrant palette of primary colors such as yellow, red and green, but also employs sumptuous and curvaceous brushstrokes to convey Marie-Thérèse's full, passive and golden beauty, which had now become for him the personification of ripeness and fecundity.