Image: Roy Lichtenstein, 1923 - 1997, Pyramids
This October, London will play host to Frieze and Frieze Masters – the world's most vibrant Contemporary and Modern art fairs. In the spirit of Frieze week, the October Contemporary Art Evening Auction is led by a selection of outstanding works, including those by post-war masters Georg Baselitz, Lucio Fontana and Enrico Castellani, as well as stand-out pieces by Contemporary artists Adrian Ghenie, Andy Warhol and Amy Sillman.
Pyramids is a rare and important work from a significant series within Roy Lichtenstein's practice. Created between 1968 and 1969, the Pyramid paintings show Lichtenstein at his most rarefied and refined: more angular and elegant than his comic book tableaux of earlier years; more conceptual and chic than his graphic images of Pop art icons. In these works, the artist marched in step with the Minimalist movement that was sweeping the contemporary art world, and created works that were notably aligned with certain aspects of their stripped-back facture. Pyramids is the first work in a six-part series, the only one to be completed in 1968, and one of only three to remain in private hands: the others are held in such prestigious private collections as the Kunsthaus Zurich, the Des Moines Art Center in Iowa, and the Rhode Island School of Design. This work is a noble example of Lichtenstein's oeuvre: impressive in scale, exact in design, and delineated with liberal application of the Ben-Day dot for which this artist became an icon of the Pop era.
By the late 1960s, Minimalism was at its zenith in the New York art world. Donald Judd, Carl Andre, Dan Flavin, Robert Morris, and Sol Lewitt dominated the discourse with their enticing brand of conceptualism and austere elegant forms. Thus, after years of high-key super-saturated paintings of massive graphic impact and overwhelming Pop art impetus, Lichtenstein tuned into the minimalist discourse. He turned to series like the Stretcher Bars, which riffed on monochrome painting, recreating canvas versos upon their rectos in his trademark graphic style, and also began the Pyramids: sophisticated paintings and an experimental series of sculptures in which geometric forms and angular planes became the defining feature. In comparison to his earlier works they feel crisp in design, cool in execution, bold in palette, and even pseudo-abstract in form.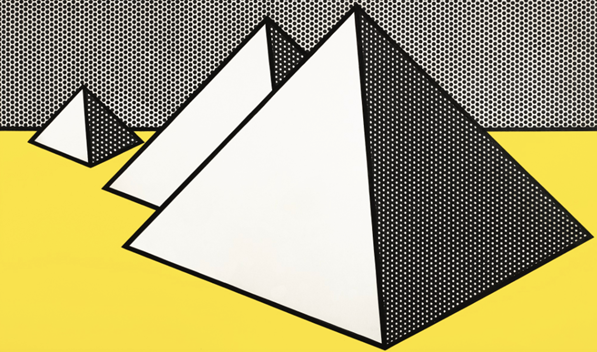 Lichtenstein did not turn to the pyramidal form at random. Pyramids were popular amongst the 1960s minimalists; a shape that a number of them called upon. Principal amongst the exponents of this motif was Sol Lewitt who made massive outdoor pyramids from blocks of stone, and indoor versions in trademark cubes of wood; he even extrapolated the form into his wall drawings and experimented with different geometric iterations. Meanwhile, in 1964, Robert Morris created the celebrated Corner Piece sculpture, now owned by the Guggenheim Museum, which re-articulated the gallery space, relating to the viewer on an immediate physical and temporal basis. Flavin took a different approach to exploring the pyramid shape when he created the series of Monuments for Tatlin during the late 1960s. This was minimalism as figuration; in pre-fabricated neon tubes, he approximated Vladimir Tatlin's proposed design for the Monument to the Third International (1919-120): the Bolshevik cenotaph would have dwarfed the Eiffel tower if realised. Flavin's homage to it is semi-ironic: simplistic where the proposed monument was a complex structure of intricate design. The glow of Flavin's pre-fabricated neon tubes seem to parodise the traditional grandeur of overpowering architecture.
Like Flavin, Lichtenstein was working in a representational manner in Pyramids; his shapes are not just exercises in abstract geometry, but rather, with yellow monochromatic ground and grisaille shadow and sky, they are graphic reductions of architectonic landscapes. In this regard, Lichtenstein can be seen as one of a number of artists in the Twentieth Century who have called upon the Pyramids as subject matter. Gerhard Richter created paintings of pyramids in 1964 and 1966 in his idiosyncratic photo-painting style. Like Lichtenstein, he found that the iconic nature of the Egyptian Pyramids allowed for total recognisability, even when refracted through the prism of a conceptually advanced painterly style.  In the years following Lichtenstein's work, Keith Haring used pyramids regularly. He valued them for their symbolic portent, for in American culture in the 1960s,'70s, and '80s, Pyramids were closely associated with UFO sightings and extra-terrestrial life, based on the 'Ancient Astronauts' conspiracy theorists, who argued that many sites like the Pyramids at Giza were built by visiting aliens in ancient and prehistoric times. In this light, it is interesting to note that a possible source of inspiration may have been a House of Secrets comic strip, which showed an alien life form hovering near a great pyramid.
Pyramids is on one level an exemplar of Roy Lichtenstein's 1960s praxis: a bold, graphic depiction of an instantly recognisable subject, executed in bright colour that evokes the aesthetic of popular comic books. Yet, in other respects, it represents a dramatic progression within his style; a move towards a more sophisticated, even academic approach to art, where formal qualities are valued on the same level as poetic meaning. It is a work of dramatic immediacy that is immediately recognisable as Lichtenstein. In this regard, we are reminded of the artist's 1988 assessment: "All painters take a personal attitude toward painting. What makes each object in the work is that it is organized by that artist's vision. The style and the content are also different from anyone else's. They are unified by the point of view – mine. This is the big tradition of art" (Roy Lichtenstein cited in: Calvin Tomkins, Roy Lichtenstein: Mural with Blue Brushstroke, New York 1988, p. 42).
Roy Lichtenstein
1923 - 1997
PYRAMIDS
signed and dated '68 on the reverse
oil and Magna on canvas
91.5 by 153 cm. 36 by 60 1/4 in.
Estimate: 
2,000,000

 — 

3,000,000 GBR