The second edition of London Gallery Weekend, now established as the biggest gallery weekend event in the world with 150 participating galleries, drew to a successful close on Sunday 15 May, with tens of thousands of visits to participating galleries recorded over the course of the three-day event. Drawing collectors, curators and the art-loving public for a city-wide celebration of London's vibrant gallery scene, the packed programme of public events included performances, talks, tours and children's activities, as well as exhibitions by major international names and emerging talents at galleries spanning the capital - from the most renowned international galleries to its newest emerging art spaces, with a host of new participants.
Justine Simons, Deputy Mayor for Culture and the Creative Industries said:
"I'm delighted with the success of the second edition of London Gallery Weekend, which cements London's status as a global hotspot for art. The impressive number of visitors is testament to the strength of this free showcase of the fantastic galleries we have in the capital."
This year London Gallery Weekend launched its inaugural performative public art commission, attracting hundreds of people to each of the three performances over the course of the weekend. Developed in collaboration with public art commissioners UP Projects and an independent selection panel, Mandy El-Sayegh was the recipient of this year's commission and performed her work The Minimum to audiences in the different focal areas of Central London, South London and East London.
"As an artist it has been an incredible opportunity to show my work outside of a gallery space and to people who wouldn't typically see my work. Each of the public spaces we showed the work in had a completely different feel and drew very different communities to see the performances. It's important and valuable for me to be able to step outside of the conventional 'white cube' setting, and it's been great to get a sense of how this accessibility to my work can encourage people to enter the gallery context too. I'm so thankful to everyone who made it possible and to my collaborators."
Mandy El-Sayegh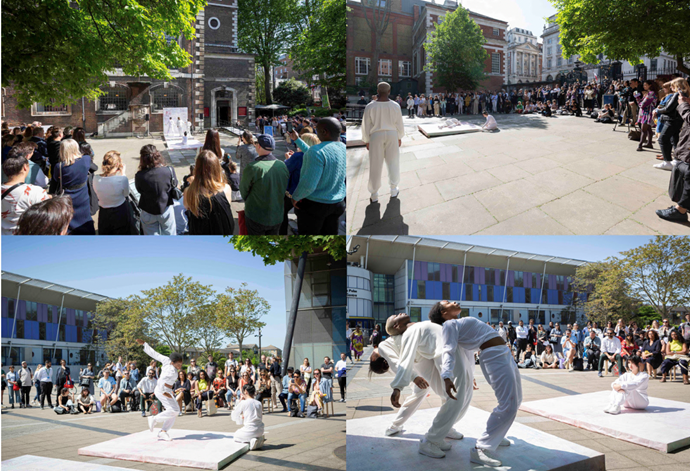 "The wonderful responses from the visiting public, the UK's museum sector and participating galleries alike are testament to the tremendous efforts of everyone involved in making London Gallery Weekend such a success. It is incredibly rewarding to have fulfilled this edition's objective of deepening our audience engagement both in the public realm and within the artworld through our initiative to bring curators and museum directors from across the UK to connect with London's gallery community, and our performance commission serving to expand London Gallery Weekend's public profile."
Founder & Director Jeremy Epstein, and Co-Director Sarah Rustin
"London Gallery Weekend has fast become an essential part of the capital's art scene. It is a valuable platform enabling the support of artists, as well as the galleries that present their work. We had tremendous footfall this year and enjoyed participating immensely."
Maureen Paley, Founder Director, Maureen Paley
"As first-time participants in London Gallery Weekend, we were delighted by the numbers of new visitors to our gallery who discovered us through it. This was a lovely opportunity to feel part of a city-wide, collaborative gallery ecosystem and reaffirmed the importance of this initiative to connect people from across the UK with London's incredible gallery scene."
Sofia Carriera Wham and Imme Dattenberg-Doyle, Directors, Doyle Wham
"We had excellent footfall during the London Gallery Weekend, and especially on the South London focus day where we are located. It's a very special initiative for galleries in London because it's the only occasion throughout the annual calendar that is run by the galleries for the galleries and, with the breadth of outreach to patron groups and curators and museums, I think this is the start of an initiative which could ultimately trump other events during the year. As well as initiating sales and highlighting our programme at Bosse & Baum, which it has done very well, it was also a chance for us to support our peers and connect with colleagues in London."
Alexandra Warder, Bosse & Baum
"Once again, London Gallery Weekend was a huge success, drawing crowds from every corner of the UK. Pace celebrated by opening Robert Nava's first show in the UK with a live performance from Thurston Moore and Pat Thomas. The response to our programme was tremendous, demonstrating the extraordinary level of engagement among the London arts community."
Elliot McDonald, Vice President, Pace
"It was a fantastic weekend for us with patron engagement and visitor numbers exceeding our wildest dreams. We had several London institutions visit as well as curators from institutions outside London visit. Sales were forthcoming too so overall a very happy experience for us. Thank you LGW and Sadie Coles HQ for everything!"
Amrita Jhaveri, Director, Jhaveri Contemporary – participant in Conversations on Tomorrow at Sadie Coles HQ, a collaborative exhibition by four Indian galleries
Curators from the 18 regional museums and galleries receiving funding from London Gallery Weekend's inaugural partnership with ArtFund were also in attendance. The initiative – designed to strengthen relationships between London's galleries and the UK's regional institutions – saw curators travel to London from Aberdeen Archives, Gallery and Museums; Falmouth Art Gallery; Gallery of Modern Art (GoMA), Glasgow; Humber Street Gallery, Hull; Live Borders Museums & Galleries, Galashiels; Manchester Museum; MIMA, Middlesbrough Institute of Modern Art; National Galleries of Scotland, Edinburgh; Nottingham Contemporary; Penlee House Gallery and Museum, Penzance; Royal Cornwall Museum, Truro; Southampton City Art Gallery; The Stirling Smith Art Gallery & Museum; Temple Newsam House, Leeds; The Hunterian, Glasgow; The Tetley, Leeds and York Art Gallery.
"Having worked in both the commercial sector and the public sector of the artworld Iwas really impressed with the way LGW is forging connections between London'scommercial galleries and institutional curators, particularly those based outsideLondon. This is a really important gap LGW has identified."
Niru Ratnam, Founder Director, Niru Ratnam Gallery
"After what has been a challenging two years for museums and galleries, London Gallery Weekend was a welcome celebration of the UK art community. The experience was invaluable not only for the opportunity of delving into the London gallery scene for 72 hours, but also connecting with art professionals in London and across the UK. I'd like to thank London Gallery Weekend and Art Fund for their invitation to such an unforgettable event which I can only hope to experience again next year!"
Heather Carroll, Exhibitions & Events Officer, The Stirling Smith Art Gallery & Museum, Stirling
"The programming was imaginative and captivating, bringing together a cohesive weekend for diverse galleries and projects. The support for regional curators was invaluable since I would not have been able to visit without such an invitation. This facilitated many meetings, conversations and network-building with artists and gallerists - both regional and London-based. This will lead to future opportunities for collaboration and partnership between our artists and audiences."
Georgia Taylor Aguilar, Exhibitions and Artist Development Curator, The Tetley, Leeds
"The travel bursary supported by Art Fund and London Gallery Weekend enabled me to spend an amazing 3 days in London with visits to around 25 galleries and museums (nearly 30 shows!), 2 studio visits and 2 performances in addition to the social events for networking. The energy of the weekend was felt through the exhibitions, performances, studio visits and people I met. With daily programmes, it felt exciting to be able to navigate through areas of London I had not been to before, leaving me with a number of highlights each day. I am looking forward to London Gallery Weekend 2023."
Katie Bruce, Producer and Curator, Gallery of Modern Art (GoMA), Glasgow
Visitors were able to use the relaunched website, designed and built by London-based art technology company Artlogic, to plot their individual route around the city based on their gallery and exhibition preferences. For the first time, users were also able to download a series of specially curated routes by leading art world figures and notable Londoners including fashion designer Simone Rocha, artists Jane & Louise Wilson, Barbican curator Eleanor Nairne, the Institute of Contemporary Arts Director Bengi Ünsal, actor Naomie Harris, Deputy Mayor for Culture and Creative Industries Justine Simons OBE, and artist collaborators Robbie Williams & Ed Godrich.
"LGW has already demonstrated that it is and will be a key fixture of London's annual art calendar. It has real convening power for galleries and collectors alike, and the Friends of LGW programme offers unique experiences. Looking forward to 2023 LGW!"
Matt Symonds, collector