Image: René Magritte, La grande guerre, 1964, Oil on canvas, Esther Grether Family Collection, © Prolitteris 2018


The exhibition Magritte. La Ligne de vie, held in partnership with the Magritte Foundation in Brussels, includes approximately ninety of the Belgian artist's works, on loan from international museums and private collectors.
The exhibition focuses around the theme of a conference entitled "La Ligne de vie" which Magritte held in Antwerp in 1938. At this conference, one of the few occasions on which the artist spoke publicly about his work, Magritte described the evolution of his artistic philosophy and mentioned the artists who had the greatest influence on him.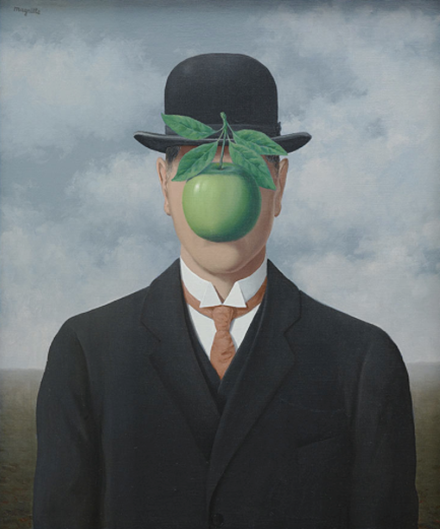 René Magritte, La grande guerre, 1964, Oil on canvas, Esther Grether Family Collection, © Prolitteris 2018
The exhibition documents Magritte's evolution, starting with his youthful works – unlike conventional exhibitions which normally show only his most characteristic creations – and cast light on the influence of the Italian avant-garde movements on his work through parallels with a number of futuristic and metaphysical works.
The exhibition path starts with the artist's creations of the early 'twenties, which were mostly experiments far removed from the Belgian master's best-known paintings. These are followed by a vast selection of works from the 'twenties and 'thirties focusing on the artist's favourite themes.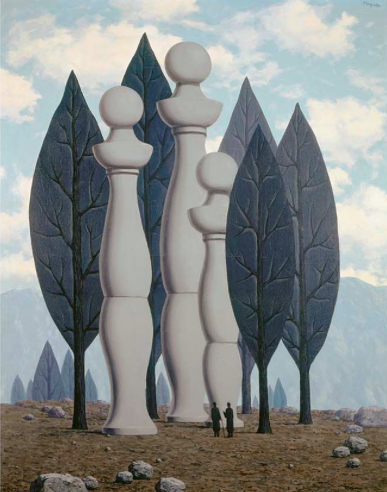 René Magritte, L'Art de le conversation [The Art of Conversation], 1962, Oil on canvas, Private collection, © Prolitteris 2018
As Magritte himself explained at the conference La Ligne de vie, his paintings between 1925 and 1936 are based on the systematic search for a disconcerting poetic effect achieved by taking ordinary objects out of their usual context. The artist returned to this artistic philosophy in some of the best-known works of his later years (La Mémoire, 1948 and La Grande Guerre, 1964, both of which appear in the exhibition), in which the metamorphosis of the object is clear.
The exhibition also documents Magritte's single, brief departure from his unmistakable style: the vache (literally "cow") period, with a series of works produced in 1948 in bright colours with free brushstrokes, ironically imitating Fauvism. The exhibition is completed with documents, photographs and a series of posters from the artist's youth, testifying to his "commercial" work, and with screenings of films he made in the fifties.
The exhibition 'Magritte. La Ligne de Vie', Until 6 January 2019
The Museo d'arte della Svizzera italiana, Lugano (MASI Lugano), Switzerland