Image: René Magritte (1898–1967), Le lieu commun, 1964 © ADAGP, Paris and DACS, London 2018
René Magritte's masterpiece Le Lieu Commun, 1964 (estimate: £15,000,000-25,000,000), one of the finest and largest examples of his iconic bowler-hatted men, will lead Christie's The Art of the Surreal Evening Sale on 27 February 2019.
Never before offered at auction, and poised to set a new world auction record for the artist, the work offers a unique vision of the wandering icon in that it offers a view of the figure both full-face and hidden behind a column in an ambiguous landscape of either impossible or multiple reality. The large scale (39 3/8 x 31 7/8 in. and 100 x 81 cm.) oil on canvas, signed 'Magritte' in the upper right corner, will be on view in New York from 4 to 11 November 2018 before touring to Hong Kong from 22 to 26 November 2018, Beijing 8 to 9 December 2018, Shanghai from 12 to 13 December 2018, Taipei from 15 to 16 January 2019, and LA from 31 January to 6 February 2019. The painting will be exhibited in London ahead of the auction from 22 to 27 February 2019.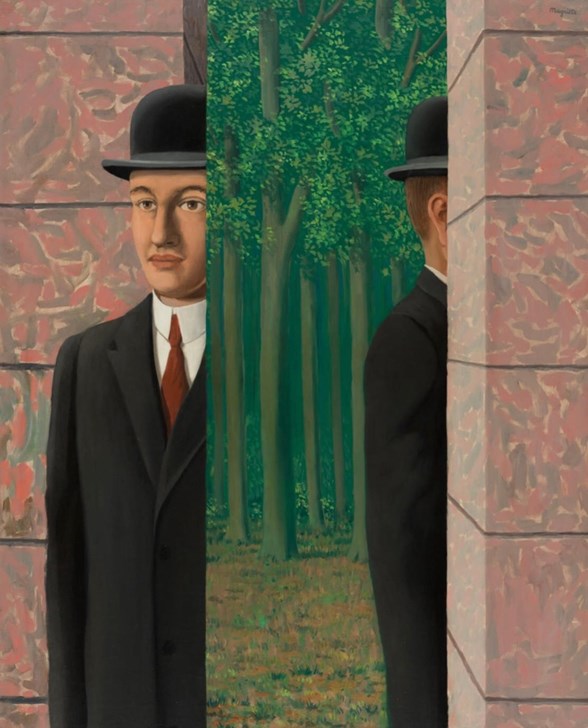 René Magritte (1898–1967), Le lieu commun, 1964 © ADAGP, Paris and DACS, London 2018
Le Lieu Commun was formerly owned by Gustave Nellens, the great collector who commissioned the 'Le Domaine Enchanté' series of eight paintings by Magritte, and owned many great works by the artist, as well as the Fuji Museum in Tokyo. It is one of four paintings featuring the bowler-hatted man from 1964 that mark the culmination of this theme in Magritte's work. The others are Le Fils de L'Homme, made for Harry Torczyner and which previously set the world record for the artist when auctioned in 1999, La Grande Guerre and L'Homme au Chapeau Melon. The three other paintings featured a simpler image of a single bowler-hatted man standing in front of a seascape and facing the viewer. In each of these works the face of the man has been obscured by an object: either an apple or a white dove. For the first time, Magritte makes use of a strip-like play with perspective and a forest view in a technique that anticipates one of the greatest paintings of his very last years – Le Blanc Seing of 1965, held in the collection of the National Gallery of Art, Washington - in which the image of a horse and rider are ambiguously intertwined with the tree trunks of the surrounding forest.
Olivier Camu, Deputy Chairman, Impressionist and Modern Art, Christie's: "In subject matter, rarity and scale, Le Lieu Commun is the most important painting by René Magritte to be offered at auction since 1999 when the painting Le Fils de L'Homme, created for Harry Torczyner, the great friend and patron of the artist, was sold for a then world record price. The everyman figure of the bowler-hatted man was used by Magritte as a pictorial cypher, moving between layers of reality. The present work is highly enigmatic and inventive. In Le Lieu Commun Magritte subverts the traditional genres of portrait and landscape painting and challenges our understanding of reality and representation; he plays with the viewer's sense of what is real and what can be perceived.  Uniquely we see this figure both in front of and behind the column so that he is at once revealed and obscured. We are thrilled to offer this as the leading work of our 18th edition of the dedicated The Art of the Surreal Evening Sale."
The Art of the Surreal Evening Sale
Christie's, London, 27 February 2019
René Magritte (1898–1967)
Le lieu commun, 1964
Estimate: £15,000,000–25,000,000