Image: Henri Manguin (1874–1949), 'Le Mas à Saint-Tropez', 1905, photo source @christiesinc
Light, happiness, fiery colours and serenity best qualify Henri Manguin'sœuvre, leading the great critic and poet Guillaume Apollinaire to describe him as "the voluptuous painter". Le Mas à Saint-Tropez perfectly epitomises Manguin's core aesthetics. It was executed in 1905, the critical year when art critic Louis Vauxcelles had described the room of the Salon d'Automne in which Manguin, Matisse, Derain, Vlaminck, Marquet and Camoin exhibited their paintings executed with shocking colours as the "cages des fauves" ("the cage of wild beasts"), thus christening the 'Fauvist'movement.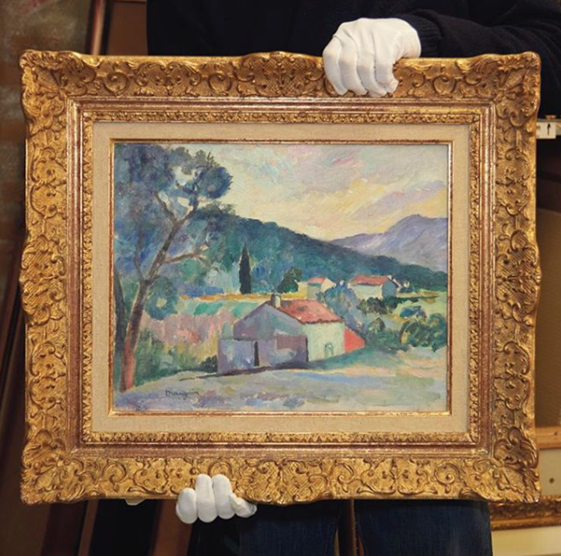 Henri Manguin (1874–1949), 'Le Mas à Saint-Tropez', 1905, photo source @christiesinc
Since studying at the École des Beaux-Arts of Paris in 1892, Manguin had become very close to fellow students Matisse and Marquet. Like them,Manguin was captivated by the vibrant colours and intense light along thesouthern coast of France, that he discovered when he met Paul Signac inSaint-Tropez in 1904. Manguin rented a small house in the pine-tree hills overlooking the village, the Villa Demière, that he regularly returned to until 1910. After meeting Leo and Gertrude Stein in Paris during the winter of 1905, Manguin spent the summer in Saint-Tropez, during which Le Mas à Saint-Tropez was most likely painted, before sending five works to theSalon d'Automne in the fall of 1905, exhibited in the "cages des fauves"room.

Bathing in the warm Mediterranean sunlight, the present work exemplifies Manguin's use of daring colours, the vibrancy of which is heightened by the boldness of each pigment and by the simplified composition. Despite the dramatic contrasts of the trees' and hills' emerald-green and Prussian-bluetones set against those bright pinkish-yellow pigments in the sky, Manguin's faceted treatment of the of surface and his compositional structure seems to tame the colours' wildness - as had been taught by Cézanne - to create a lyrical scene emanating with peace and joy.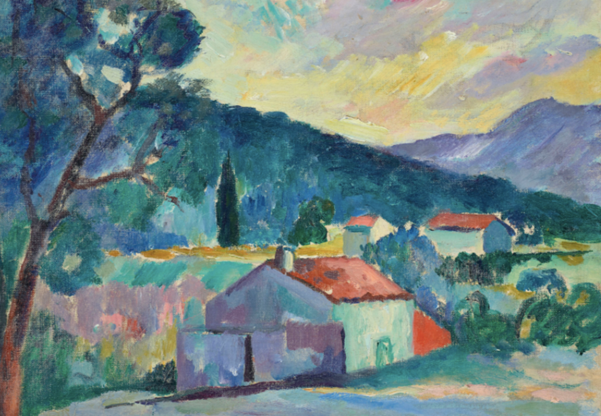 Henri Manguin (1874–1949), 'Le Mas à Saint-Tropez', 1905. Estimate: €120,000–180,000.⠀

Jean-Paul Crespelle has observed that "what distinguishes [Manguin from Matisse] is the strength and solidity of his draughtsman-ship, a lesson learned from Cézanne, who he came to appreciate much earlier than his friends in the studio of Moreau. While the other Fauves were lost in admiration for Gauguin, Manguin realized how much Gauguin owed to Cézanne" (J.-P. Crespelle, The Fauves, Boston, 1962, p. 227).
Impressionist & Modern Art – 29 March at Christie's Paris.⠀
Henri Manguin (1874–1949)
'Le Mas à Saint-Tropez', 1905
Estimate: EUR 120,000 – EUR 180,000
Henri Manguin (1874-1949)
Le Mas à Saint-Tropez
signé 'Manguin' (en bas à gauche)
huile sur carton d'artiste
32.5 x 40.7 cm.
Peint en été 1905

⠀