Image: Arseny Zhilyaev, The Keepers. One-dimensional Sphere Game/ Les gardiens. Jeu de sphère unidimensionnelle, 2020 © Arseny Zhilyaev. Photo Jeanchristophe Lett /Manifesta.
Following on from this research, Hedwig Fijen and Winy Maas invited two local city makers, Joke Quintens and Tarik Gezhali, to use the leading themes of Le Grand Puzzle as a point of departure for the development of a deliberative process consisting of 22 citizens' workshops entitled Le Tour de Tous les Possibles, which brought together roughly 500 citizens from a variety of backgrounds to discuss societal, environmental and cultural issues directly derived from the narratives, data and analyses of Le Grand Puzzle. This pre-biennial format is meant to inspire Marseille's citizens to experience their city differently and hopes to contribute to a deeper understanding of the city's urban realities as well as its cultural, social and geo-political complexities. The workshops will continue during the biennial period, until November 2020.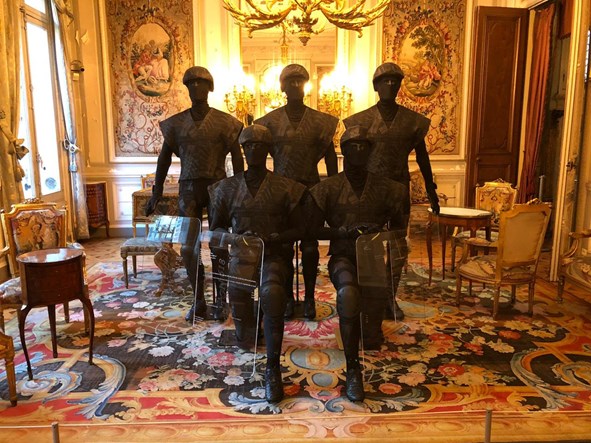 Arseny Zhilyaev, The Keepers. One-dimensional Sphere Game/ Les gardiens. Jeu de sphère unidimensionnelle, 2020 © Arseny Zhilyaev. Photo Jeanchristophe Lett /Manifesta.


1 Biennial, 3 Programmes
Manifesta 13 Marseille will welcome audiences and participants to its three programmes: the central programme Traits d'union.s; its education and mediation programme Le Tiers  Programme and the collateral programme Les Parallèles du Sud from the 28th of August until the 29th of November 2020. The biennial will be constantly evolving throughout its entire duration. The story of Manifesta 13 Marseille is that of passages, or as the title of the central programme suggests, that of hyphens, between one world and the other: Traits d'union.s.

Traits d'union.s, the central programme
"Its beauty can't be photographed. It can only be shared. It's a place where you have to take sides, be passionately for or against. Only then can you see what there is to see. And you realise, too late, that you're in the middle of a tragedy. An ancient tragedy in which the hero is death. In Marseille, even to lose you have to know how to fight." – Jean-Claude Izzo

By taking the Condicio Marseillaise as its starting point, Manifesta 13 sets relationships into play between its local and international participants. Though Marseille's conditions are truly special, they also relate to similar conditions elsewhere in the world. Consider the housing crisis, the ecological crisis, prevailing social inequalities or indeed the pandemic that connects us all.

At a time when social and political institutions are being tested and contested often from the different sides of the political spectrum, Manifesta 13 Marseille infuses existing institutions with different voices, temporarily expanding their narratives outwards and inwards, activating the possibilities that these institutions might still hold, leaving them more permeable, maybe more vulnerable and better equipped to speak to some of the challenges of our current predicament.

The Artistic Team (Katerina Chuchalina, Chief curator V-A-C Foundation in Moscow and Venice; Stefan Kalmár, Director ICA in London; Alya Sebti, Director of ifa Gallery, Berlin) of Manifesta13 Marseille's central exhibition Traits d'union.s works with 46 participants and created an exhibition devised into six plots: The Home, The Refuge, The Almshouse, The Port, The Park and The School. These plots will open successively from the 28th of August until 9th of October, after which they will be on view concurrently until the 29th of November 2020. The first plot opening on the 28th of August is The Home: Rentals, Experiences, Places at Musée Grobet-Labadié with works by Black Quantum Futurism (Collective, US), Martine Derain (1960, FR), Lukas Duwenhögger (1956,DE), Jana Euler (1982, DE), Ken Okiishi (1968, US), Cameron Rowland (1988, US), Reena Spaulings (Collectif, US), Arseny Zhilyaev (1984, RU), Samia Henni (1980, DZ/CH), Noailles Debout (Collective, FR).

Le Tiers Programme, the education and mediation programme
The Education and Mediation programme Le Tiers Programme has been constructed by Manifesta 13 Marseille's Education and Mediation department, led by Yana Klichuk and Joana Monbaron. The programme is a set of interrelated research- based projects that have been born out of encounters with a variety of local actors, ranging from inhabitants to artists and that will delve into histories and present realities of the city.

On the 28th of August, Le Tiers Programme will open the sixth exhibition of Invisible Archives with historical B-Vice Sound Musical School and Eva Doumbia along with Famoudou Don Moye.

Les Parallèles du Sud, the collateral programme
Analogue to Le Tiers Programme and Traits d'union.s is Les Parallèles du Sud, a programme in which local cultural institutions, galleries and artists are co-curating and co-producing projects with international partners. Visitors will be welcomed to over 80 projects of Les Parallèles du Sud in Marseille and across the Region Sud from the 28th of August to the 29th of November 2020. For this upcoming weekend 26 projects across Marseille will open their doors.

The public programme
The Public Programme of Manifesta 13 Marseille is inhabited by the Sonic, the Visual, the Poetic and the Political. It considers Marseille and the Mediterranean from multiversal perspectives as a place for the transfer of goods, people, knowledge and ideas in order to address the question: How to build future(s) and enable world-making on a more common and just basis? The Public Programme of Manifesta 13 Marseille consists of three components: a film programme in collaboration with Videodrome 2, a sound programme together with Radio Grenouille and rencontres at Centre de la Vieille Charite and IMéRA.