Image: Paul Walch, Laborant's Pause, 2018, private collection,. courtesy to the artist
Waste is everywhere: in the Great Pacific garbage patch, as fine particular matter in the air, or as microplastics in the food chain. The group exhibition Zero Waste showcases international positions in contemporary art that point out the urgency to save resources, consume less, and live more sustainably. In diverse installations, videos, sculptural works, and photographs the artists investigate the global consequences of plastic packaging, tire abrasion, toxic chemicals, and the overproduction of consumer goods. Zero Waste will be realized by the German Environment Agency in cooperation with the MdbK and curated by Hannah Beck-Mannagetta and Lena Fließbach.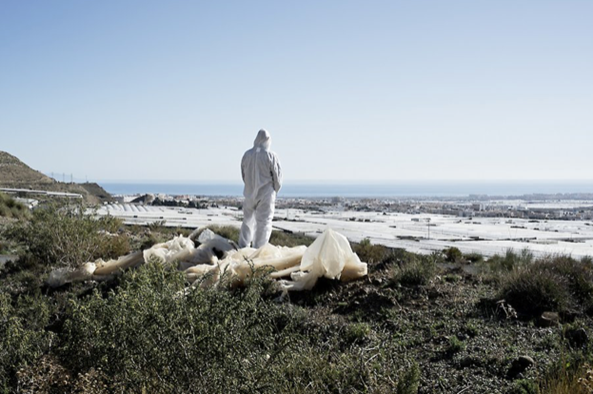 Paul Walch, Laborant's Pause, 2018, private collection,. courtesy to the artist
Every day shreds from the horticultural greenhouses in southern Spain, also known as "mar de plástico", drift into the sea – Raul Walch uses these remnants as material for his expansive kinetic objects. While Erik Sturm scrapes fine dust from window sills along heavily trafficked streets to produce paint, Vibha Galhotra visualizes the massive air pollution in New Delhi in her performative photographs and videos, and as a Black Cloud, a swarm of black paper kites released into the air. In his laboratory Dani Ploeger experiments with stress test machines and exposes manufacturers' intentional obsolescence of high-tech electronic devices. Eliana Heredia transforms omnipresent disposable products and cleaning agents into an installation with a graphic quality. In his large-scale photographic works Tue Greenfort examines fire in waste incineration plants, whereas Leipzig-based artist Klara Meinhardt makes concrete casts of Styrofoam packaging from household appliances. Christoph Medicus critically investigates the sustainability of clothing donations in his interactive installation. Nadine Fecht presents large-scale drawings with subtle inclusions of everyday city garbage as well as a site-specific installation comprised of grip reinforcements from plastic bags. The video work by artist duo Irwan Ahmett & Tita Salina depicts how a motorcycle convoy with yellow flags of mourning transfers a small fish from a polluted water in Jakarta to a crystal-clear river. Wolf von Kries photographs Conglomerates that fall from cars in the winter, which consist of gasoline, dirt, and frozen water. In another work he takes the contents of his pockets at the end of each day – small refuse such as candy wrappers or admission tickets – and links them together into a continuously growing chain. How four passengers make an old Buick, whose motor, electronics, and transmission have been replaced by a built-in pedal system, move forward without emissions is shown in the video documentary by Michel de Broin. In his work the young South African photographer Alexander Oelofse takes stock of the international retail food sector, in which an apple from the other end of the world is cheaper than one from a farmer around the corner, and surveys the pollution of our oceans. Mika Rottenberg condemns the work conditions within global production chains in her grotesque-disturbing video works and consciously forgoes material-intensive stagings of her filmic installations in the exhibition. For their Zero Waste Kitchen the Brazilian-Canadian artist duo Chico Togni & Kadija de Paula work with recycled materials found in the museum and with locally produced and "saved" food. The work of Swaantje Güntzel deals with the softeners in our blood, albatrosses that died from plastic toys, and the effects from microplastics in cosmetic products. In Bianca Kennedy and The Swan Collective's interactive virtual reality film the viewers themselves become insects, the preferred and sustainable source of human nutrition in this future scenario.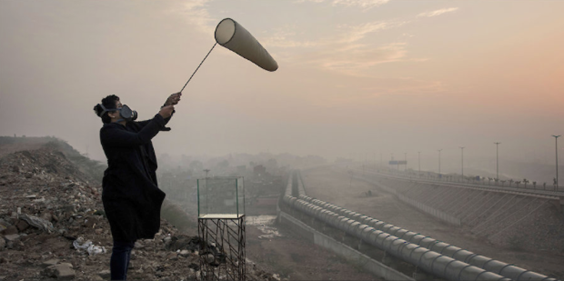 Vibha Galhotra, Breath to Breath, 2016/17, private collection, courtesy to the artist
Protest against an economy geared solely toward maximizing profits and growth and the boundless waste of resources at the cost of the environment and climate is becoming louder and louder. At the same time, there is a movement toward a minimalist lifestyle, conscious circular economy, and sustainability. Whether re- or upcycling, one's own consumer behavior, innovative technologies, or simply waste prevention – the exhibition takes a critical look at the current condition of our planet but also aims to imagine possible solutions, encourage alternative scopes of action, and propose visions for the future.
Following self-imposed climate-friendly rules, the project challenges the lavish use of materials in the art world and examines the concrete carbon footprint of this exhibition. In this way, Zero Waste avoids overly material-intensive installations and transportation or long-distance travel for short stays, while cooperating with local actors. The entire proceeds from the accompanying exhibition catalogue containing installation views will go to Andreas Greiner's experiment to calculate the CO2 production of the exhibition and compensate it by planting the corresponding number of trees.
Exhibiting artists: Irwan Ahmett & Tita Salina, Michel de Broin, Nadine Fecht, Vibha Galhotra, Tue Greenfort, Andreas Greiner, Swaantje Güntzel, Eliana Heredia, Bianca Kennedy & The Swan Collective, Wolf von Kries, Christoph Medicus, Klara Meinhardt, Alexander Oelofse, Kadija de Paula & Chico Togni, Dani Ploeger, Mika Rottenberg, Erik Sturm, Raul Walch