Image: Jacob Lawrence. In the North the Negro had better educational facilities. 1940–41
Whether you are a classroom or homeschool teacher, a parent or caregiver now suddenly in the position of teaching at home, a student, or a lifelong learner, this is a challenging time. Art can be a powerful catalyst for building skills and understanding a range of subjects. Teaching and learning from home is something we can all explore together, so MoMA wanted to share some resources from its collection  to get you started.
Five Top Tips Video
MoMA created this short video to help you lead a conversation around a work of art. The strategies covered in this video can be applied to any artwork or object, not just works of art in a museum's collection. MoMA's Youtube channel has a trove of videos about MoMA's collection, exhibitions, conservation, and  you can explore.
MoMA Learning Website
Once you get comfortable, you can dive into the MoMA learning website, which brings together content produced by the Museum and links to great content from other sites, and encourages a thematic exploration of art. On the Tools and Tips page you'll find downloadable and customizable artwork slideshows, worksheets, and hands-on activities. You can also access videos and gain insights and inspiration from MoMA educators on teaching and engaging with modern and contemporary art. All of this content is customizable and can be easily integrated into a self-study project or unit of study.
Free Online Courses
Join a global community of learners engaging with modern and contemporary art and design in MoMA's free courses on Coursera. Each course features original videos, texts, and audio, including studio visits and conversations with artists, educators, curators, and other creative forces.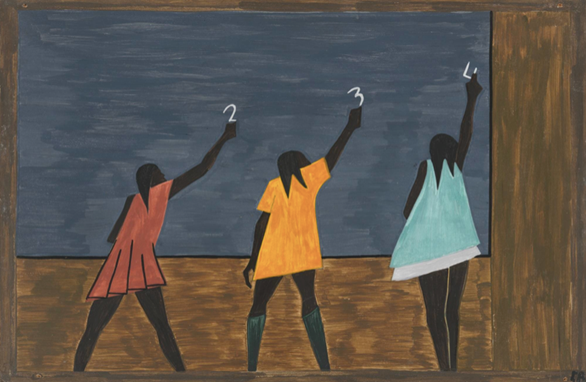 Jacob Lawrence. In the North the Negro had better educational facilities. 1940–41
In addition to general-audience courses about photography, modern and contemporary art, abstract painting, and fashion, three of MoMA's courses are intended for primary and secondary teachers of all disciplines who have an interest in using art in all instructional settings.