The Cosmogolem, the wooden artwork by Koen Vanmechelen that used to stand on the Left Bank in Antwerp (Belgium), went up in flames at the end of March. It is a strange coincidence that shortly beforehand, another work by Koen Vanmechelen was set on fire in Brasschaat (Belgium).
The Cosmogolem had stood on the Left Bank since 2011. The eight meter high statue, versions of which have been constructed in countries from Nicaragua to Namibia, symbolizes the dreams and wishes of children. "In addition, it is also a symbol for children's rights around the world", said Koen Vanmechelen. 
Koen Vanmechelen had this to say about the apparent act of vandalism: 
"The Cosmogolem statue stands for hope and carries a universal message of human - and more specifically children's - rights. He stands tall in more than 40 places, all over the world. Each CosmoGolem has become part of a community. Together with us, they have built the CosmoGolem, have celebrated its existence, have shared their dreams and hopes with the giant, and have cared for the statue. It has always been a deliberate choice to construct the CosmoGolem in wood. Every now and then, the statue needs to be refurbished.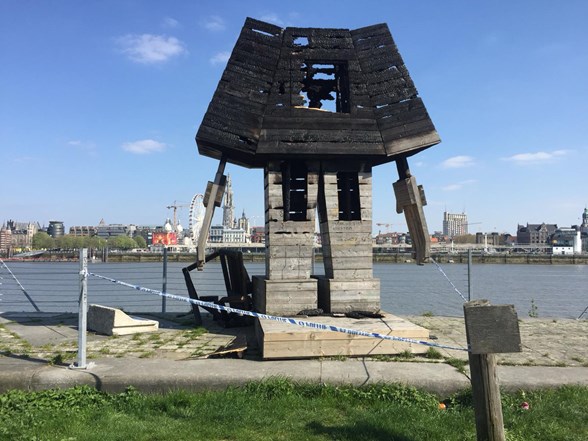 Burnt "Cosmogolem", by Koen Vanmechelen, Copyright ArtDependence Magazine
If this doesn't happen, slowly the statue will degenerate. This indicates that the community no longer needs the giant… In Antwerp, however, two have recently been vandalized, and this saddens me. I'm afraid that these culprits have forgotten the message of this artwork and what it stands for."