Image: Last Supper, c. 1495–1498, Leonardo Da Vinci
Multispectral scans, taken last week of a life-size canvas of the Last Supper, have revealed that Leonardo da Vinci very likely painted the beautiful face of the Apostle John. The scans, which were conducted at the Abbey of Tongerlo in Belgium where the painting has hung for more than 450 years, confirm the findings of a new book, The Da Vinci Legacy (Apollo Publishers, 2019), by art historians Jean-Pierre Isbouts and Christopher H. Brown.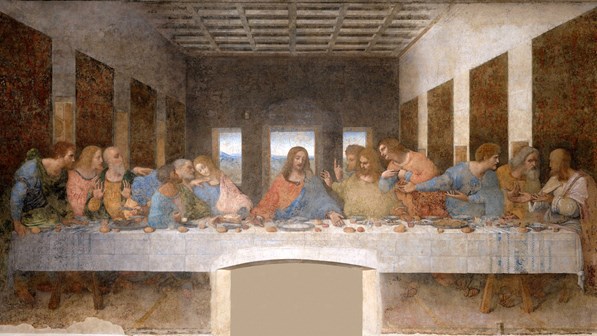 Last Supper, c. 1495–1498, Leonardo Da Vinci
In the book, the authors show that this painting was originally commissioned by King Louis XII of France, who wanted a faithful copy of the Last Supper fresco in Milan. A royal commission would have ensured that Leonardo personally supervised the painting, the authors claim, citing evidence that the work was taken from Leonardo's workshop in Italy to France in the early 16th century, before being sold to the Belgian abbey.

"The multispectral study reveals a highly delicate sfumato on the skin of John, untouched by later restorers, which shows that this could only be the work of Leonardo," said Isbouts, a doctoral professor at Fieldling Graduate University in Santa Barbara who supervises the project. "Its beauty stands in sharp contrast to the facial treatment of the other Apostles, which are clearly the work of lesser painters in Leonardo's studio, including Andrea Solario, Giampietrino and Marco d'Oggiono."

The scans will now be studied by an international group of scholars. "Given that only 20 percent of the original fresco in Milan is still visible, the Tongerlo version can show us what Leonardo's original Last Supper painting once looked like," said Brown, director of Brown Discoveries LLC of North Carolina. The multispectral scans were taken by IEMC, a Belgian technology company, in association with Fielding Graduate University and Brown Discoveries.
The Da Vinci Legacy book, which has received critical acclaim, traces the arc of Leonardo's fame across five centuries to today. Among others, the authors show that it was the Last Supper that maintained the da Vinci mystique for 500 years. "The invention of a new mass medium, the copper engraving, ensured that by the end of the 16th century, everyone in the European art circle knew about Leonardo's Last Supper," says Isbouts. "Many of those copies and engravings were made from the Tongerlo Last Supper, which until recently was known only to a small group of experts."

No doubt, the full publication of the multispectral study, to be expected this summer, will change that.