Members of the Windrush generation joined HRH Duke and Duchess of Cambridge at London Waterloo Station today (22 June 2022) to witness the unveiling of the National Windrush Monument.
Designed by renowned Jamaican artist Basil Watson and delivered with £1 million funding from the Department for Levelling Up, Housing and Communities, the Monument symbolises the courage, commitment and resilience of the thousands of men, women and children who travelled to the UK to start new lives from 1948 to 1971.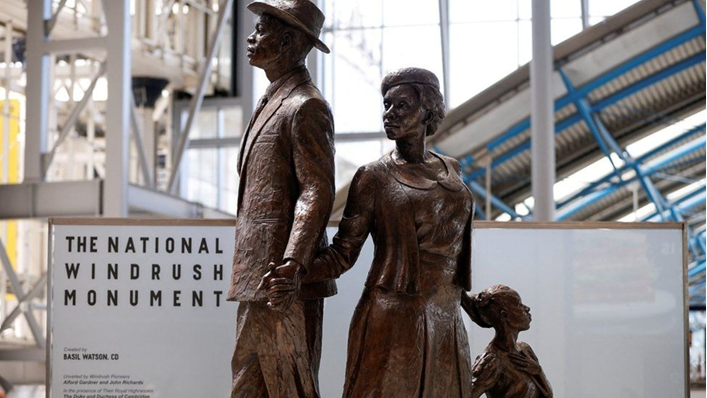 It acknowledges and celebrates the Windrush generation's outstanding contribution and has been created as a permanent place of reflection, to foster greater understanding of the generation's talent, hard work and continuing contribution to British society.
The three figures – a man, woman, and child – dressed in their "Sunday best" are climbing a mountain of suitcases together, demonstrating the inseparable bond of the Windrush pioneers and their descendants, and the hopes and aspirations of their generation as they arrive to start new lives in the UK.
Secretary of State, Michael Gove MP said,: "Seeing Basil Watson's magnificent monument, it's easy to imagine the excitement, hope and apprehension that the Windrush pioneers must have felt as they arrived in the UK."
"Overcoming great sacrifice and hardship, the Windrush Generation and their descendants have gone on to make an immense contribution to public life. Britain would be much diminished without them."
Communities Minister, Kemi Badenoch MP said, "This is a special moment in our nation's history and I am grateful to all those who worked tirelessly to bring it into being."
"Basil Watson's sculpture perfectly captures the spirit of Windrush. In it we see the strength, hope and expectation of those who arrived with little and yet gave so much."
"As a first-generation immigrant myself, the Windrush story resonates with me and it is important we recognise the contribution of those who have so enriched our country."
The Windrush generation has come to be defined as those people who emigrated from the Caribbean to Britain between the arrival of the MV Empire Windrush on 22 June 1948 and the Immigration Act 1971.
Following public engagement in 2021, in which Basil Watson's design resonated the most, he was commissioned to create the Monument by the Windrush Commemoration Committee (WCC), chaired by Baroness Floella Benjamin DBE DL. Basil worked collaboratively with a team at Pangolin Editions in Stroud, Gloucester to complete the monument.
The Monument's location, London Waterloo station, was chosen due to its significance in the Windrush story as thousands of people who arrived from the Caribbean passed through the station on their way to start their new lives across the country.
The Monument was delivered by the Department for Levelling Up, Housing and Communities with the support of the Windrush Commemoration Committee, and UP Projects.