As the setting sun nestles into the horizon, artists Gabriel Buttigieg and Julia Kiryanova take a well-earned break from the studio. They pour themselves a couple of glasses of Valpolicella, and soak up the last of the evening's rays as a Bossa Nova soundtrack hums softly in the background. Russian artist Kiryanova has been living in Amsterdam for six years, and is used to the changeable Dutch weather, but Buttigieg hails from the sunnier climes of the Mediterranean island of Malta and seems grateful that the rain has finally decided to call it a night. The CloverMill artist residency may be drawing to a close, but the artists are determined to enjoy every last minute.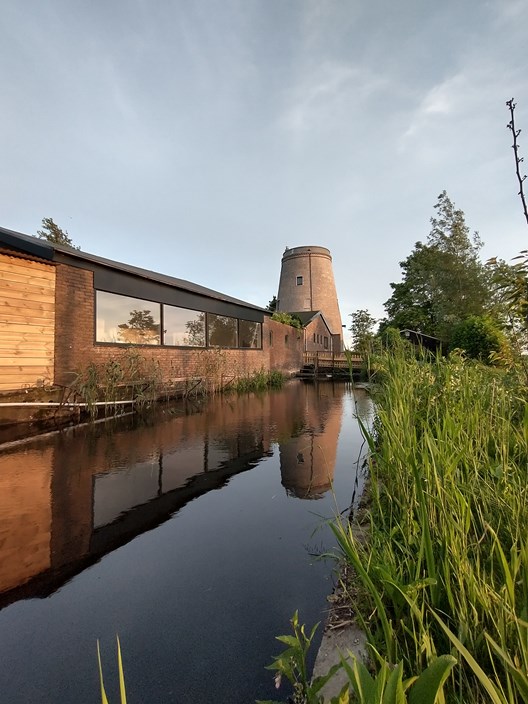 CloverMill artist studio and windmill
CloverMill artist residency was founded by independent Irish artist Jennifer Smith. Having grown to love and appreciate the tranquility of the setting that she now calls home, Smith was keen to invite other artists to experience the beauty of her surroundings. Smith lives with her husband and two daughters in an old water windmill, situated around two kilometres from the village of Giessenburg. It was built in 1865 to manage the water levels in the neighbouring low-lying fields. The mill itself is located at the end of a narrow dyke. Flanked by water, overlooking endless carpet-like green plains, the mill is a serene haven that seems a far cry from the capital city of Amsterdam, which is just one hour away and two train rides away. "I started the artist residency because of the space we have. We are lucky enough to have a studio and an adjacent gallery space at CloverMill," Smith comments. "I'm an artist myself, and I'm just really interested in working with other artists and seeing the artistic process behind other artists' work." For Smith, there is so much more to art than the final result that you see in a gallery.
"I wanted to learn more about the artists and the work they are making. I also wanted to just create opportunities for artists, because it is really hard for artists to do these kinds of things," Smith adds. "It was really important to me to provide this for free, and to also provide the artists with on-site accommodation at no cost. A lot of the time, it is really expensive for artists to participate in shows and residencies — especially artists who are just starting out." The goal of CloverMill residency is to bring people together and create an open space without too many restrictions. Experimentation is encouraged, as are conversations about art, relaxation and canoeing. Buttigieg and Kiryanova have been able to enjoy all of these aspects, even if the latter occasionally resulted in some soggy situations.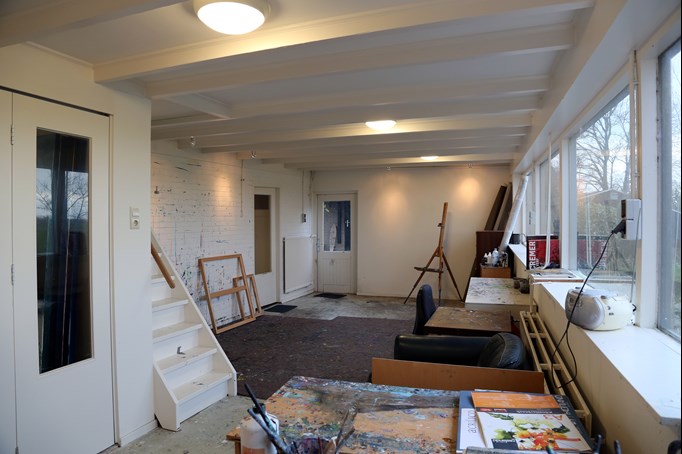 CloverMill residency studio view
Luckily, even wet clothes, drifting paddles and unexpected dips haven't stopped Buttigieg and Kiryanova from getting the most out of the experience. "I live in the centre of Amsterdam, so I am usually surrounded by cityscapes," Kiryanova says. "This place is good for your mind." Buttigieg nods in agreement. "The surroundings have really influenced me, too," he confirms. "All of the fables, narratives and allegories that I have been working on here are based in this location — hence the incorporation of "CloverMill" in the titles of all of the work that I have produced here. There are so many things that inspire you here: different leaves, different animals, different insects. It's amazing. Although I am from the Mediterranean, apart from the sea, Malta has become quite grey. This is refreshing."
Smith has been closely observing the progression of the artists' work over the two-week residency, and has enjoyed watching them settle into their location, and share the studio space with one another. "I invited Gabriel first, as I had been following his work on Instagram and really admired what he was doing, then I looked for artists whose style would work well with his aesthetic. I found Julia, and invited her along, too. They work really well together. It is a real pleasure to watch them at work."
For both Buttigieg and Kiryanova, sharing a studio space was a new and initially somewhat daunting idea. "I usually work alone. I love being alone, running around my studio naked," Kiryanova says, laughing. "We didn't know each other when we arrived. We had only spoken on Instagram. It was a bit nerve-racking."
Luckily, however, the pair quickly discovered that they had a similar taste in music, and they were able to bond over their shared love of American alternative rock band Morphine and Chilean-American composer Nicolas Jaar. "When you are sharing a studio space with someone you don't know, you feel a bit hesitant at the beginning, because you think, 'What character does this person have? What music does she like?'" Buttigieg muses. The fact that both artists are painters also helped, as they also enjoy discussing painting techniques and qualities.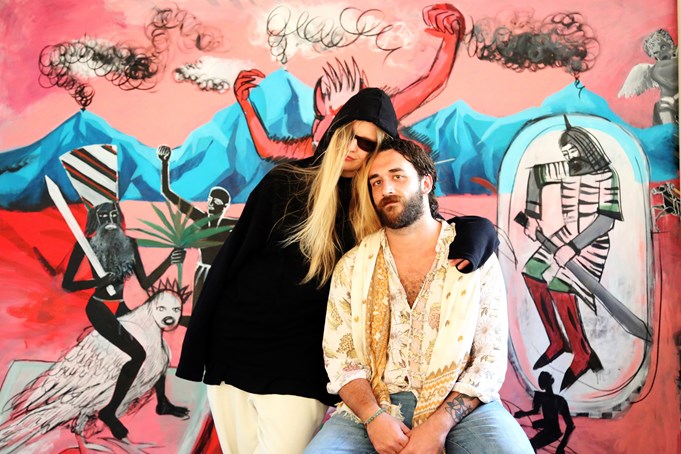 Julia Kiryanova and Gabriel Buttigieg at CloverMill
When she arrived at the residency, Kiryanova was happy to return to painting after having created a number of tapestries in the weeks preceding the residency. "I recently received a grant from the Mondriaan fund. With that financial support, I started making tapestries with yarn and a tufting gun. That was something totally new for me," she explains. "Just before I came to CloverMill, I participated in This Art Fair in Amsterdam. There were 2,000 visitors a day. It was very surreal given the current situation. After that, I was really happy to come here and have the chance to paint in such a peaceful environment."
Kiryanova has been working on a six-metre long piece in acrylic paint and acrylic markers, entitled On an Adventure. The piece is so large that Kiryanova was not able to fit the canvas on one wall in the studio. "I split it into two parts and have been working on them separately," she says. The piece is indeed a veritable adventure, incorporating vibrant shades of pink, zebra stripes, a checkerboard tablecloth, sword-clutching figures astride birds, erupting volcanoes and ashen angels. This playful visual cacophony commands the observer's attention, and invites them to transcend the rigidity of norms and compartmentalization. This world is multi-faceted, beautiful and filled with unexpected twists and turns. "My work is inspired by spirituality, mythology, unconditional state of mind, blending the lines between reality and fantasy," Kiryanova says. "The stories depicted in my paintings and tapestries use a surreal, metaphorical visual language and explore ideas of identity, gender, comfort, the dichotomy of life and the human state of equal coexistence as psychologically fragile beings. My work is full of symbols, hidden meanings and rituals — most of the time supported by vibrant pink and turquoise." This gigantic canvas certainly seems to celebrate these principles, as diverse forces seemingly collide and merge in a celebration of life in all its heterogeneity.
Meanwhile, Buttigieg has been working on four mythology-inspired pieces. "In Malta, what I was doing was spending months on a painting, like Hubris and Primavera. When I came here, I wanted to be loose and focus on the drawing instead."  Buttigieg's work focuses primarily on nudes, universal narratives, sexuality and the various potential interpretations of the "feminine". "Mythology has these underpinnings that all of us humans and animals have. I want my paintings to be relatable to everybody," he says. Buttigieg's extensive knowledge of the history of art is also apparent in his work, with paintings such as Allegory of Love and Wisdom (and the Triumph of Flora) at Clover Mill bearing clear reference to Isidoro Bianchi di Campione's 17th-century masterpiece Allegory of Love and Wisdom. But even for those without a background in art history, the raw emotions, core human instincts, desires, fears and vulnerabilities all remain acutely visible in his work. Beautifully imperfect bodies remind the onlooker of their own humanity. The eye is drawn in through the masterful storytelling conducted through the simplicity of the targeted and deflected gazes between the depicted figures. Buttigieg tells a timeless tale of the never-ending flow of actions and reactions that define what it means to be human. This tale is infiltrated with hues of green and blue that seem to have seeped into his paintings from his immediate milieu.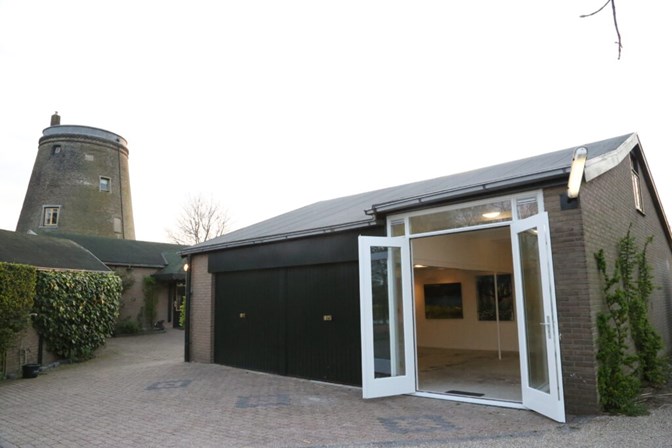 A view of CloverMill Gallery
As the sun sets on the CloverMill residency, Smith reflects, "We are all from different places, but we found that connection. We've had conversations that we otherwise wouldn't have had, and the artists have had the opportunity to work within an international framework. That is what it is all about."
The days at the residency have been both intense and enjoyable, as both artists have been working towards the upcoming exhibition which opens September 19, 2021 at CloverMill, Giessenburg, Holland. "They have been working so hard, and we're excited to showcase what they've achieved in this short space of time," Smith says proudly. "On Saturday, 18th September, we're doing an open studio, so people can come and talk to the artists and see them finish their work. On 19th September, we are doing the pop-up exhibition of the work they have created here in the gallery space at CloverMill. The gallery space is much larger than the studio, so visitors will be able to appreciate Julia's full six-metre piece mounted on the wall alongside Gabriel's four paintings. The exhibition will be from 10 to 5.  We're just letting people in by appointment because of limited parking and Covid-19 restrictions."
As the crackle of the campfire bites into the stillness of the night, the artists take comfort in the new friendships they have formed, the inspiration they have gained, and the artwork that they look forward to sharing with you in the very near future.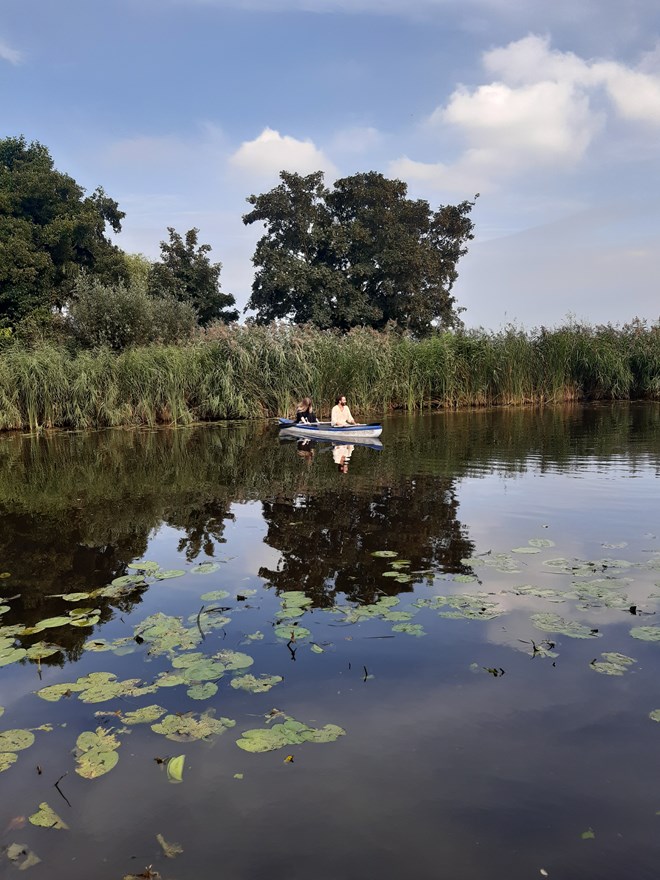 Julia and Gabriel canoeing