Bracketed by the student protests in Tiananmen Square in 1989 and the spectacular pageantry of the Beijing Olympics in 2008, Art and China after 1989: Theater of the World presents an extensive survey of an historical period of Chinese contemporary art. It looks at the bold movements that anticipated, chronicled and agitated for the sweeping social transformation that brought China to the center of the global conversation. The exhibition was previously presented at the Solomon R. Guggenheim Museum in New York and the Guggenheim Museum Bilbao. The show's West Coast debut examines how Chinese artists have been both critical observers and agents of China's emergence as a global presence through a concentration on the conceptual and performative practices and social and political critiques of two generations of artists.
SFMOMA has a long history of presenting exhibitions of important contemporary Chinese artists. The museum organized Inside Out: Chinese Art in 1999—the first exhibition in the United States dedicated to featuring works created since 1986 by artists from mainland China, Taiwan and Hong Kong as well as artists who emigrated from China. It has also presented Half-Life of a Dream: Contemporary Chinese Art from the Logan Collection (2008) and Photography Now: China, Japan, Korea (2009).
"Art and China after 1989 brings together a dynamic group of two generations of artists who were active during a transformative period within the history of China and Chinese art. This exhibition updates our audiences from where our watershed exhibition in 1999, Inside Out, left off and highlights the importance of continuing to challenge our assumptions about Chinese artistic traditions and the global impact that they and China have made on our world," said Gary Garrels, Elise S. Haas Senior Curator of Painting and Sculpture.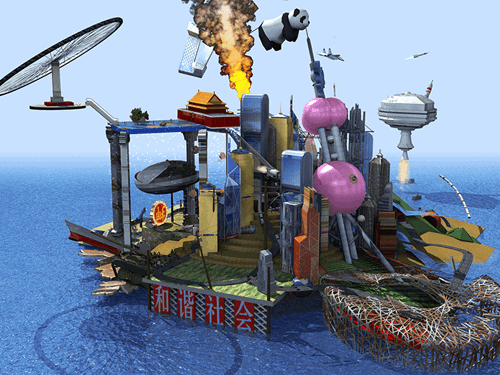 Cao Fei, RMB City: A Second Life City Planning by China Tracy (aka: Cao Fei), 2007. Color video with sound, 6 min. Solomon R. Guggenheim Museum, New York. Purchased with funds contributed by the Young Collections Council, with additional funds contributed by Shanghai Tang. © Cao Fei
Featuring the work of more than 60 key artists and artist groups living in China and abroad during the onset of globalization, Art and China after 1989: Theater of the World presents over 100 works of photography, film, video, painting, sculpture, ink, performance, installations and participatory social projects. These works from private and public collections around the world will be displayed in six thematic chapters that fill SFMOMA's seventh-floor contemporary galleries.