Image: Courtesy Bonetti/Kozerski Architecture
Pace is thrilled to announce its inaugural season of programming for our new flagship gallery in New York City, located at 540 West 25th Street. After almost six decades of history in Manhattan, they will cement its commitment to Chelsea with a new global headquarters in the heart of the neighborhood.
Open to the public on September 14, 2019, they will present a series of exhibitions throughout the new building that highlight artists from across its program, including Alexander Calder, Loie Hollowell, David Hockney, and Fred Wilson.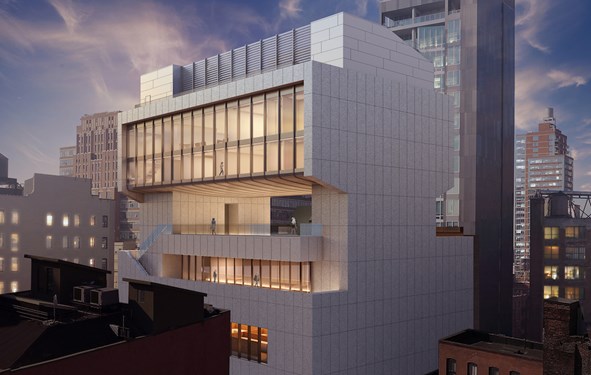 Courtesy Bonetti/Kozerski Architecture
"For nearly six decades, Pace has celebrated and advanced the work of creative pioneers. They are our inspiration, mission, and the source of our vision. Pace has designed and crafted every element of our new global headquarters to provide a vehicle for artists to tell their stories as richly as they deserve to be told and as dynamically as our communities deserve to experience them. It is an honor to inaugurate this gallery with the work of artists who have been so instrumental in creating the fabric of our program; representing both our vibrant history and our exciting future."—Marc Glimcher, Pace Gallery President and CEO
Additional details on each exhibition, accompanying publications, and related programming will be announced over the course of the summer.