Image: "Ulla von Brandenburg – The Middle is Blue"
After these weeks of lockdown,  the team of Palais de Tokyo invites visitors to see or see again their exhibitions which are being extended until September 13th 2020, in the best conditions of health safety. They all resonate with the crisis we are experiencing. 
"Our World is Burning", an alarm call concerning the convulsions of the world, offers a committed view of contemporary creation from the Persian Gulf.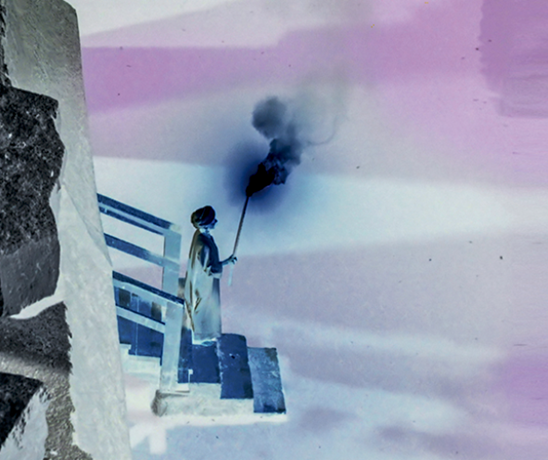 "Our World is Burning"
During celebrations of the Qatar France 2020 Year of Culture, "Our World Is Burning" lifts the veil on the striking mutations of this country of pearl fishers, which underwent an unprecedented transformation during the second half of the 20th century, with the exploitation of its oil and gas deposits, through works by artists such as Bouthayna Al Muftah, who reinterprets its folk traditions, or Sophia Al Maria, who goes back over the harbour extension of this young nation, founded in 1971. Curated by Abdellah Karroum, the director of Mathaf: Arab Museum of Modern Art in Doha, the exhibition "Our World Is Burning" is a testament to a polyphonic writing of art history, while focusing more especially on the artistic practices of the Middle East, North Africa and their diasporas. 
"Kevin Rouillard – The Great Wall" evokes the closed border that blocks the circulation of people between Mexico and the USA; "Nicolas Daubanne – Oil and Water" explores the notions of enclosure and resistance in a world in which freedom is under constant negotiation. "Ulla von Brandenburg – The Middle is Blue" is a total project inspired from the theatre, in which the curtains open onto other worlds.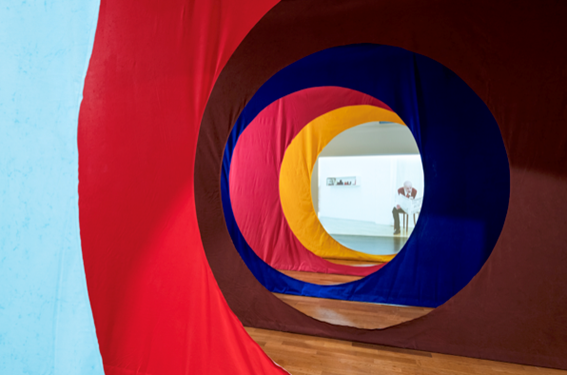 "Ulla von Brandenburg – The Middle is Blue"
For this new exhibition at the Palais de Tokyo, Ulla von Brandenburg (born in 1974 in Karlsruhe, lives and works in Paris) has imagined a total, evolving project, inspired from the theatre, as well as its imaginary and conventions. Around the notion of ritual, understood as the possibility to explore the relationships between individuals and groups, and to create or not to create something in common, the artist invites the public to take part in an immersive and renewed experience of the themes, forms and motifs that feed into her work: movement, the stage, colours, music, textiles... 
The Palais de Tokyo is also taking art down into the street thanks to the artist Futura 2000, the American graffiti legend, and flagship artist in the 1980s alongside Rammellzee, Keith Haring and Basquiat. Accessible free of charge to everyone, both night and day, from the Avenue du Président Wilson, "Violent Treasure" is radiant with the flowing of his radioactive energy. 
All the necessary measures to guarantee a tranquil visit, while of course respecting current health rules will be put into practice and our teams will be there to answer all visitors' questions and doubts. The team's mediation offer will be adapted to this reopening to enrich the visit even more.