In the gallery Deschler Berlin is shown the new work by Patricia Waller titled Innocent until the 30th of June.
The work is dedicated to children exposed to mistreatments and traumas. Different forms of emotional and physical violence, hunger, displacement, abandonment, children- soldiers, rape, sexual abuse and slavery, disfiguration and death are just some of the aspects of children ́s realities all over the world. Patricia Waller, born in Santiago, Chile and moved to Germany at the age of four, creates a platform of thoughtfulness. Her settled but straight-forward political oeuvre captures the attention on various levels. Innocent appears at first delicate, naive and colourful but looking at it attentively, it becomes as striking as disturbing.
Creating colourful knitted sculptured puppets and embroidered canvas, in this case with wool and other textiles, the intention is to make this work talking to a general public, being approachable and easy to understand. The dolls don't have a specific ethnological background so to create a multi-cultural generation of young ones that leads the spectator to a wider idea of innocents that become sufferers worldwide. Their eyes, wide-open and fixed, recall shocked gazes that now stare at the onlookers with an interrogative look as to ask: how did we end in these conditions? How did you allowed this to happen?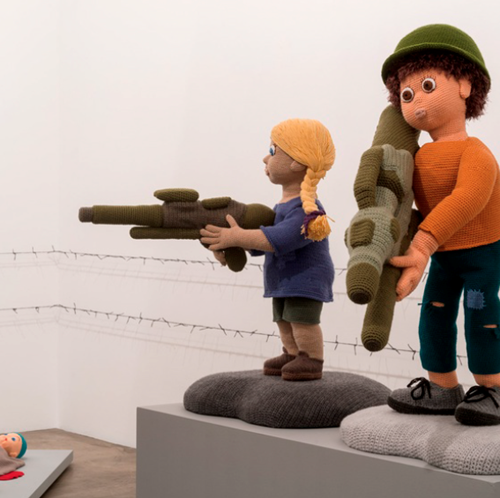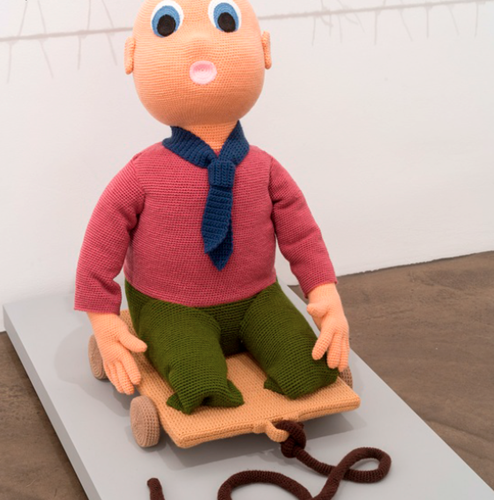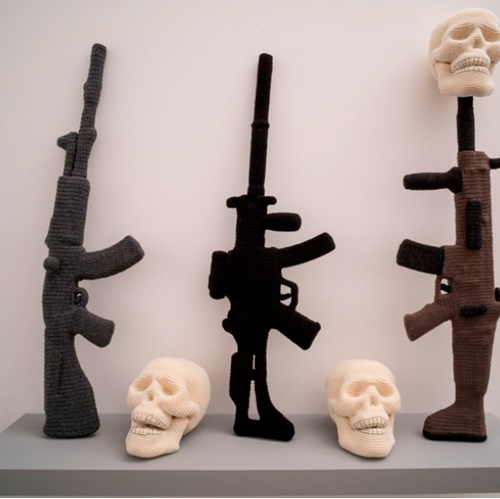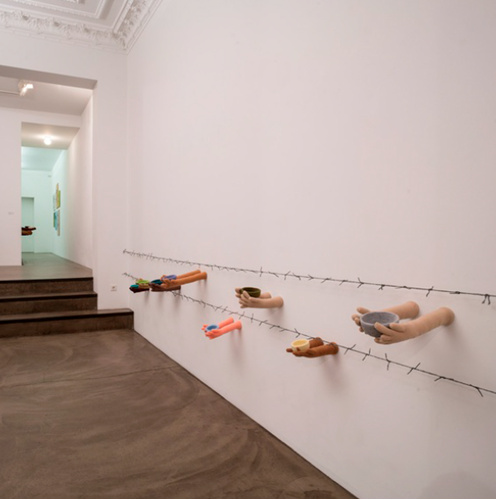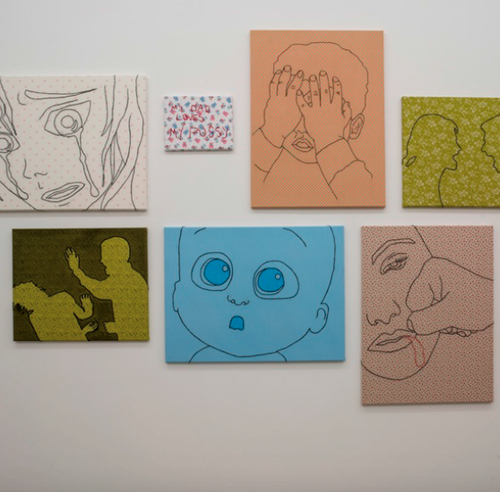 The barbed wire surrounding the whole gallery space and therefore all the victims-puppets, seems to be a reference to the lack of freedom that children have. Whatever the situation is and however they are treated, most of them are forced to stay and suffer in given environments. Unable to escape from unfortunate conditions they become used and abused easy targets in contexts of exploitation and torture. Mistreatment, lack of love and consideration, emotional and physical injuries towards infants and children have extensive repercussions on their lives creating later on and often, adults that turn into desperate, lost, annihilated, resourceless beings. Every single child with its innocence should be prevented from traumas and tragedies and it ́s everyone ́s responsibility to work in order to make it happen. Delicate and gentle they are an immense source of humanity and inspiration so as a remarkable font of wisdom, tenderness and empathy. The adults should learn from children because they can reveal what in the growing up process is often forgot; how to be loving, caring, pure and genuine. The work of Patricia Waller is an important reminder addressed to the humankind that invites to reflect and to take action for something precious that need to be carefully as here and now, taken care of. Fred Rogers one said: -Anyone who does anything to help a child is a hero to me- Everyone can be an hero in this sense, let us all make it happen.
All images © Galerie Deschler Berlin and the respective authors / creators. All rights reserved.