Image: Pablo Picasso,  Portrait of Jacqueline with Smooth Hair, 1962
Evening and Day Editions Auctions in London
Phillips, 12 September, 2019
Among the Modern highlights is an exceptional group of portraits by Pablo Picasso, led by two important, and rare to auction, linocuts of his second wife, Jacqueline Roque: Portrait de Jacqueline au chapeau de paille multicolore and Portrait de Jacqueline au cheveux lisses, both 1962.
Created whilst in his 80s in the South of France, these works demonstrate Picasso's adroitness with the linocut process and his impressive ability to master a variety of printmaking techniques throughout his life. Two further examples demonstrate this variety: a 1934 etching from the Vollard Suite, inspired by Picasso's earlier lover and muse, Marie-Thérèse Walter (Quatre femmes nues et tête sculptée), and an intimate lithograph portrait of a third muse and paramour, Françoise Gilot (Jeune femme au corsage à triangles, 1947).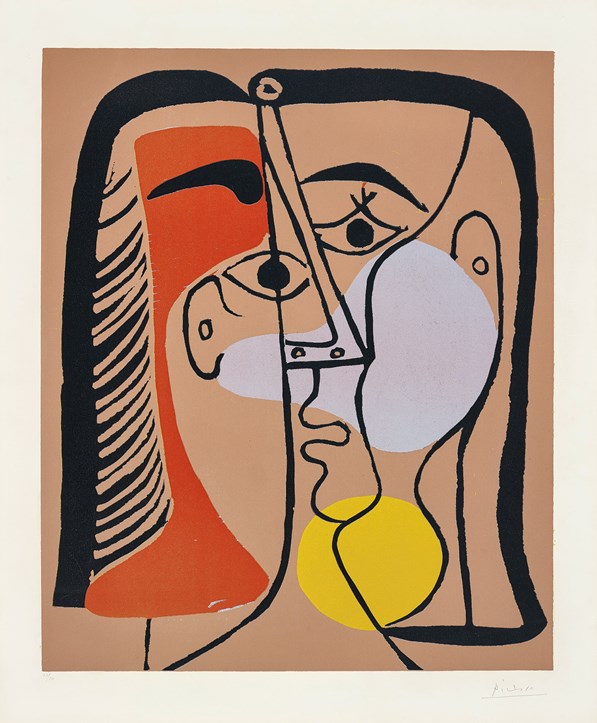 PABLO PICASSO
Portrait de Jacqueline au cheveux lisses
(Portrait of Jacqueline with Smooth Hair)
1962
Linocut in colours, on Arches paper, with full margins.
Signed and numbered 27/50 in pencil (there were approximately 20 artist's proofs), published by
Galerie Louise Leiris, Paris, 1963, unframed. 63.8 x 52.7 cm (25 1/8 x 20 3/4 in.) 75.2 x 62 cm (29 5/8 x 24 3/8 in.)
Estimate: £80,000-120,000