Image courtesy to Sotheby's 
Painted in early 1940, Tête d'homme is emblematic of Picasso's art during what is known as his 'Royan period'. The few months he spent in this seaside town, inseparable from the political context of the era, had a significant influence on the master's stylistic development.
It was a particularly gloomy time for Picasso. In addition to his personal woes (Picasso lost his mother in 1939 as well as his former dealer Ambroise Vollard), there was also the start of the war. Traumatised by the Guernica bombing on 26 April 1937, Picasso decided to flee to Royan on the advice of his friend André Breton. From the beginning of the war in 1939, he stayed there with Marie-Thérèse Walter, with whom he had been having a secret relationship for several years, along with their daughter, Maya. Marie-Thérèse and Maya lived in the villa Gerbier-des-Joncs. He joined them in Royan on 2 September 1939, the very eve of the declaration of war. He arrived in the seaside town accompanied by his mistress Dora Maar, his secretary Jaime Sabartes, and his dog Kazbek; they all moved into the Hôtel du Tigre, only a few streets away from the villa Gerbier-des-Joncs. It was during this stay that the two women who shared Picasso's life—the blonde Marie-Thérèse and the brunette Dora—learned of each other's existence, got to know each other, and formed a rivalry, much to Picasso's delight.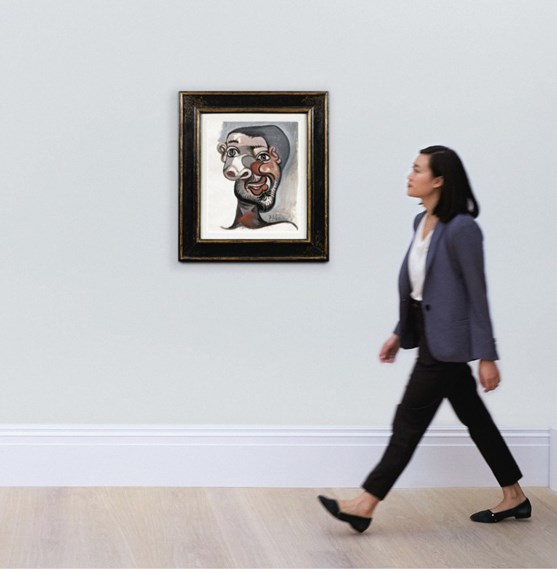 Image courtesy to Sotheby's 
His arrival in Royan coincided with a return to serenity for Picasso, who divided his time between his two 'families', living with Dora Maar at the Hôtel du Tigre but setting up his studio in the villa where Marie-Thérèse and Maya were staying. Several days after completing this painting, he moved his studio to larger premises in the house 'Les Voiliers', a studio to which neither of the women had access.
Although Picasso found peace in Royan, he was reminded of the global conflict when it came to his materials. Indeed, it was difficult to find materials to work with in Royan, where the painter only had small canvases, and paper was his main medium of expression. That is why many of his most accomplished works of this period were done on paper, with a complexity worthy of his most impressive paintings.
In the art he developed in Royan, Picasso demonstrates a real radicalization of form, which is particularly striking in his portraiture. The contours become particularly vigorous and the face becomes increasingly less structured. Tête d'homme is one of the rare male portraits from this period, when the artist mainly painted large portraits of women, beginning with the portrait of his lover, Dora Maar, which he continuously deconstructed. In Tête d'homme, we find the same sculptural qualities as those in the famous portraits of Dora Maar, whether in the way her features are reconstructed, in the depiction of the bridge of her nose and her eyes, or in the frontal nature of the composition. The power of this vigorous portrait and the contrasts used are also reminiscent of Picasso's depictions of the Minotaur from the same period.
In this extraordinary male portrait, the painter achieves a remarkable degree of expressiveness with an economy of means and colours. In this work, it is not hard to see the Spanish master's influence on later artists, especially Francis Bacon. Although the two men never met, Bacon never hid the fact that it was the discovery of Picasso's art during an exhibition at Galerie Paul Rosenberg that made him decide to paint. How could one not see obvious traces of Picasso's art in the English painter's tormented portraits? Both artists sought to destroy the human body, especially the face, which they deconstructed and reconstructed in the course of their pursuit. Michael Peppiatt, Bacon's biographer, confirmed that it was Picasso's work that made Bacon realize that 'the only way of keeping the human figure at the heart of art was to deform it.' Bacon himself paid homage to his elder as follows: 'Picasso opened the door to all these new systems. I have tried to stick my foot in the door so that it does not close.'
Moderniste, Sotheby's Paris, 21 October 2020
Lot 14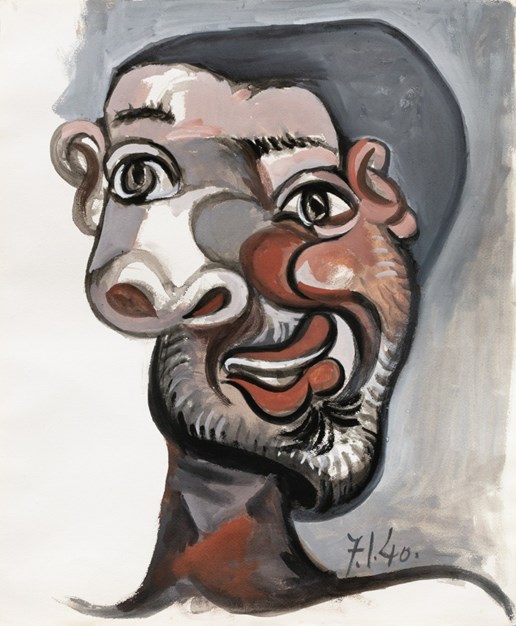 PABLO PICASSO
1881 - 1973
TÊTE D'HOMME
46,1 x 38,1 cm; 18⅛ x 15 in.
Estimate EUR 4,000,000 - 6,000,000