The Pompidou Centre in Paris houses the largest museum for modern art in Europe. This spring they are showcasing The Russian Avant-Garde in Vitebsk (1918-1922), with a focus on three of the period's best known artists: Marc Chagall, El Lissitzky and Kasimir Malevich.
Whilst in position as Commissioner for Fine Art in the city of Vitebsk (known today as Byelorussia), Chagall opened the Vitebsk School of Art which spearheaded a wave of creativity and artistic progression in the city. Malevitch and Lissitzky both taught at the school alongside other prominent figures from the Russian avant-garde including Nicolai Suetin and Ilya Chashnik.
Artdependence caught up with the Pompidou Centre to find out more.
Artdependence Magazine (AD): How will this exhibition of avant-garde works differ from other exhibitions?
Pompidou Centre (PC): The exhibition explores an unknown chapter in art history – the phenomenon of the Vitebsk At School which brought together the key figures of the Russian avant-garde in the same place during a relatively short period of time. It is neither a monographic exhibition nor a general panorama without a specific angle. The exhibition offers a kind of micro historical approach to art and reveals some of the most innovative tendencies of this period in their articulation with the post-revolutionary social and political context.
AD: What works will be on show?
PC: We are showcasing around 250 works and documents by 33 artists including masterpieces from Chagall, Malevich and Lissitzky. We also have works by students including Khidekel, Suetin and Chashnik and some relatively unknown artists such as Yakerson and Koudriashov. The exhibition includes rare loans from Russian and Belarusian museums which is allowing us to present works that have never been shown in Europe before.
AD: Can you explain what makes the avant-garde movement so important, both now and at the beginning of the century?
PC: It is a moment of liberty and hope when the artists believed they could change the existing order. Some of them considered that they were forecasting a revolution with their art. The artists created a social project and tried to implement it. It was a rare moment of avant-garde claim: a fusion between art and life.
AD: Knowing what recently happened at MSK with the avant-garde exhibition and the authenticity issues, have you changed anything in your exhibition?
PC: No, we were careful to ask the right provenance questions from the beginning. Our loans are mostly from museum collections or well-known private collectors.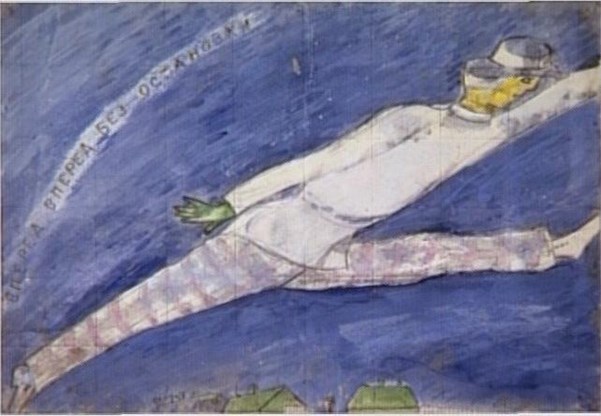 Image on top: Marc Chagall, En avant, en avant [1918]