Image: Magma Chamber
Pool presents a selection of dance film productions from all over the world making the event for creative people involved in the fields of dance, film, fashion, advertisement and for those curious enough to venture an unknown territory.
The festival, divided in four days, embraced eclectic genres of short films and trailers where has been possible to have a look at a diversified international film artistic production. 
Started with Shine/ New York Traces, the first evening showed six Dance and Film productions realised in New York from the '60.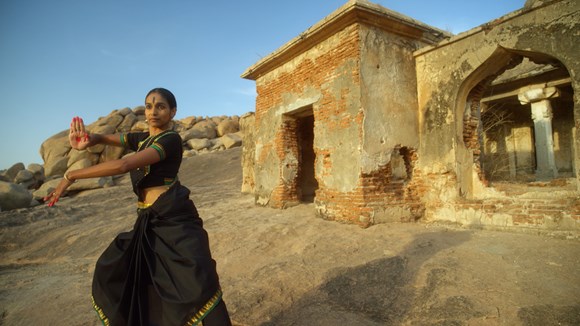 Image: Bhairava
'Iowa Blizzard `73' by Elaine Summers is a improvisational slide into an experimental film with 'untrained' dancers to whom is requested to dance in a large field covered by snow. Like children, they assume the freedom to enjoy the natural environment abandoning themselves to the pure pleasure of having fun. In slow motion, the actors sink and crumble in the soft surface, stand up and then fall into it again trying to play with balances on a fluffy ground.   'The Girl can´t help it' by and with Yoshiko Chuma is an exploration into movements within diverse natural settings where she recreates aspects, patterns, lines, movements of those landscapes with her body. Again the playful motif runs all over the short film that recalls the creativity of children in contact and dialogue with a natural environment.  '16MM Earrings' by Meredith Monk / 1979 is an interaction between movement, film, words and sound that balance in a performance-like assemblage inhabited by various gadgets.
'Sticks on the move' by Pooh Kaye and Elisabeth Ross / 1983 is a video clip animated with Stop Motion technique where a group of dancers move on wooden beams through the urban space of New York. The composition shows the funny times in the city back then and the playful, buoyant behaviours of its creative inhabitants.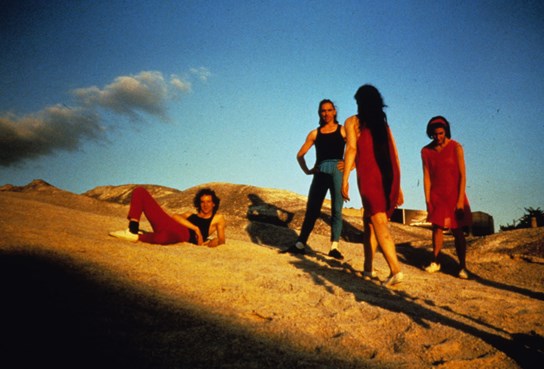 Rubble Dance, 1991
Bali Mécanique by Henry Hills/1992 is a self-reflective study of the dance and rhythms of life in Bali. Beautiful and colourful dresses encounter precise, harmonic dancing. Immersed in sacred architecture and several temple celebrations, the film is accompanied by a series of successive music loop, stimulating the wish to be part of those festivities. Observing the fascinating rituals and enchanting movements, comes to mind Antonin Artaud's strongly fascination towards Balinese Dance and his admiration for that ritualised and codified physicality that inspired him to develop the 'Theatre of Cruelty' where cruelty was interpreted as pure catharsis. 
The last piece for the first evening was Rubble Dance Long Island City by Douglas Dunn and Rudolph Burckhardt/1991. Started from an art friendship, Douglas Dunn and Rudy Burckhardt decide to make a movie together. Their common interest is addressed to vacant places full of rubble and grit. The urban scape of Long Island city, across the East River from Manhattan, with its industrial neighbourhood, unpeopled during the weekend, is the right place where to shoot. Dunn makes a section of movements in the studio for a cast of six, Mimi Gross designs and sews the costumes, Burckhardt edits. Scouting the appropriate locations, they dance conquering public yet deserted spaces and a monumental mountain of salt. Their work, intense and enjoyable, is lively and free. Their task is to merge their dancing bodies with the detritus of industry's functional monuments and the result is captivating making the onlooker imagine that vibrant time in a New York that was a creative and playful platform of experimentation, art languages, collaborations and freedom.
Magma Chamber
During the following two days are presented other short clips and movies that are wide-ranging. Some of them have very few or even none dance references based more on performances formats. Nevertheless movement is involved in every film clip and some of them are particularly captivating such as I could have by Anna Galinova with Alexey Takharov and Evgeniya Mandzhieva with their piece elegantly and acutely developed in suspense; Bhairava by Philip Szporer and Marlene Millar with Shantala Shivalingappa in a beautiful setting showing an immersive and harmonious bond between indian dance and landscape; and 'The Magma Chamber' by and with Shantala Pèpe, a struggle yet smooth performance where hair becomes the proscenium of twitched movements, and a mantel the set covering underneath, oscillating shifts. The last day of the festival were presented the so called Pearls that, according to the jury, where the best of the received films this year. All in all the film festival per se has potential to become an international source of inspiration but it would be interesting to see its outcome if it would concentrate purely on dance. An highlight was the possibility to talk with the artists at the end of every evening accompanied by a warm soup and a welcoming, warm atmosphere where to interact with ease and pleasure.