The Dark Knight returned Thursday to claim the record for the most expensive mainstream American comic book cover art sold at auction.

Frank Miller and collaborator Lynn Varley's original art for Batman: The Dark Knight Returns Book One's iconic cover, featuring Batman in silhouette against a sky split open by lightning, sold at Heritage Auctions Thursday for $2.4 million. The work comes from a collector who acquired it directly from Varley and is among the centerpieces of Heritage's June 16-19 Comics & Comic Art Signature® Auction.

The artwork's price tag reflects The Dark Knight Returns' reputation as the comic book that hit shelves and spinner racks like a bolt of lightning in February 1986 and provided Batman (if not the entire comics industry) with what critic Elvis Mitchell calls "a savage rebirth." It remains among the most imitated and echoed image in comic-book history.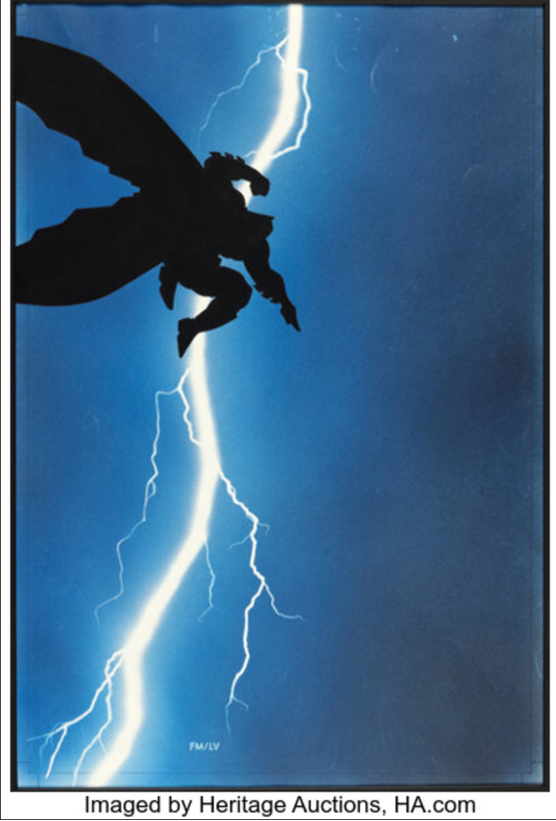 "We're thrilled to see Frank Miller and Lynn Varley's influential work reach a level often associated with classic American art," says Heritage Auctions Vice President Todd Hignite. "It deserves that, as this is easily one of the most famous comic-book covers from any era, and it defined the superhero genre from the 1980s to this very moment. I can't think of a more important piece of comic art to have ever come to auction."
 Miller says today that the cover for The Dark Knight Returns Book One was not his original vision. In fact, he didn't arrive at the final version until the first book was written, drawn and in the hands of inker Klaus Janson.

"In the case of the lightning bolt, that really was a bolt out of the blue," Miller says. "That was a moment of inspiration."

Only last year, the finest known copy of Batman No. 1 sold for $2.22 million at Heritage to shatter the Dark Knight's previous world record. Bruce Wayne continues to generate prices befitting his legend, as only Frank Frazetta's Egyptian Queen, painted for the cover of comics magazine Eerie in 1969, has sold for more at auction, realizing $5.4 million in May 2019.

The previous record for the most expensive Batman original art sold at auction belonged to Miller's mentor, Neal Adams, and his 1973 cover for Batman No. 251. That beloved work sold for $600,000 at Heritage in November 2019. The cover for The Dark Knight Returns Book One is also the first work of art from a DC Comics title to sell for more than $1 million.

The first session of this four-day event realized more than $11 million, and The Dark Knight Returns was far from its lone record-setter.
A near-mint copy of All Star Comics No. 8, featuring Wonder Woman's debut, sold for a record-setting $1.62 million, befitting its status as the finest known example of this Golden Age classic. Before Thursday, this historic book had never before crossed the million-dollar mark. This session also saw a new record for a 21st-century comic book.

Gabrielle Dell'Otto's variant cover for The Amazing Spider-Man No. 677, published just 11 years ago, is one of the rarest books of the modern era; only 200-500 copies were made available to comics retailers upon its publication in 2011. This 9.8-graded copy of the rare book climbed to a new high of $43,200 Thursday, shattering its previous record of $33,600 set at Heritage one year ago.

The Dark Knight Returns wasn't the sole iconic Batman cover offered Thursday. The first session of this four-day event featured one of the most coveted (and epic) pieces of Jim Lee art ever to come to auction: the triple gatefold variant cover for Batman No. 619, which wrapped the 12-part "Hush" epic that resurrected Jason Todd and established Bruce Wayne and Selina Kyle as more than mere Bat and Cat chasing each other on rooftops. This is the Batman Family version of the variant, a roster that includes Batman and Catwoman, Robin and Nightwing, Oracle and her father, Commissioner James Gordon, Huntress, Superman, Harvey Dent and Hush himself.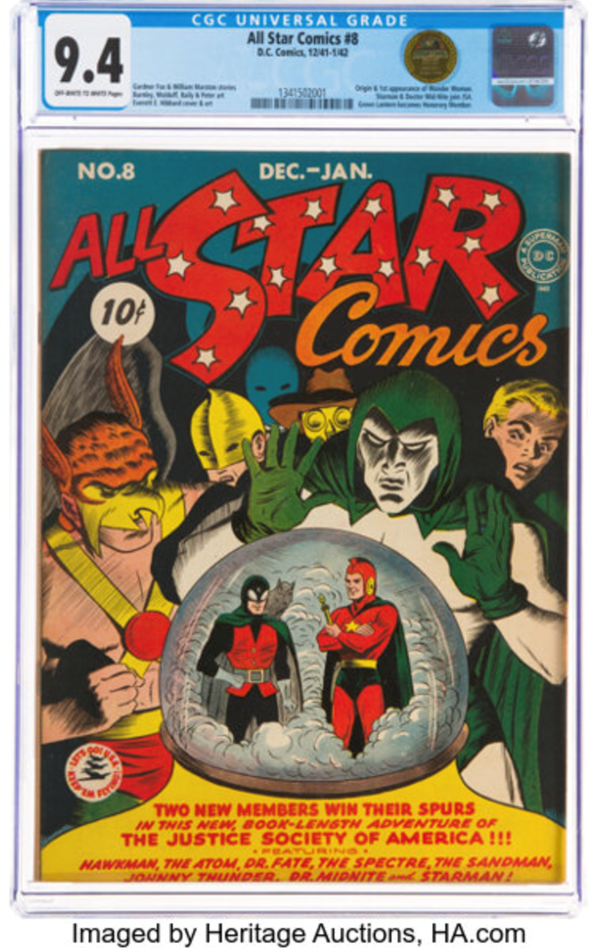 A bidding war drove its final price to $504,000, the highest price paid for a Lee original at auction.

Here, too, was Mike Mignola's original cover art for 1988's Batman No. 438, featuring a battered Robin as Jason Todd was voted out of the comic books (for a while, anyway). Mignola's landmark work, which rivals Miller's as one of the most recognizable Batman covers of the 1980s, realized $228,000.

On Thursday, collectors also tussled over the entire 22-page story contained in that (in)famous issue in which the Joker killed Jason Todd's Robin with an assist from DC Comics readers and a 1-900 number. The story, written by Jim Starlin with art by Jim Aparo and Mike DeCarlo, features one of the most indelible images in Batman's long history: The Dark Knight carrying the bloodied Boy Wonder from the wreckage. The entire story realized $288,000.

The first session of this event also featured the first Bob Kane original cover Heritage Auctions has offered: Detective Comics No. 59 from 1942, featuring Batman and Robin. This work by Batman's co-creator and Kane's collaborator Jerry Robinson realized $180,000.
Batman, of course, wasn't the sole star of this session. Spider-Man, too, got his webbing all over this kick-off – especially his appearance in Todd McFarlane's final book for Marvel Comics, 1991's Spider-Man No. 16, guest-starring Rob Liefeld's X-Force. Unsurprisingly, McFarlane's farewell drew another heated tussle between bidders, which drove the stunning original cover art to a final price of $408,000.

That cover was accompanied by individual story pages, offered separately, from the same issue, McFarlane's final fling with Spidey before launching Spawn at his Image Comics. Those 19 lots realized a combined $904,800, bringing the final total for that one book to more than $1.31 million.

The first session also featured one Heck of a landmark piece of comic art – by Don Heck, that is. Bidders put up one hell of a fight for Heck's original art from Tales of Suspense No. 13, specifically the final page from the first comic book ever to feature Iron Man. This historic work sold for $216,000.

And the marvels kept coming Thursday: Moments after the first session concluded, Bill Everett's original art for Page 5 from Daredevil No. 1 sold for $204,000.