Image: Pierre Bonnard, portrait of Ambroise Vollard 1904/5, oil on canvas, Kunsthaus Zurich, 1950
Ambroise Vollard was of critical importance for the Impressionist and Post-Impressionist artists so widely admired today. His courage and determination brought the works of a host of younger painters including Maurice Denis, Pierre Bonnard, Félix Vallotton, Édouard Vuillard and Edvard Munch, to the attention of the international public, along with older masters such as Paul Cézanne and Paul Gauguin.
This achievement alone is outstanding; however, it was his passion for creative publishing that encouraged the new generation of young artists to express themselves through printmaking, leaving a legacy that continues today.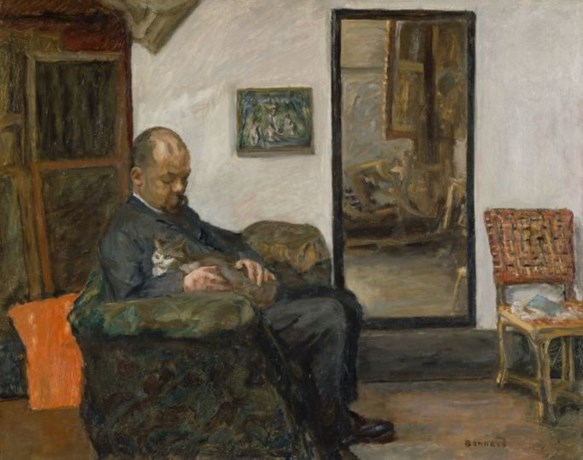 Pierre Bonnard, portrait of Ambroise Vollard 1904/5, oil on canvas, Kunsthaus Zurich, 1950
Vollard's Album des Peintres-Graveurs marks the beginning of a publishing career that changed the way generations of artists expressed themselves. This passion for publishing prints and books was to become the greatest force within his life, leaving a legacy of beautifully created works which surpassed that of any publisher for over two hundred years.
The enormous wealth generated by a successful career as a dealer of pictures was invested into publishing projects. The cultural impact of these projects was enormous and Vollard's determination to promote the painter engravers was never daunted by the ever-increasing costs of the projects.
Vollard opened his first gallery with an exhibition of drawings by Edouard Manet. Through this exhibition, Vollard not only met the more established artists Berthe Morisot, Claude Monet, Edgar Degas, and probably Pierre-August Renoir, of critical importance to his print publishing ambitions, this exhibition also attracted the attention of Maurice Denis.
Following this exhibition, Vollard gave Paul Cézanne his first exhibition on 13 November, 1895. This exhibition attracted many more artists including the painters from the Nabis.Vollard quickly demonstrated his commitment to these young painters commissioning Pierre Bonnard, Maurice Denis, Édouard Vuillard, Félix Vallotton, József Rippl-Rónai and Herman Paul all to make works for his first Album des Peintres-Graveurs.
In these early years Vollard was seen as an outsider, a recently arrived Creole with little experience of the art market. However, as an outsider, he was not restricted by the conventions of the art establishment, or the prejudices within that market. Undeterred by the conventional view of lithography as a reproductive medium, Vollard engaged the master print-maker Auguste Clot to work with his commissioned artists and produce lithographs, preferably in colour.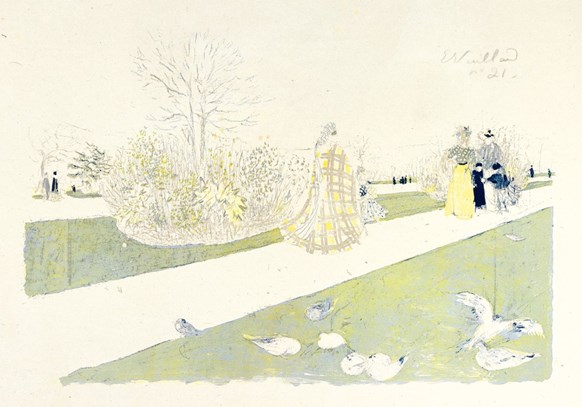 Edouard Vuillard, Le Jardin des Tuiliers (J.153). Portfolio, Les Peintres-Graveurs (CF.Johnson PP. 127-155)
From the Vollard archives, it appears that his initial concept was an album of lithographs, predominately printed in colours. Vollard provided the artists with the finances and technical support to experiment with this new technique, giving the painters an opportunity to express themselves in lithography with the possibility to print the works in colour. The older generation of artists such as Renoir found the technique difficult, but the younger generation, such as Pierre Bonnard, Edouard Vuillard and Maurice Denis embraced the technique, and started an explosion of colour printing. Indeed, both Renoir and Cézanne were eventually persuaded to make colour lithographs (with the assistance of the highly skilled Auguste Clot).
Vollard's choice of artists for the Album des Peintres-Graveurs was considered radical at the time. The Société Française des Peintres-Graveurs had decided to exclude foreign artists, yet Vollard saw the potential in the large number of foreign artists gravitating to Paris. He commisioned works from Jósef Rippl-Rónai, James Pitcairn-Knowles, Théo Rysselberghe, Jan Toorop and Félix Vallotton. Perhaps the greatest stroke of fortune for Vollard was the arrival in Paris of the Norwegian artist, Edvard Munch. These works by foreign artists not only gave the Parisian audience the opportunity to see works from across Europe, it also attracted international collectors to his gallery.
The opening of a new gallery at 6 rue Laffitte gave Vollard the ideal opportunity to launch his new album, and so in June 1896, he opened the exhibition of Les Peintres-Graveurs promoting this landmark Album des Peintres-Graveurs.
Starting with the Album des Peintres-Graveurs, it became evident that Vollard's passion for the publication of painter engravers was greater than any than any potential financial gains achieved from their sale. Although sales were slow, from this early stage in his career, he was to use the proceeds of his picture dealing to subsidize his creation of perfect publications.
During his lifetime Vollard had provided many painters with their only opportunity to sell their works, supporting and encouraging artistic development and experimentation. He was criticised for his business techniques: the low prices he paid for the works by young artists; and what was perceived to be a studied reluctance in the sale of works. Some criticisms were more justified than others; however, all are insignificant compared to the enormous contribution he made to the artists of his generation. Ambroise Vollard changed the way the public saw the works of the Peintres-Graveurs; he enriched the production of a whole generation of artists by offering support and encouragement to experiment with print-making. He inspired artists to make their own prints with enormous success, collaborating with many of the greatest artists of the 20th Century including Georges Rouault, Marc Chagall and Pablo Picasso. His greatest passion was the albums and books he created with his artists, and perhaps his greatest success was the audiences he created for them, as he changed the public appreciation of the painter engraver forever.