According to Wikipedia, the definition of a museum is an institution that cares for and conserves a collection of artifacts and other objects of artistic, cultural, historical, or scientific importance. Many museums make these items available for public viewing through exhibitions that may be temporary or permanent. ArtDependence Magazine has collaborated with some of the most renowned Presidential Museums and Libraries in the United States to learn about how they conserve and collect artifacts and objects of historical and scientific importance for research and public presentation. ArtDependence offers an in-depth perspective into the nation's most intriguing Presidential Museums. Highlighted below is an interview with Donald Holloway, Curator for the Gerald R. Ford Presidential Museum.
ArtDependence Magazine: Why did President Ford choose Grand Rapids as the location for the Gerald R. Ford Presidential Museum?
Donald Holloway: Grand Rapids was the main city of the district Gerald Ford represented in Congress for 25 years. He grew up in Grand Rapids, graduating from South High School in 1931. I should point out, however, that his Library, holding his archival collection, is located on the north campus of the University of Michigan, the college from which he graduated in 1935. His is the only presidential library governed by the National Archives and Records Administration that has two campuses (Ann Arbor and Grand Rapids).
AD: What was President Ford's favorite memorabilia shown in the museum?
DH: I never asked President Ford about his favorite memorabilia. I did accompany him on a few tours he gave to guests. He enjoyed showing others his Eagle Scout badge and his high school trophies. He would always point to his Yale Law School class photo (from 1941). He attended with Potter Stewart, Byron White, Sargent Shriver, and other notables. He talked about his work on the Warren Commission and the congressional hearings that lead to Congress voting on his nomination to the vice presidency. He also would talk about the letters he received after pardoning former President Richard Nixon. President Ford was proud of his administration's work on the Helsinki Accords, Middle East Peace, and negotiations with the Soviet Union over strategic arms limitation talks. Of course, he also would talk about his wife's work with her treatment clinic.
AD: What was the main focus of the museum for President and Mrs. Ford?
DH: The main focus is on telling their story, from their beginnings to their unexpected arrival at the White House, his presidency and her first ladyship, and to some extent their work after leaving Washington.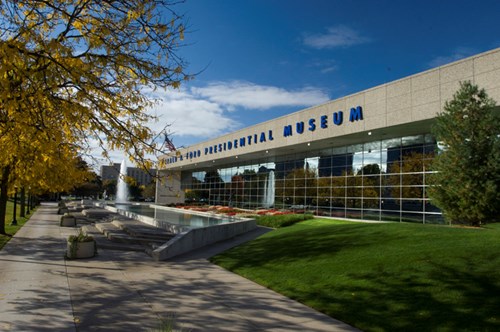 Outside of the Gerald R. Ford Presidential Museum, Grand Rapids, Michigan © Conantap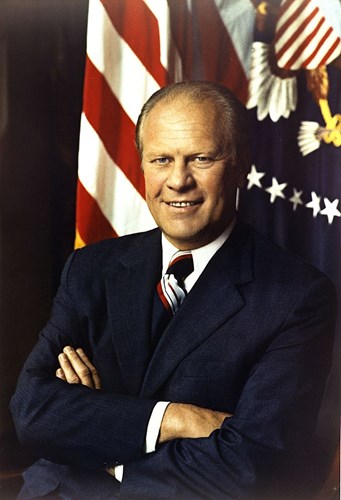 Gerald Ford, official Presidential photo © David Hume Kennerly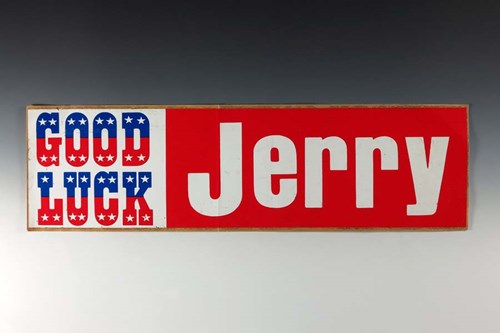 Red, white, and blue campaign sticker that says, "Good Luck Jerry." Used during Gerald R. Ford's 1976 presidential campaign. Gift of Dr. Mark D. Griffith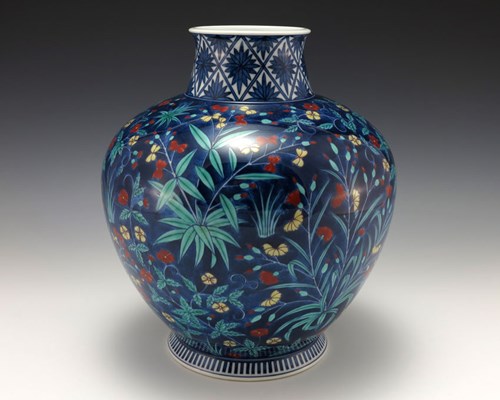 Blue porcelain vase decorated with red and yellow flowers and green foliage. There is a geometric design around the neck and foot rim. Note: This vase was handmade by Imaemon Imaizumi XII, and presented to President Gerald R. Ford on the occasion of the Emperor and Empress's state visit to the United States. It was the first time an Emperor and Empress of Japan had visited the United States. Gift of Emperor Hirohito and the Empress of Japan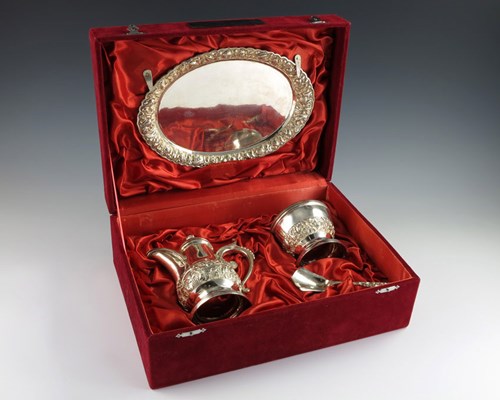 This silver tea set includes a tray, teapot with removable lid, spoon, and sugar cup with removable lid. Each piece features a relief floral design. The tea set is housed in a red velvet covered presentation box. The outside lid features a golden emblem of Indonesia, and a brass plaque. Note: This tea set was presented personally to Vice President Gerald R. Ford by the Vice President of Indonesia.
AD: Which upcoming exhibitions are planned for the museum?
DH: We just opened an exhibit that looks at the full sweep of Mrs. Ford's life, titled In Step with Betty Ford: A Celebration of Her Centennial. It will run through the end of the year. Afterward we will feature a retrospective of David Kennerly's photography. Mr. Kennerly was President Ford's White House photographer.
AD: Is there a great deal of collaboration between the several Presidential Libraries and Museums?
DH: Very little. We are interested in what other presidential libraries are doing. But each library becomes part of its own community over time. Each is funded in part by its presidential foundation, and that funding varies from one library to the next. The focus of the foundations differs somewhat as well, affecting how the library functions. The part of the various libraries that function most similarly are the archives. Each processes the papers of the administration and makes those papers available to researchers. The museums, however, and the public programming vary among the institutions.