Image courtesy to Bonhams
The present lot was gifted by the Artist to her friend and fellow student at the Slade School of Fine Art, David Wright, when the two were studying there in the 1950s.
Wright gained entrance to the Slade in 1950, following two years of National Service with the RAF, and met Rego when he was in his second year there - she was in the year below him - and they went on to share a close friendship until his death in 2013.
They often travelled together, and Le Weekend depicts the holiday the two took to France in 1952, the location deftly captured in the title.
Modern British and Irish Art, Bonhams, London, 16 September 2020
Lot 18AR
DAME PAULA REGO R.A. (BRITISH, BORN 1935)
Le Weekend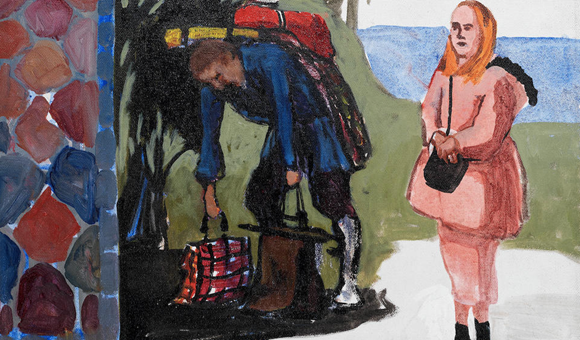 signed and titled 'Le Weekend/Paula Rego' (on canvas verso)
oil on canvas
30.5 x 40.5cm (12 x 15 15/16in).
(unframed)
Painted circa 1952
Estimate: USD 9,000 - USD 13,000