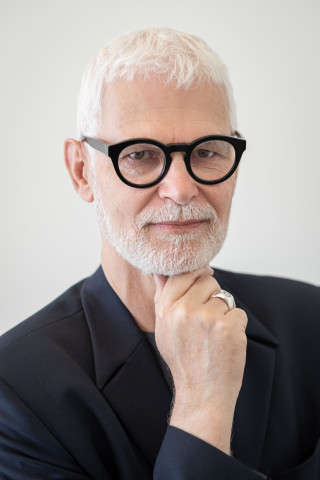 Rein Wolfs, Photo: Martijn van Nieuwenhuyzen
At Museum Boijmans Van Beuningen he was responsible for exhibitions with Maurizio Cattelan, Fischli/Weiss, Bas Jan Ader, Salvador Dalí, and René Magritte. At the Migros Museum, of which he was founding director, and as director of the Kunsthalle Fridericianum, Rein Wolfs pursued an exclusively contemporary program, working with artists such as Mike Kelley, John Baldessari, Danh Vō, Monica Bonvicini, Cady Noland, Navid Nuur, Carlos Amorales, and Marijke van Warmerdam.
Rein Wolfs will take up his post as director of the Stedelijk Museum on 1 December 2019. Until then, he will continue to fulfill his contractual obligations in Bonn, but will also be involved in policy decisions and in the appointment of key roles at the Stedelijk over the coming months. His ancillary positions will have terminated by 1 December, with the exception of his role as jury member for the Swiss entries for the Venice Biennale in 2021 and 2023.
"We are delighted that Rein will be joining the Stedelijk," says Truze Lodder, chair of the supervisory board. "As a director, he embodies the qualities the Stedelijk Museum seeks: a deep knowledge of art and, in a broad sense, administrative experience, international charisma, a worldwide network, excellent relationships with artists, an exciting artistic vision, and openness to ideas from staff and collaborative partners. Germany will be sad to see him leave. Rein has a distinguished record of fostering connections and collaborations, and recognizes the need for public-private financing that is independent of outside interests. Inclusion and diversity are high on his agenda, as shown by his tenure at the Bundeskunsthalle in Germany. We're looking forward to the energetic and inspiring leadership of our new director."
Rein Wolfs stated, "I grew up with the Stedelijk Museum Amsterdam and I hope to provide the guidance and support needed to lead this museum, with its revolutionary history and fantastic collection, into the future. The Stedelijk is a bold public institute that can become even more diverse, human, and international, and play a vital role in social debate. The Stedelijk belongs to everyone—to artists, visitors, and anyone who cares about the museum. It belongs to Amsterdam, the Netherlands, and the world. In a city like Amsterdam, concerns are being voiced, with people asking, 'Who owns the city?' At the museum, one of the questions we must always address is, 'Who does the museum belong to?' Our exhibitions, debates, and activities are opportunities to answer this and many other burning questions."
The statutory board of the Stedelijk Museum Amsterdam Foundation will consist of two directors. During the next few months, the Supervisory Board, in consultation with Rein Wolfs, will determine who will be appointed managing director. Meanwhile, for the sake of continuity, interim director Jan Willem Sieburgh will stay on until 1 December 2019.
Rein Wolfs was appointed director following the approval of the museum's Works Council and the endorsement of the Municipal Executive Board of the Municipality of Amsterdam.
Touria Meliani, deputy mayor: "I am delighted with the appointment of Rein Wolfs and am confident that, given his extensive experience, nationally and internationally, he will tell all the stories that need to be told. I am excited that Rein is committed to providing a platform for new, young and unknown talent. This vision will deepen and reaffirm the Stedelijk's role in Amsterdam, the Netherlands, and at the highest international level. I look forward to his arrival, and to working with him in the future."