Image: Rembrandt van Rijn (Dutch, 1606–1669), Landscape with Three Trees, 1643. Etching with drypoint and engraving. Princeton University Art Museum, Museum purchase, Fowler McCormick, Class of 1921, Fund and Laura P. Hall Memorial Fund in memory of the Museum's dear friend and benefactor David A. Tierno
An evocative and technically complex etching by Dutch Baroque master Rembrandt van Rijn (1606-69), "Landscape with Three Trees" (1643), was recently acquired by the Princeton University Art Museum.
The Princeton University Art Museum holds 70 of the 300 prints produced by Rembrandt over his long career, providing a cross-section of the artist's graphic output, ranging from several of his earliest self-portraits and genre studies to some of his greatest late religious compositions. The new acquisition joins the only other landscape etching in the Museum's collection, "Landscape with a Thatched Cottage" (1641), which was acquired in 1960.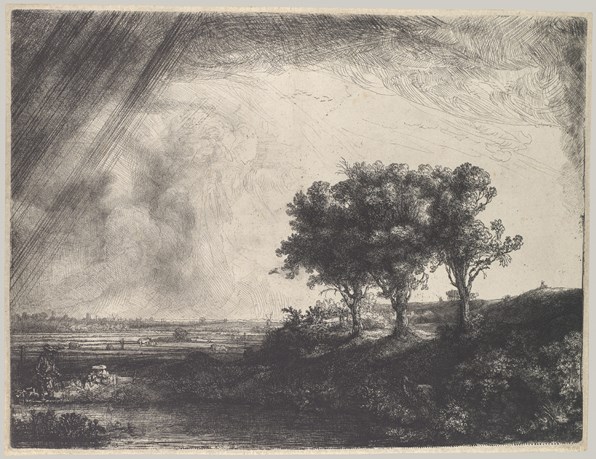 Rembrandt van Rijn (Dutch, 1606–1669), Landscape with Three Trees
"This exceptional impression of one of Rembrandt's most iconic works in any medium represents the artist's unrivalled emotional acuity and technical innovation in full bloom," said James Steward, Nancy A. Nasher–David J. Haemisegger, Class of 1976, director. "The artist's rare work in landscape is perhaps his most prized, and we believe this to be one of the greatest works of landscape art in the European tradition, so we are delighted to have been able to acquire it."
Rembrandt focused on etchings and drawings of landscapes in the years after the death of his first wife, Saskia, in 1642. Of the artist's 26 recorded landscape etchings, "The Three Trees" (as it is often called) is the largest and most elaborate, and the most richly imbued with spiritual meaning, often read as a metaphor for the three crosses of the Crucifixion. The atmospheric and theatrical print combines technical virtuosity and conceptual complexity to deliver a visionary spectacle incorporating what has aptly been called "meteorological melodrama."
The composition combines three large trees at center right with flat expanses of tilled fields, populated by windmills, cattle and herdsmen and canopied by dramatic clouds and driving rain. The sweeping landscape depicted is generally considered to be a distillation of specific sites in the countryside around Amsterdam, which Rembrandt explored during walking expeditions. Additional human motifs – including (on the far right) a seated artist sketching and a horse-drawn wagon full of people; a fisherman and his female companion in the left foreground; and two lovers, barely visible in the shadowy bower at right – contribute to the scene's humanistic appeal. 
"The Three Trees" was acclaimed critically as early as the mid-18th century. Edmé François Gersaint, the French connoisseur who compiled of one of the earliest known catalogues of Rembrandt prints, stated in 1751 that "This Landscape is one of the most beautiful and most finished that Rembrandt made."
About the Princeton University Art Museum
With a collecting history that extends back to 1755, the Princeton University Art Museum is one of the leading university art museums in the country, with collections that have grown to include over 100,000 works of art ranging from ancient to contemporary art and spanning the globe.
Committed to advancing Princeton's teaching and research missions, the Art Museum also serves as a gateway to the University for visitors from around the world. Intimate in scale yet expansive in scope, the Museum offers a respite from the rush of daily life, a revitalizing experience of extraordinary works of art and an opportunity to delve deeply into the study of art and culture.
The Princeton University Art Museum is located at the heart of the Princeton campus, a short walk from the shops and restaurants of Nassau Street. Admission is free. Museum hours are Tuesday, Wednesday, Friday and Saturday 10 a.m. to 5 p.m.; Thursday 10 a.m. to 9 p.m.; and Sunday 12 to 5 p.m. The Museum is closed Mondays and major holidays.