Image: Jeune fille près d'une fontaine, Pierre-Auguste Renoir
In Jeune fille près d'une fontaine, Pierre-Auguste Renoir captures a girl using a stone water fountain, tucked away amongst the trees and flowers of a verdant garden. Painted in 1885, the present work is a sensitively characterised portrait of a young lady. Dressed all in white, she leans forward slightly with her back foot raised, steadying her pose as the water flows.
Encapsulating a scene of pure tranquility, the work exemplifies Renoir's use of feathery brushstrokes and a pastel-toned palette, bringing together an array of soft pinks, blues, greens and yellows. 1885 was the height of the official Impressionist movement, and by this point in the artist's career, his œuvre had established a solid reputation amongst the upper class and this charming depiction of a fashionable model would have greatly appealed to the sophistication of Renoir's patrons. Executed at the peak of the artist's artist's powers, it displays his mastery of depicting the subtle nuances of colour and light. This distinct radiance, achieved through open and active brushwork, was due in part to his response to French Rococo painting. Renoir successfully recaptures the vivacity and joie-de-vivre displayed by the eighteenth-century masters, namely Jean-Honoré Fragonard, Jean-Antoine Watteau and François Boucher.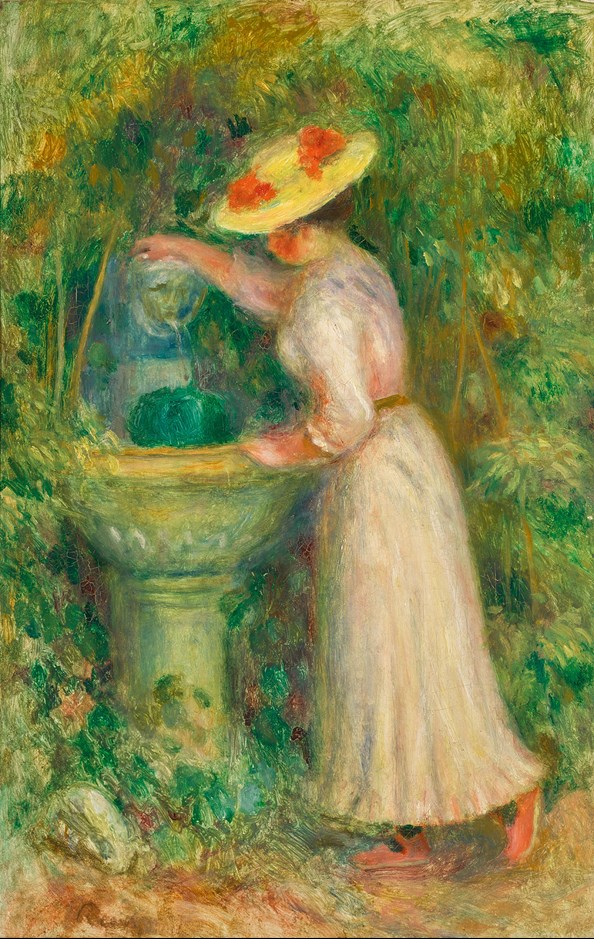 Jeune fille près d'une fontaine, Pierre-Auguste Renoir
The present work was owned by both Ambroise Vollard and Bernheim-Jeune, two of the three principal dealers (along with Durand-Ruel). This notable provenance is testament to the importance of the painting and Renoir's exceptional talent as a painter.
Impressionist and Modern Day Sale, Sotheby's
5 February, London
Pierre-Auguste Renoir
1841 - 1919
JEUNE FILLE PRÈS D'UNE FONTAINE
signed Renoir (lower left)
oil on canvas
46.8 by 30.5cm., 18 7/8 by 12 1/8 in
Painted in 1885.
Estimate: GBR 350,000 - GBR 450,000