Image: Le Baiser de l'Hotel de Ville, Paris, 1950
"The marvels of daily life are so exciting; no movie director can arrange the unexpected that you find in the street", said Robert Doisneau (1912-1994), a French photographer famous for his poetic, gently humorous and timeless moments taken on streets around Paris and its suburban areas.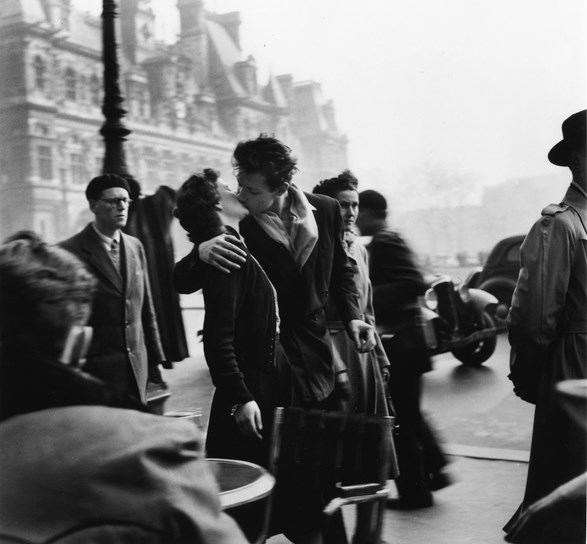 Le Baiser de l'Hotel de Ville, Paris, 1950
As a result of the collaboration between the French Institute and the Juhan Kuus Documentary Photo Centre, the public is given the opportunity to see the retrospective by the legendary French photographer. The 80 photographs in display give an overview of the photographer's life and the absolute best of his career: everyday life of the post-war Paris, celebrities, carefree childhood and unique moments in streets – all what makes Doisneau special and recognised in the world.  
Doisneau's ability to find and capture subtle personal emotions and simple yet meaningful episodes of quotidian Parisian life has been admired by millions. No wonder he is considered as the pioneer of the modern documentary and street photography. In his photographs, the place is not a simple setting, but a permanent dialogue with the characters, even if not focused. Everything seems to be dynamic and slow, past and present, sad and ironic, evocative and moving, bright and blurry, perfect in its imperfection. 

To capture the right image, the photographer liked to use the verb "catch" instead of "hunt" because he believed that patience was a fundamental virtue. He moves with the awareness that the atypical can be anywhere, that the imperfect can hide even behind an old door. The essential thing is to perceive, anticipate and wait for it. 

During his long and successful career Doisneau achieved worldwide recognition – hundreds of exhibitions, awards, books and the success in the auctions. Among many one of the most important prizes was the Grand Prix National de la Photographie in 1981, which is considered the most important photography prize in France.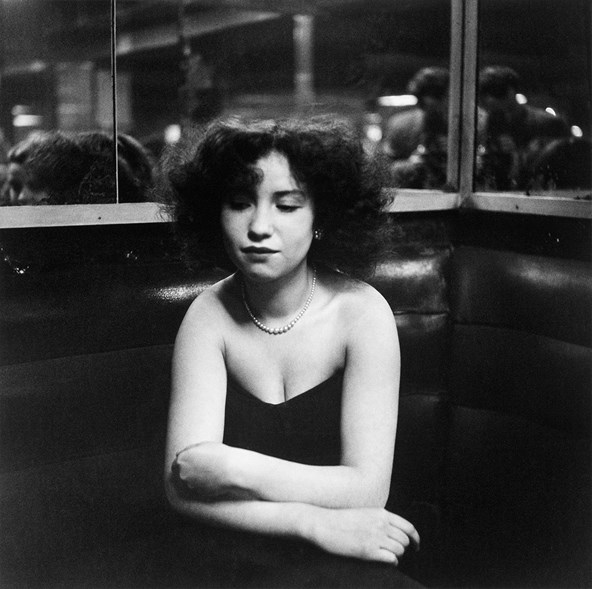 Mademoiselle Anita, Paris 1951
Toomas Järvet and Kristen Laur, Curators, The Centre for Documentary Photography about Robert Doisneau:
In times when the humanity seems to be on the path of self-destruction and the media prefers to showcase images that amplify the feeling of tragedy and doom, it just felt right to pay homage to the French humanist photographer Robert Doisneau.
The exhibition of his works allows us to take a step aside from the contemporary documentary photography, mostly focused on critically or analytically highlighting the ongoing issues and concerns of the modern society. With Doisneau's photos we want to bring about a lighter look that provides breathing space and takes us to the brighter, warmer and more human side of life.
Although among Doisneau's vast archive of more than 400 000 photographs are large number of images that reflect his critical view to the problems in society and class struggle, Doisneau is mostly regarded as a philanthropist who stayed on the side of an ordinary man and approved him no matter his traits and habits.
Despite of the fact that during his life Doisneau was from time to time working for fashion and adverting industry, he always returned to the streets, to be closer to the lower middle class and working people. Year after year he was capturing the ordinary moments of daily life and according to him it gave him a great satisfaction. "I get on well with ordinary people. We talk. We start with the weather, and little by little we get to the important things. When I photograph them, it is not as if I were examining them with a magnifying class, like a cold and scientific observer. It's very brotherly. And it's better, isn't it, to shed some light on those people who are never in the limelight", said Doisneau.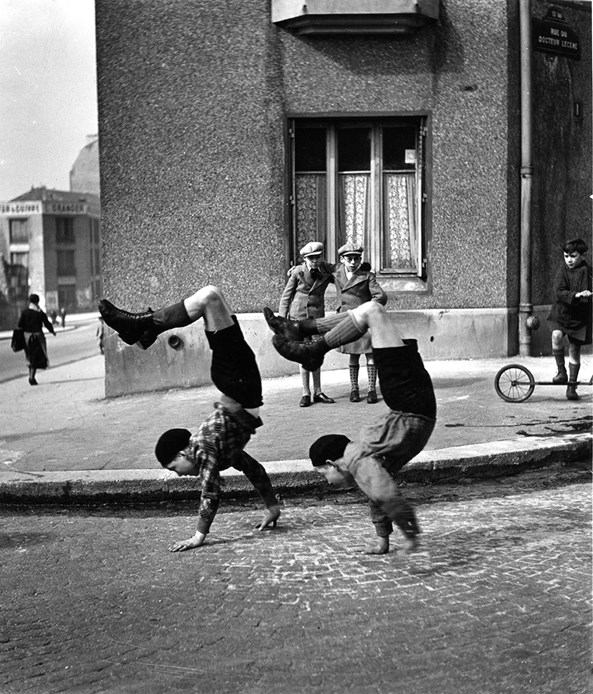 Les frères, rue du Docteur Lecène, Paris 1934
Doisneau had a special eye for capturing private, tender and humorous moments in the public space, leaving an impression that the photos were taken without much effort, as if in passing. In reality he had to overcome his natural timidity and in fact spent long hours in waiting for the right moment. Long walks, waiting at the street corners and just looking how life rolls on were staples in his toolbox. That was probably also a reason why Doisneau called himself a "fisher" of pictures (pêcheur d'images) rather than a "hunter" of pictures (chasseur d'images).
It is not by a coincidence that Robert Doisneau was very good with words. While many photographers have been inspired by art – in fact, Doisneau studied in the Ecole Estienne, an art school –, he is said to be most influenced by his friends' poets and writers like Jacques Prévert, Blaise Cendrars and Robert Giraud. Accordingly, it is only appropriate to refer to his images as poetic photography, because he was able to convey with his photos the same what the poets did with their poetry. His images have a strong narrative, they tell a story, often with humor, parody and satire.
Many of Doisneau's images do not represent classical documentary photography. For one, even if the romantics like to believe that his iconic "Kiss by the Hôtel de Ville" (1950) was captured in a spontaneous moment of bliss, the pose was actually staged, although the author never hid it. This photo was commissioned by LIFE Magazine. Doisneau called himself a subjective photographer, someone who wants to make people to notice little things that make them laugh or emotionally move them. He has said about the "Kiss by the Hôtel de Ville" that the photo is staged but the feeling is real, because the young couple on picture are real lovers. The honesty and pursuit for objectiveness of the author deserves respect and emphasizes his humanity, simplicity and unpretentious approach to the photography.
Parisian Stories, Robert Doisneau
Juhan Kuus Documentary Photo Centre, Telliskivi Creative Space, Tallinn, Estonia
Until 18 August, 2019