Lichtenstein painted the work in his signature 'Ben-Day dot' style, mimicking the agglomeration of small coloured dots used for printing comic books in the mid-20th century. While the artist adopted the style throughout his career, comic books ceased to provide the actual source material for his scenes for the best part of three decades — between his early works (such as Nurse) and the Nudes series.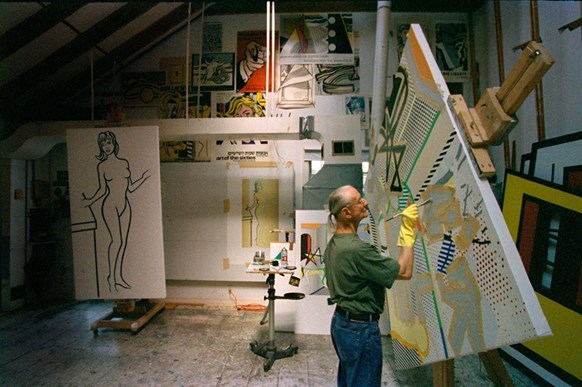 Roy Lichtenstein in his studio in Southampton, New York, in 1997 — the year in which he died, aged 73. Photo: © Bob Adelman Estate. Artwork: © Estate of Roy Lichtenstein
The protagonist of Nude with Joyous Painting  was derived from a vintage DC Comics series called Girls' Romance — specifically, a bather named Gloria, who's saved from perilous waters by a sun-kissed lifeguard named Bob. Lichtenstein removed her from the beach setting and relocated her in a domestic interior.