Royal Mail revealed images of six stamps being issued to mark the 250th anniversary of the world renowned Royal Academy of Arts (RA).
The original works were created by Royal Academicians: Norman Ackroyd CBE, RA; Tracey Emin CBE, RA; Grayson Perry CBE, RA; Fiona Rae RA; Barbara Rae CBE, RA and Yinka Shonibare MBE, RA.
The designs, all specially commissioned artworks, depict the artists' reflection on their works and the RA's most famous exhibition - the Summer Exhibition. To mark the momentous occasion of the 250th Summer Exhibition will be co-ordinated by Grayson Perry and opens to the public on 12 June.
Open to everyone, the Summer Exhibition includes works in a variety of media and genres and is arguably "the only exhibition where some of the world's greatest artists show alongside amateurs", according to the RA's Artistic Director Tim Marlow. Thousands of entries are received, from which over 1,000 artworks are selected and hung by the Royal Academicians. I
An independent body, the RA was founded in 1768, with a mission to promote the enjoyment and appreciation of the visual arts and give a platform for artists.
As stipulated 250 years ago, the RA is still led by many of the greatest artists and architects. Known as Royal Academicians, they lead the Academy today including the direction of the exhibition programme and the RA Schools.
Noted Academicians over the centuries have included Thomas Gainsborough, Pre-Raphaelites, John Everett Millais and Edward Burne-Jones and contemporary masters such as Tracey Emin, Cornelia Parker, David Hockney and David Adjaye.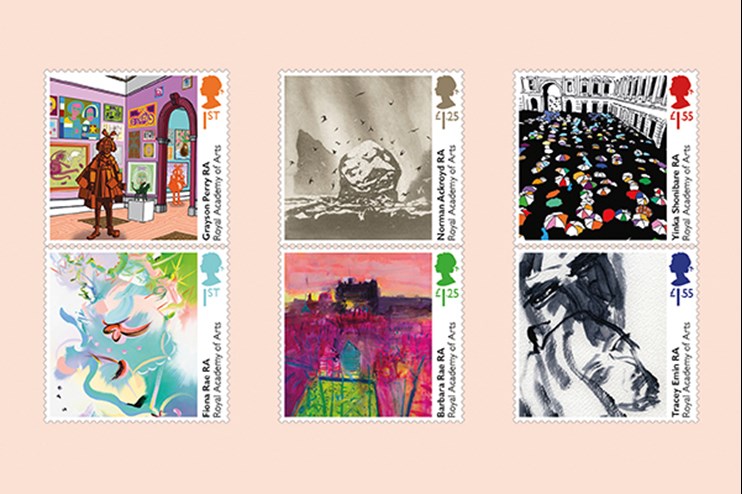 Royal Academicians number a maximum of 80 at any one time. Potential members – artists or architects who are professionally active in the UK and aged under 75 – must be nominated by an Academician. The candidate's name is written in the weighty Nominations Book and awaits signatures from eight supportive RAs. A traditional ceremony welcomes the newly elected, and during it they sign the historic Roll of Obligation. Each RA donates a Diploma Work to the Collection and becomes a Senior Academician at the age of 75.
Royal Mail spokesperson Philip Parker says: "To mark this landmark anniversary, Royal Mail commissioned six Royal Academicians to create original works for stamps. We are delighted with the range and creativity of these wonderful miniature works of art."