Image: Sam Francis's EVIII, 1971
20th and 21st Century Masters lead Phillips' first New York sale of the season.
"The September New Now sale marks an exciting moment for Phillips, as we kick off the fall season," said Sam Mansour, Head of New Now, New York. "On 24 September, we will offer works from both blue-chip artists whose markets are time- tested and those whose works are just being sold on the secondary market for the first time, offering collectors a wonderful opportunity to build their collections with interesting and exciting material. With this sale debuting our new and refined catalogue format, we aim to offer our collectors the accessibility and ease that they have come to expect from a 21st century auction house. This new format more closely elides with the more engaging manner in which our clients consume content in all aspects of their lives."
The Miles and Shirley Fiterman Collection reads like a cross-continental survey of the 20th century's most influential artists. Born out of the seminal decade of the 1960s, the collection is not only a tribute to the dawning of a revolutionary cultural era but a witness to its making. To look at how Miles and Shirley Fiterman collected is to understand the importance of the collector at this crucial point in post-war history; when contemporary art solidified its institutional recognition and found relevance with a wider public. The selection of artworks they assembled dance between abstraction and figuration and feature some of the most esteemed all-American artists, including Sam Francis, Frank Stella, Alexander Calder and John Chamberlain.

Sam Francis's EVIII, 1971, represents the artist's love of color, light and travel. Francis renders spontaneous clouds of exquisite color to the corners of the work, reminiscent of a gentle Parisian atmosphere. In contrast, the vast negative space that spans across the large-scale canvas, central to Francis' style after the mid-1960s, embraces the sharp energy of New York Minimalism. The bursts of pigment that frame the work evokes an edgeless nature that pulls the dynamic abstraction off the canvas.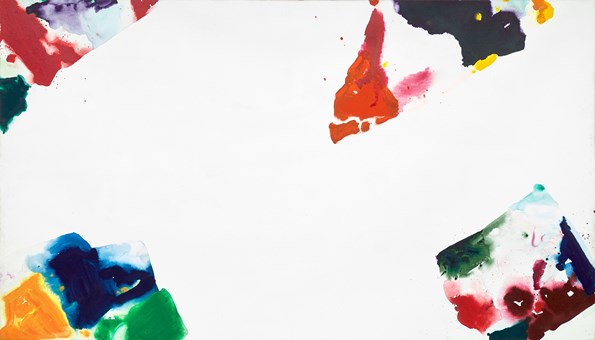 Sam Francis's EVIII, 1971
Drawing from the history of the Nazi takeover during World War II, Frank Stella's Narwola II, 1971 is a geometric interpretation of Polish synagogues and their distinct architecture. Created with wood, brightly colored felt and canvas, this work is part of the Polish Village series prominent to Stella's practice from 1971-1973. In this series, he appropriated graphic elements such as diagonally slanted roofs and wooden beams typical of Polish villages. Coupling these dynamic designs with Stella's flattened perspective, this work speaks to the resulting demolition in post-war Poland.

This selection from the Fiterman Collection is a wonderful window into what made their collecting so seminal even in its own time – a great blend of paintings, works on paper, and sculpture of the two predominant movements from mid-century America, Pop and Abstract Expressionism.
Phillips' 20th and 21st Century Masters, 24 September, 2019
Lot 55
Sam Francis
EVIII
acrylic on canvas
79 x 138 in. (200.7 x 350.5 cm.)
Painted in 1971.
Estimate: USD 350,000 - USD 450,000

This work is identified with the interim identification number of SFF.541; in consideration for the forthcoming addendum to Sam Francis: Catalogue Raisonné of Canvas and Panel Paintings. This information is subject to change as scholarship continues by the Sam Francis Foundation.