The San Francisco Museum of Modern Art (SFMOMA) announced a major leadership transition on its Board of Trustees. Charles R. Schwab, who has served as Board Chair since 2007, will be succeeded as Chair by Robert J. Fisher, who previously served as President. Diana L. Nelson will assume the role of President from her current role as Vice Chair and Charles M. Collins will assume the role of Vice Chair. These changes will be effective as of July 1, 2018. Fisher and Nelson currently serve as Trustee Advisors to the museum's five-year strategic planning project.
"The museum board has selected new leadership whom I know embrace the thrill and innovation of modern and contemporary art, and how it can help everyone see the world in fresh new ways," said Charles Schwab.
"Chuck has been a tremendous role model, leader and friend for the past decade. His enthusiasm, support and commitment have taken us from a very good museum to one thriving on the global stage," said Robert Fisher. "He leaves big shoes to fill, and I hope I can add to his legacy as the next Chair of SFMOMA, as well as continue the dedication and love of the institution that began with my parents." 
Additionally, the museum announced the appointment of Julie Mehretu to the Board of Trustees as Artist Trustee. Mehretu joins artists Rosana Castrillo Díaz and Jeff Wall as Artist Trustees serving three-year terms. In 2017, Mehretu's monumental commission HOWL, eon (I, II) went on display in the museum's Walter and Evelyn Haas, Jr. Atrium. 
Collectors Vicki and Kent Logan, who have given SFMOMA over 330 works since 1997, including pieces by some of the most important artists of our time as well as works by young emerging artists, join the Board as Honorary Trustees. In 2012–13, the museum presented an exhibition featuring highlights from the Logans' gift, entitledDon't Be Shy, Don't Hold Back: The Logan Collection at SFMOMA.
Kathryn A. Hall, Gina Peterson and Komal Shah will also join the museum's Board of Trustees as of July 1, 2018. 
"It has been an honor and a pleasure to work with Chuck Schwab for the past 10 years. From his spearheading two capital campaigns, his oversight of our endowment, leadership of our board and his thoughtful participation on countless board committees, to the impact that he and Helen have had on our collection through their very generous gifts of important works of art, it's hard to imagine something that Chuck hasn't touched at SFMOMA," said Neal Benezra, the Helen and Charles Schwab Director of SFMOMA. "His collegial, warm and engaging nature encouraged participation and created a gravitational pull that attracted terrific people to participate in SFMOMA. Bob and Diana are key leaders in the next generation of the cultural life of San Francisco, and will continue the great work that was begun by Chuck. We are so fortunate to have this depth of exceptional leadership at our institution."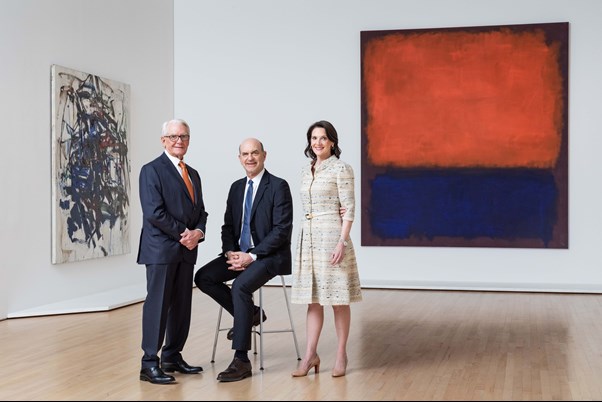 Continuing in the tradition of previous Artist Trustees Robert Bechtle, Yves Béhar, Vincent Fecteau, Ed Ruscha and Larry Sultan, who each served a non-renewable term of three years, Julie Mehretu has been elected artist trustee effective July 1, 2018. In this position, she will represent the artist community and provide counsel to the board from the artist's perspective. SFMOMA's Artist Trustees are selected from the community of artists who represent the areas of SFMOMA's collection: painting and sculpture, photography, architecture and design and media arts. Rosana Castrillo Díaz and Jeff Wall currently serve as Artist Trustees.
Image on top: Left to right: Charles Schwab, Robert Fisher, Diana Nelson